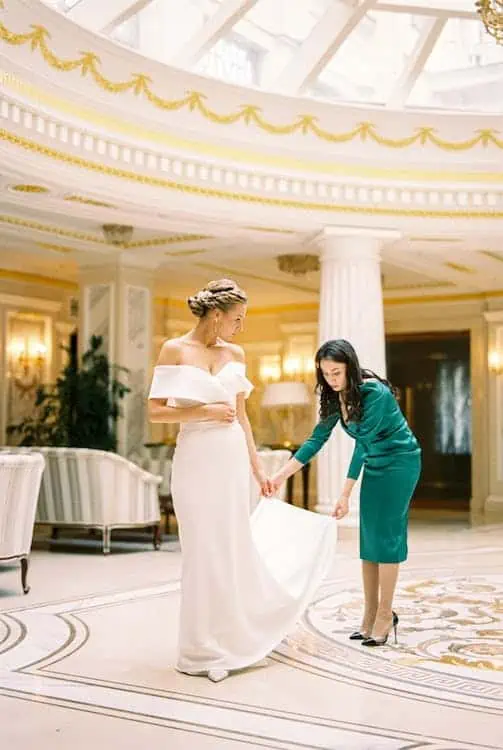 Wedding vendors are very important. They can make or break your special day. Whether you need caterers, musicians, florists, or wedding photographers, you need to be careful to select the right vendors for your big day so it runs smoothly and you have a stress-free wedding.
Choosing the best service providers will play a huge part in making your wedding day a success. It is also the reason why choosing the right vendors is a significant aspect of the wedding planning activity. Below are tips that will help you pick the best wedding vendors:
Make a list of your needs and wants to get started.
To create a dream wedding, make a list of all the necessary things that you need. This will enable you to know all the types of vendors you want in your wedding venue. Also, it is wise to write down their prices against each of them and the sponsors, if any, to determine the budget you may need.
You can also make a list of things that are not necessary or can be sacrificed. Having a list will ensure that there are no inconveniences on the wedding date. In addition, noting all the things you need on your big day will enable you to create a final wedding vendor list.
Do Your Research-Read Reviews And Compare Prices.
Choosing the first wedding vendor you see can be a huge mistake; research is important when choosing vendors. Research online and read reviews from the vendors' wedding websites and social media platforms, including the bad and good ones. Also, read the feedback to check how the vendors responded.
Reviews will help you avoid poor service delivery; whether it's a wedding cake vendor or a catering services provider; you will have to research every vendor to ensure you get the best services. You can also check wedding directories to research and find the best vendors in your area.
In addition, compare their charges and prices. Don't settle on a wedding vendor team simply because of their cheap prices; they may have inferior services and want to cover that up by offering their professional services at lower rates. Also, avoid vendors who charge highly exorbitant prices because their motive may be to get a huge amount of money from your wedding event.
Narrow It Down To A Few Finalists
While evaluating different vendors on your list, it is wise to cancel the ones that you feel have poor services or don't share your vision. Other reasons you may be forced to eliminate some potential vendors from your list include: some may only include the essentials in their packages, or their equipment may be subpar. Narrowing down the list will enable you to remain with the most reliable vendors on your list. It will also make it easier for you to pick the best vendors after you get rid of unreliable vendors from your list.
Meet Each Vendor In Person.
You must meet all your potential vendors in person to determine their suitability. To get quality wedding services, you must visit each vendor. Because you're going to spend a huge part of your budget or money on their services, ask questions and, if possible, request that they produce photos of their previous work.
Also, you will be able to gauge the quality of customer care by interacting with them on a personal level. Pick wedding suppliers or vendors with whom you will feel free to work together or ask any questions.
Make A Decision And Book The Right Wedding Vendors.
After carefully reviewing your wedding planning checklist and evaluating all the potential wedding suppliers, it is time to pick the best vendors for your wedding. Ensure that all the selected vendors have the qualities you want, including honesty, creativity, punctuality, and quality service. For instance, a creative wedding photographer will ensure your photos are quality and professional. Wedding venues play a huge role in determining the number of vendors or the size of the services or things you may need at your wedding.
Choosing suitable wedding vendors is not easy, and that's why a couple in a hurry will prefer to delegate this kind of work to a professional wedding planner. This is because hiring vendors is part of the planning process done by wedding planners. Getting the right vendors or key suppliers as part of your dream wedding team is vital for the success of your special event.
Relax And Enjoy The Planning Process.
After picking the most suitable vendors for your wedding, it's time to relax and watch as your wedding plan is executed. Also, it is important to follow up with your vendors to ensure everything goes according to plan, including your wedding style. Your solid plan will also be reflected in your colorful wedding photos and all other aspects.
Engaged couples should not shy away from asking their vendors questions to ensure there are no delays or inconveniences on the wedding day. Your ideal group of vendors should be able to give you quality services and other things on time.
Hire the Right Suppliers on Your Wedding Day
At WeddingVibe, we will help you get the best wedding deals, including reliable vendors, honeymoon destinations, and more.
We will help you find different types of specific vendors dealing with numerous types of services, including wedding cakes, photographers, event rentals, florists, live music bands and artists, as well as catering. Other vendors we will help connect with are those dealing with decorations, videographers, limousines and transportation, wedding invitations, and more.
Join us now and be one of the winners of our wedding giveaways and sweepstakes.
Free Wedding
Giveaways + Sweepstakes
Enter sweepstakes & giveaways and enter to win a free honeymoon when you join. New winners are announced every week!