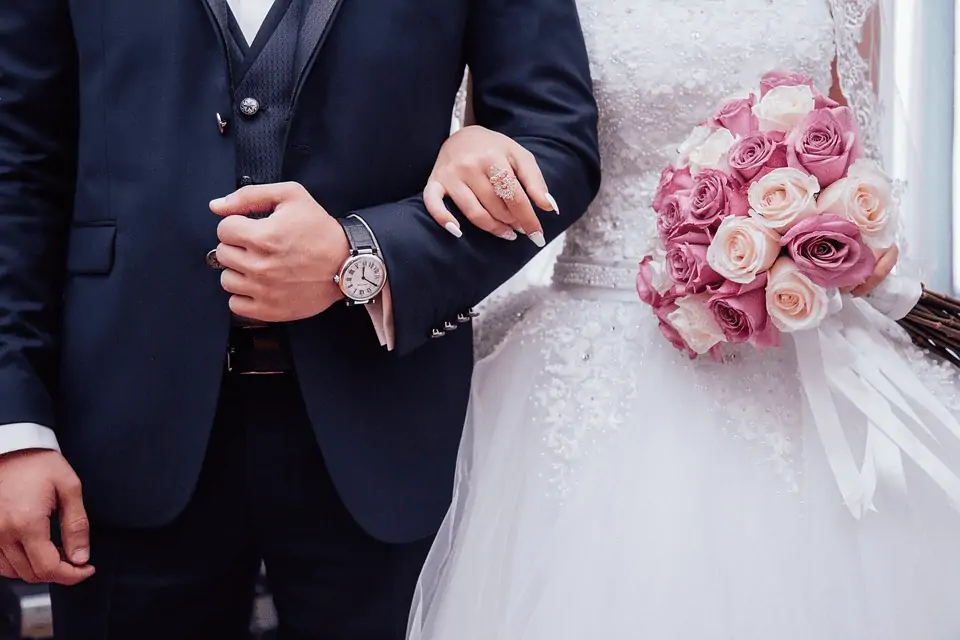 Every couple getting married dreams of a grand wedding. They want to share the moment and make it special. However, weddings can be a ton of work, especially if you don't know what you are doing.
The wedding invitations can be created as a video or gif using an invitation maker and shared on the social media accounts of your choice. It would also be easy to send it electronically to friends and relatives. There are different ideas for different group settings that people may want to send their message to include more personal details related to the wedding!
Are you stressed by the thought of making a wedding invitation video for your friends, family members, and loved ones? We're here to help. Given below are ten easy wedding invitation video ideas to get you started on the perfect piece of artwork for your marriage.
Here are 10 Easy Wedding Invitation Video Ideas:
1. Animated Wedding Invitation Video:
Animated wedding videos are a great option if you want something different from traditional videos that showcase people's faces. They are very visual and a lot of fun to watch. You can do all kinds of animations and designs on your wedding invitation video. You can get a lot of creative freedom if you have a professional video invitation maker to help you ease through the process and believe in your vision.
2. Musical Wedding Invitation Video:
Music is an essential part of any wedding reception, and it would be nice to include it in your wedding invitation video! Record a song that you and your partner love, or use one of the many songs available from your favorite artists. Musical wedding invitation videos are fun and easy to make with a high-quality free invitation maker!
3. Commercial Wedding Invitation Video:
Are you one of those planning to get married at a commercial location like a hotel or restaurant? If so, then create a wedding invitation video commercial! You can capture your outdoor location and incorporate it into your video. Show the workers how excited they are for the big day coming up! Capture the name of the venue and other details related to it. This will add to your detailed wedding invitation video!
4. Slideshow Wedding Invitation Video:
Sometimes, a slideshow wedding invitation video is great for friends and family members who may not be able to attend the wedding but would still like to see all of the details captured in video form. You can use a slideshow on the big day, too, and your guests can watch it if they want to get a better idea of what to expect for the ceremony. If you have any loved ones that are going to be missed during the duration of your wedding day, this is an excellent way to make sure that everyone knows how much you care about them and the role they play in your life.
5. Family Members' Wedding Invitation Video:
If you have family members coming from town for your special day, this is a great idea for a wedding invitation video! Create a video using your favorite invitation templates specifically for them! Include details like where they will be staying, where they are going on their first date as a married couple, and their plans once the wedding is over. This is an excellent way to get everyone excited!
6. "Story of Us" Wedding Invitation Video:
If you have a lot of things to show on your wedding invitation video, consider showing it in the form of a story. Include all the details, but have them in the form of a story about how the both of you met and fell in love! Animate the story, or create an actual movie trailer for your wedding day. You can use special pictures and videos from your relationship to make it as real as possible. This will be something that you can share with everyone online once it is complete!
7. Cultural Wedding Invitation Video:
If you are marrying someone of a different race, culture, or ethnicity than you, then this is a great idea for your wedding invitation video! Share the details of the culture they are a part of in your video. You can focus on important rituals and things to do before and during the ceremony or include some cultural traditions that you have adopted. This is a great way to incorporate another part of your life into your wedding invitation video.
9. Cinematic Wedding Invitation Video:
If you would like an invitation video that has professional production value and is truly stunning, then consider a cinematographic wedding invitation video. Include all your favorite song lyrics and any other relevant details in the form of text on a screen. This can be shown before the video starts or in the background. This is a great way to get people excited about your wedding day!
10. Themed Wedding Invitation Video:
You can create a theme wedding invitation video if you would like to. This could be anything from your favorite movie or TV show or even an animation that you and your partner created together! You can use all of the characters from these shows to animate the video and tell a story about your relationship.
Now that you know all there is to know about wedding invitation videos, you are well on your way to creating the perfect one! Keep in mind that it is important to ensure that the video looks professional. Think of what your wedding guests will want to do with it once they receive it, and make sure to include all of their wishes! Once you are finished, upload it online, so everyone can enjoy it!
Free Wedding
Giveaways + Sweepstakes
Enter sweepstakes & giveaways and enter to win a free honeymoon when you join. New winners are announced every week!