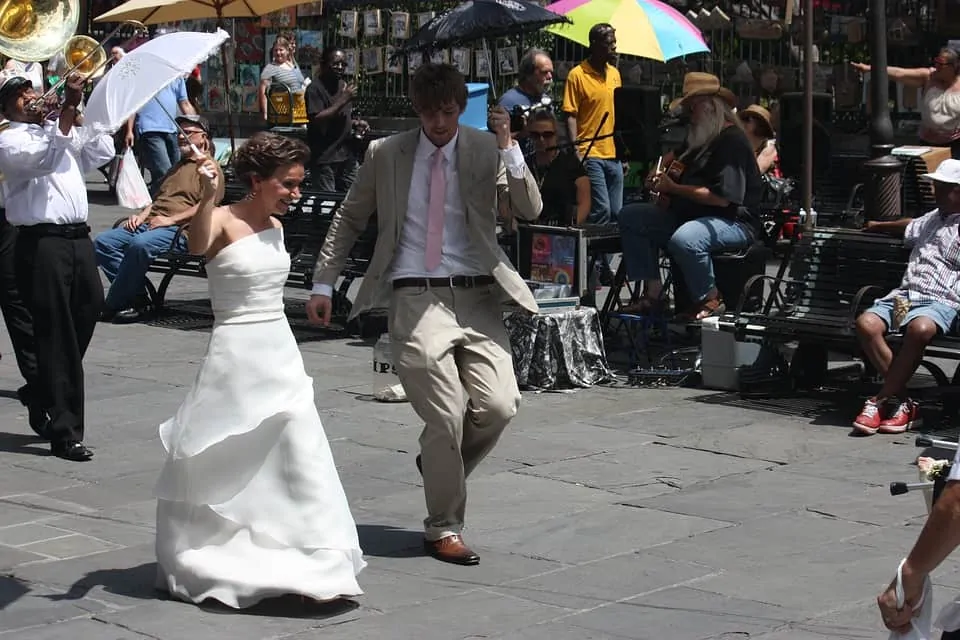 New Orleans is not only famous for its beignets and andouille sausages. The place is also well known for its extraordinary wedding traditions. Whether you want to have your wedding in New Orleans, or you want to have a New Orleans themed wedding anywhere else in America, there are some NOLA traditions that you must bring in your wedding.
New Orleans wedding traditions will give your guests an experience worth remembering all their life. They are not only fun, but each of them will make your guests a part of your wedding day, and they will love you for it. In this article, we are going to talk about some local traditions that are an indispensable part of a New Orleans wedding.
Wedding Parade
A second line wedding parade is arguably the most prevalent tradition for New Orleans weddings. In fact, it has become so popular for American weddings these days, yet many people do not realize its origin from New Orleans. However, the second line parade has been a part of wedding traditions in New Orleans since before the civil war.
The parade is symbolic of the new life that the bride and the groom are about to begin. It usually starts at the church after the wedding and leads to the venue of the reception. Sometimes the entire parade takes place at the reception if the venue is too far from the church.
The parade is split into two parts. The front part comprises a brass band along with the bride and the groom. The second half of the parade has all the guests with their umbrellas, handkerchiefs, and cocktail napkins. They follow in a line behind the band and the newly wedded couple dancing to the music played by the brass band. The umbrellas and handkerchiefs are essential props for a traditional second line wedding parade.
Wedding Cake Pulls
The wedding cake pulls are a way for the bride to wish good things for her friends. As you probably guessed by the name, small charms get placed inside the cake attached to ribbons that hang out. The bride invites her friends to grab onto the ribbon, and they all pull at the count of three. The good luck charm each friend pulls out signifies something. Some examples of the charms and what they signify are as follows:
An Eiffel tower stands for travel
A butterfly suggests eternal beauty
A star is for wishes to come true
An anchor is for adventure
A Four Leaf Clover for good luck
A heart for new love
A ring signifies getting married soon
In the earlier days, wedding pulls were meant for unmarried girls only, but nowadays, all of the bride's friends can participate.
Street Vendors
Street carts in New Orleans are one of the biggest attractions. They often form a part of weddings during the reception, serving candy, beignets, daiquiris, and pralines to guests. The bride and the groom sometimes invite a street cart at their marriage because they bought something from the vendor during their initial dates.
Mule Drawn Carriages
Newly wedded couples in New Orleans often exit on mule-drawn wedding carriages. Several mule-drawn wedding carriages are three generations old, and they look beautiful with the mules.
Dance Krewe
Dance Krewes are a part of New Orleans history, especially Mardi Gras floats and troupes. Brides and grooms in New Orleans often invite krewes to dance at their wedding receptions and surprise their guests.
Flip Flops
A second line wedding parade and all that dancing may not be possible in high heels because it can result in rolled ankles. So a basket full of flip-flops is not an uncommon sight at the beginning of or the end of a second line parade.
Go-Cups
Even though most of America has open container laws, people can carry their drinks around in New Orleans. That is why guests at weddings can bring their Mardi Gras cups with their favorite drinks during the second line parade.
Several brides and grooms have Mardi Gras cups made for guests with the wedding details on them. They not only add to the fun, but they also help the guests quench their thirst during the parade under the hot sun.
So now that you know about the most famous New Orleans traditions, you can pick and choose the ones you want to include at your wedding. Choose the ones that can represent you and your fiance, as well as your story. Also, keep the feasibility in mind, especially about the parade and the Go-cups. Wedding parades need permits and arrangements, and the Go-cups may not be allowed everywhere. So have fun and wish you a happy wedding planning!
Free Wedding
Giveaways + Sweepstakes
Enter sweepstakes & giveaways and enter to win a free honeymoon when you join. New winners are announced every week!