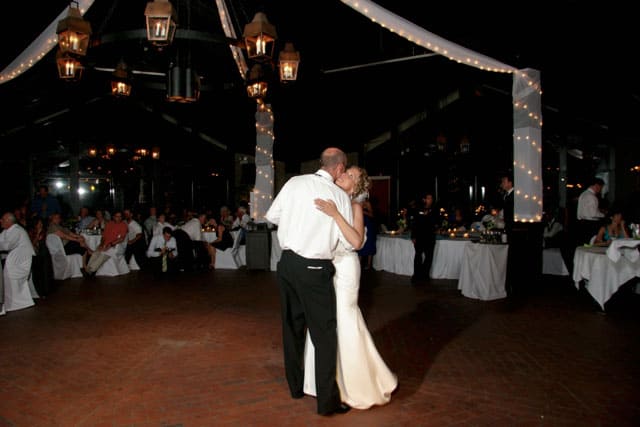 "More than Just a Dance"
One of the most poignant moments at a wedding reception can be the father daughter dance. In my final consultation with brides prior to their wedding, I often find some getting emotional when they describe sharing a dance with their dad. As the father of two girls, I know firsthand the strong bond that can be formed between a father and daughter.
Here are four ideas to consider as you plan for this special dance with your dad.
1.     Let your Dad choose the Song – I remember one wedding where the father chose the song they danced to and I shared over the microphone the story behind its meaning and significance. The father was driving down the road one day long before his daughter was born and he heard a song on the radio. He told himself that if he had a daughter, this would be the song he would dance with her on her wedding day. Tears flowed down the brides cheeks as they danced to this old classic song.
2.     Share your Favorite Memory of your Dad – A great way to personalize this special moment is to have your MC share your favorite memory of your dad. Here is an example I shared at wedding last year "One of Jennifer's favorite memories of her dad was when she turned 18. Her dad told her that he had something he wanted to show her and asked her to jump in the car with him. Jennifer was really confused when they pulled into the U-haul parking lot. John told Jennifer, your 18 now, so we're going to rent a U-haul and load up all your stuff ….your moving out! "DAD!!!!" She reluctantly went inside and stated to the person at the desk, I don't know why I'm here but my dad made me come in. In on the trick, the salesperson reached over and handed her keys to brand new car. A car she still drives to this day."
3.     Have a Photo Montage Playing in the background during the Father Daughter Dance – Another great way to personalize this dance is to have photos of you and your dad taken over the years projected on a large screen or LCD TV. Talk to your DJ/MC about creating a personalized music video to be shown and enjoyed by everyone at the reception. This feature is best accomplished at an indoor reception facility where the lighting can be controlled and dimmed to get the best possible image.
4.     Invite other Fathers and Daughters to join half way Through – To involve others, invite all fathers and daughters that are present to join halfway through. This can also serve as a foreshadowing for younger ladies of their future wedding day.
A father daughter dance can be one of the most emotional moments at a wedding reception that leaves everyone in tears. Consider these ideas to make to make it more than just a dance.
Article Submitted By:
Dave Meine
DJ Dave's Mobile Disc Jockey Entertainment, LLC.
www.djdaves.net
Free Wedding
Giveaways + Sweepstakes
Enter sweepstakes & giveaways and enter to win a free honeymoon when you join. New winners are announced every week!