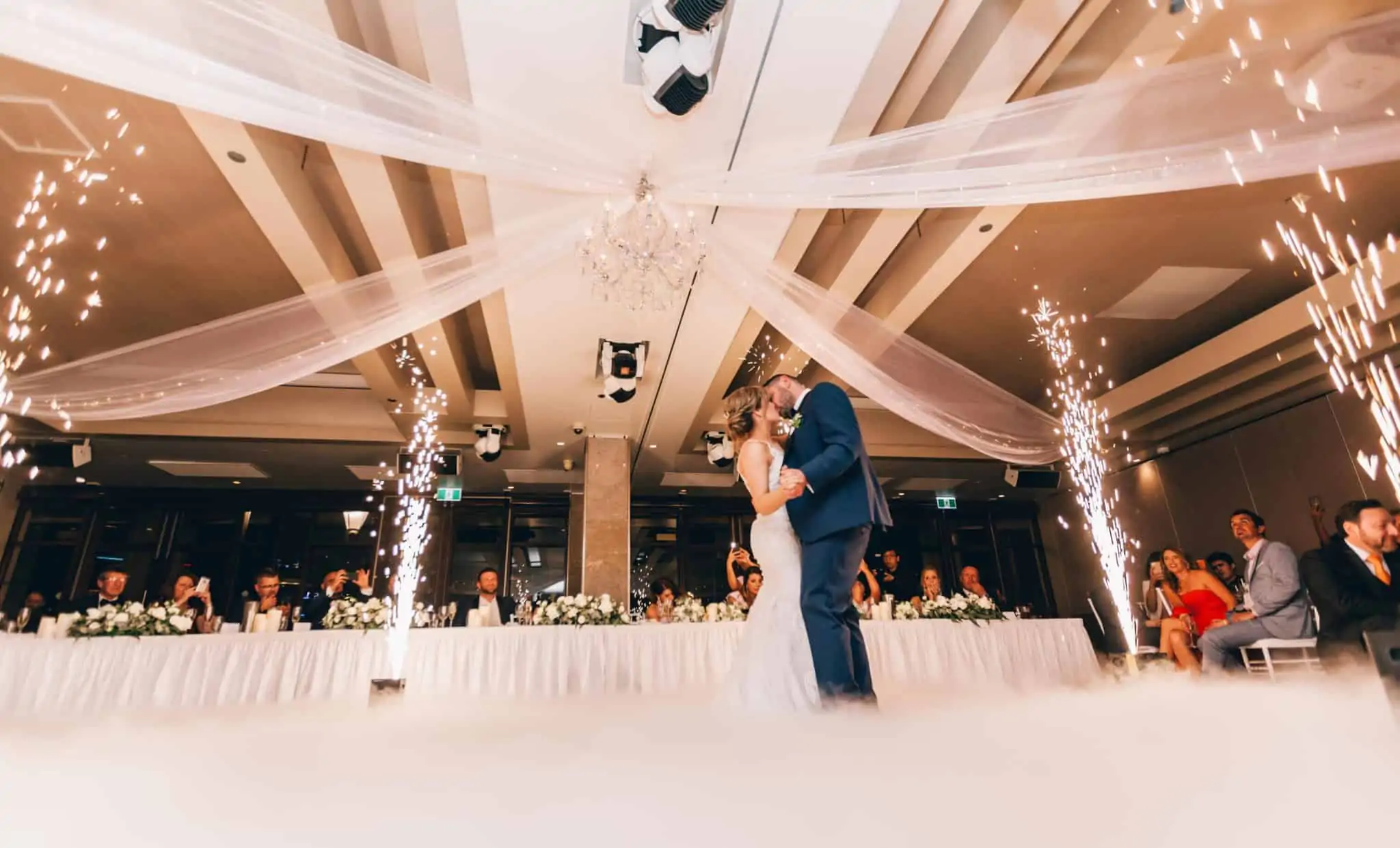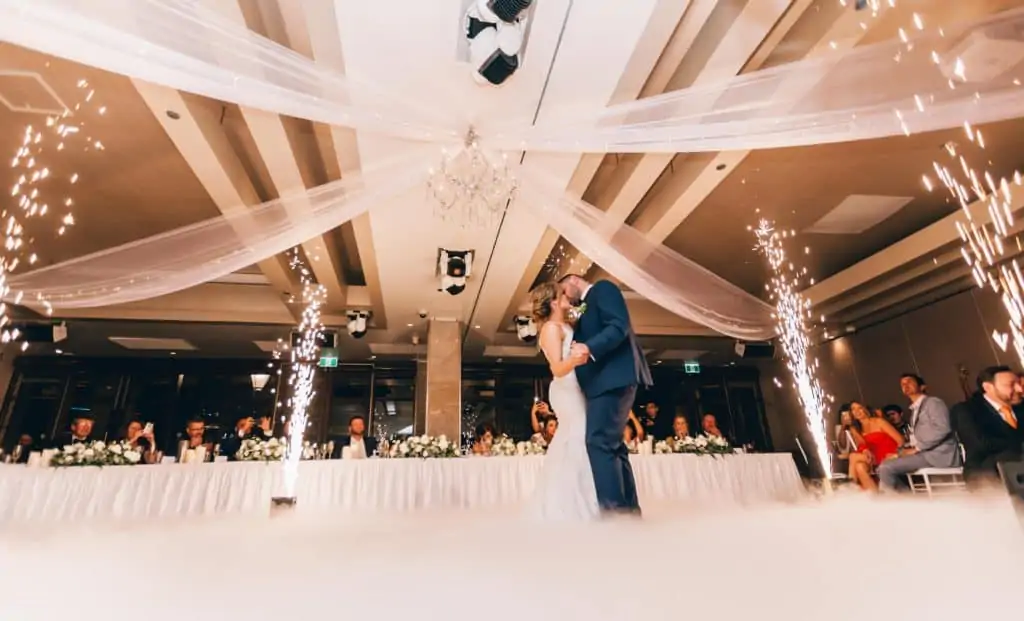 We probably don't need to tell you that planning a wedding is not exactly a walk in the park. And while it can be a whole lot of fun getting everything in place for your perfect day, it can also be a very stressful process.
But of all the decisions you need to make and problems you need to solve when planning a wedding, few are as important as choosing the right venue. A wedding reception venue plays a huge part in determining the mood and atmosphere of your big day, so making the right choice can go a long way towards ensuring the perfect day.
So if you're ready to start comparing wedding reception venues near you, keep reading for simple tips on finding the ideal space for your big day.
Alt text: Pink and white flower centerpiece on a table at a wedding reception.
Where will the ceremony be held?
First, there's one very important question you need to answer: Will the wedding ceremony and reception be in the same place, or at two different venues? The location of the ceremony is obviously going to have a huge impact on where you have the reception, so you'll need to think long and hard about where you want to walk down the aisle.
Having the ceremony and reception at the same venue can be a much more convenient and streamlined process, and it could even help you save money. On the other hand, separate venues can allow you to choose your dream space for the ceremony and for the afterparty, so it's up to what you and your partner want from your big day.
The experience you want
Speaking of what you and your partner want, now it's time to ask yourselves what sort of experience you want your wedding guests to enjoy. Will the reception be a formal and quite traditional affair, or will it be a pure party where you, your friends, and family can kick off your heels and have a good time?
It's also important to consider exactly what you'll do at the reception. A sit-down meal is the most popular and traditional approach, but couples looking to keep it light and breezy might opt for more of a cocktail party setting.
Once you have a clear picture of exactly what you want, you can start comparing specific wedding reception venues.
Location
You don't have to be a realtor to know that location matters. It's particularly important for a wedding reception, as the wrong location can have a big impact on your guests' enjoyment.
First and foremost, if the ceremony and reception are at separate venues, they obviously need to be within easy reach of one another. You may even want to organize transport for your guests to ensure that everything runs smoothly.
But you also want to ensure that the venue you choose is easily accessible for everyone who's coming. That means finding a space that's either for all your guests to get to and from, either by car or public transport, and that out-of-town guests can easily make it back to their nearby accommodation at the end of the night.
Alt text: Bride and groom sharing first dance at their wedding reception.
Size
The best wedding reception venue will obviously have enough space for you, your partner, and a few dozen (or many more) of your closest family and friends to celebrate in comfort.
So before you start shopping around for an event space, you'll need to have a good idea of how many people will be coming to the reception. Don't try to cram a whole lot of people into too small a venue, and don't choose a space that's far too big for your guest list — get the size right and the atmosphere on the night should be perfect.
Layout
Next, it's also essential to consider the layout of the space and whether it suits your requirements. Questions you need to ask include:
Where will the tables go and how many people will sit at each table?
Where will the bridal party table go?
Where will the guests mingle over drinks?
What about the band?
Is the dancefloor big enough?
There's a lot to take into account, so it often pays to look for a venue that offers a flexible layout. When there are multiple seating configurations and arrangements available, you'll have a much better chance of creating the ideal space for your celebration.
Practical matters
While the look and feel of a venue is undoubtedly important, the nitty-gritty details should never be neglected either. At the top of the list is food and drink — does the venue offer all-inclusive packages, or will you be bringing in your own caterers? What menus are available and, crucially, is the food any good?
Then you can move onto all those other small details that can actually play a big part in the night's success. For example, you should check whether there will be enough bathrooms available on the night, whether there's lots of private parking for guests, and whether there's a suitable sound system in place for speeches.
Your budget
When you're trying to plan the perfect day, your finances are probably the last thing you want to think about. But cost will always be a factor when choosing a wedding venue, so set yourself a budget before you start comparing reception spaces.
There will always be a temptation to spend a little bit more to get every little detail of your nuptials just right. But remember, your wedding is just one day in what will be the rest of your lives together. By sticking to your budget, you'll ensure that you start this next chapter in your lives on the right track.
Start scouting wedding reception venues today
Now that you know what to look for, it's time for the fun part — searching for wedding reception venues. Keep these tips in mind, and you'll be well on your way to hosting a reception your wedding guests will never forget.
Free Wedding
Giveaways + Sweepstakes
Enter sweepstakes & giveaways and enter to win a free honeymoon when you join. New winners are announced every week!