Engagement and wedding rings are automatically very meaningful by nature, but besides the fact that they are a gift centered around your marriage, they can be even more personal to you.
If you're able to have a say in your engagement/wedding ring (meaning, it's not a surprise), here's a list that was put together by the wedding experts at Bliss in Los Angeles. This will give you some great ideas on how you can dig even deeper to make your ring more meaningful.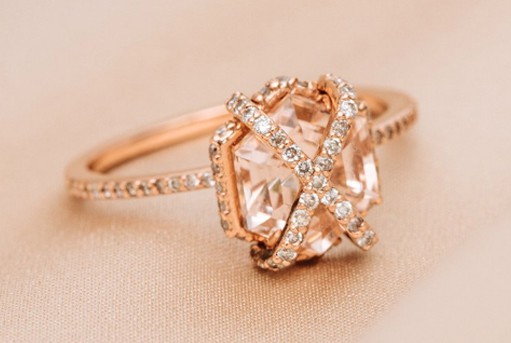 Image source: Aprés Jewelry
Don't be Swayed by Trends
When it comes to your engagement ring, it's important to not get caught up in whatever the current trend is. Choose something that's more of an "anchor" of your core style, something that's classic and won't look dated in fifteen years. Sure, you can always make changes to your ring, but it's important to choose one that you feel is truly timeless.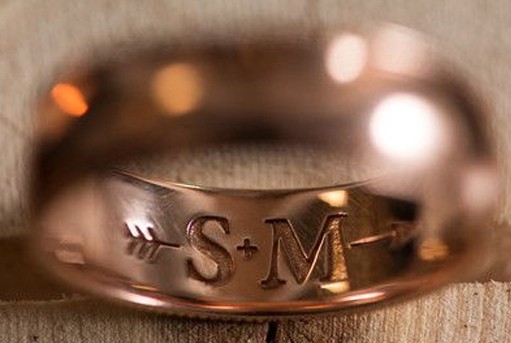 Image source: Aliza Rae Photography

Consider Different Inscriptions
Inscriptions are a great way to personalize a ring and make it meaningful and unique to you—and the options are countless. You can inscribe special dates, words, nicknames, poem lines, song lyrics, even your fingerprint or heartbeat. Anything that connects you to your partner is a great idea. Some couples even inscribe their rings with a phrase that is split between the two rings. Inscribing is a sweet, deeply personal touch to your engagement or wedding ring.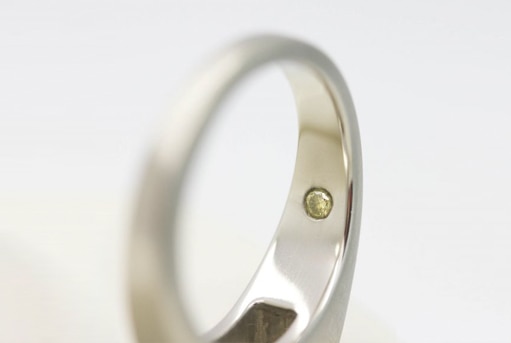 Image source: Taylor & Heart
Gemstone on the Inside

For a subtle, secret addition to make your ring more meaningful, consider setting your partner's birthstone on the inside of it. You can also use your own birthstone, of course, but many people like having their partner's stone set to feel close to them at all times.
Image source: Enso Rings

Consider Your Lifestyle

Are you outdoorsy? Do you play a lot of sports or swim? How about gardening? Does your career require you to use your hands in such a way that a ring would become a nuisance (like if you're a chef), or could get easily damaged (like if you use a lot of chemicals)? Since you'll probably be wearing your ring every day, it's important that it easily fits your lifestyle. It should seamlessly become a part of your day-to-day. This is something that you should certainly consider, and even discuss with a jeweler if possible. They will know the type of ring that will best work for you.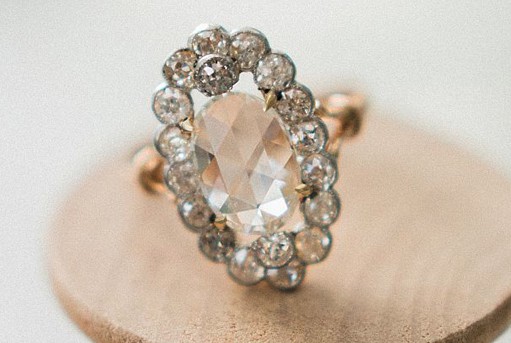 Image source: Victor Barboné
Remake Something Old
Whether you choose to accept a ring that has been in your family for years or you're simply a vintage or antique lover with a great eye, sometimes the most perfect engagement ring is one that has been loved before. When you decide to buy a previously-owned ring or accept an heirloom that has been in the family, it's extra special because you're taking on a lot of love. You can also make the ring your own by making subtle changes to it such as inscribing and adding other details, changing the stone, or even just simply re-sizing it to fit you perfectly.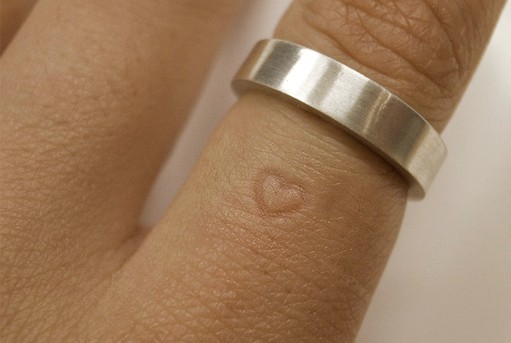 Image source: Yoon Jungyun
Imprint Rings
Still a relatively new concept, imprint rings make a very fun, unique choice. The opposite of an inscription, an imprint is raised from the ring on the inside so that it leaves a "stamp" on your skin when the ring is removed. It's like your ring has left behind a small, sweet footprint whenever you need to take it off. You can imprint messages or images—whatever is most personal to you.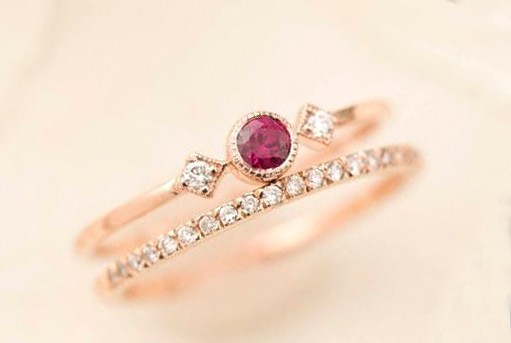 Image source: Envero New York
Select a Truly Meaningful Stone
Sure, we all love sparkly diamonds, but they don't have to be the automatic go-to when it comes to your ring. Maybe you're more of an emerald lover, or perhaps a sapphire. It all comes down to taste. But if the traditional diamond isn't for you, make your ring more personal by choosing your favorite precious stone. Here's a quick rundown of a few other options.
Rubies

, which represent

tranquility and peace of mind.

Amethysts

, known to bestow peace, stability, spirituality, contentment, and strength.

Emeralds

, called the "stones of successful love", are associated with rebirth and renewal.

Pearls

, which represent wisdom through experience, purity, wealth, luck, and protection of children.

Opals

, which represent self-esteem, creativity, and passion.

Sapphire

, believed to

banish negative thoughts and bring protection from illness and disharmony.
Which stone represents you the most?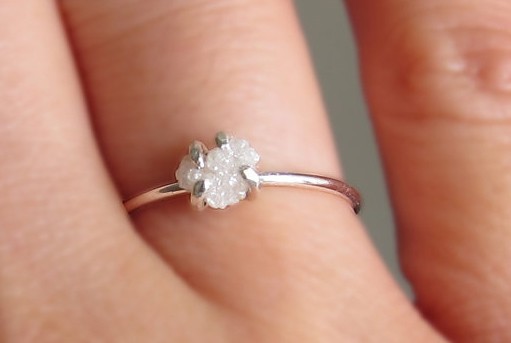 Image source: Purple Poem Craft
A Rough Diamond
Many women select a rough diamond because it can transform along with the marriage. Although it may not be as sparkly as a cut diamond in the beginning, as the marriage progresses, the ring should, too. For example, when the couple becomes pregnant with their first child, the rough diamond can be cut a little and re-set to mark the occasion. It can then be repeated when the next baby comes along…or a big move takes place, or anniversaries. The idea is that a rough, raw diamond reflects the rawness of a couple's new life together—and as their life together shifts and changes, so does the diamond. This is a symbolic concept that will require a little commitment, but many find it to be worth it and very meaningful.
Hopefully this article has given you a bit of inspiration on how to make your engagement or wedding ring as personal and meaningful as possible. Remember, you'll be wearing it forever, so make sure it says something important to you, and holds a special meaning.
Free Wedding
Giveaways + Sweepstakes
Enter sweepstakes & giveaways and enter to win a free honeymoon when you join. New winners are announced every week!