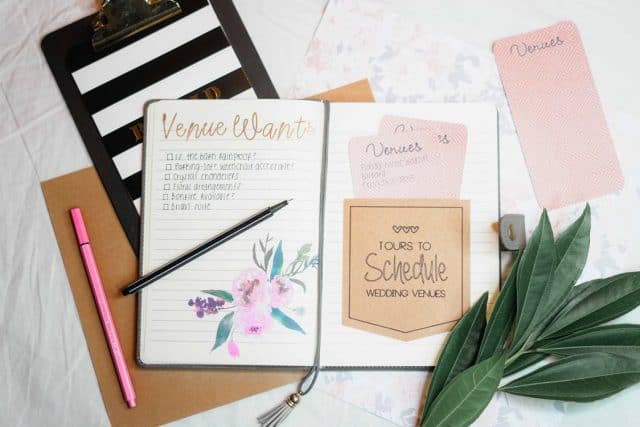 Planning a wedding is incredibly exciting, but it can also be very stressful. A lot of people assume that their friends have been exaggerating when they told them just how complicated and time-consuming planning your special day could be, but you will soon find out that this isn't the case. This isn't said to panic you, though; it's simply to make sure that you plan effectively so that everything goes as smoothly as possible. So, let's take a look at some of the most common wedding planning mistakes you need to avoid.
Not supplying enough information
– This is one mistake that a lot of people make when they hand out their invitations. Simply stating the date, time, and venue is often not enough. If there is a specific itinerary, then let your guests know. If you are getting married far away, provide your guests with directions and include a piece of paper that provides different hotel contact details for the area. It is better to provide your guests with too much information rather than not enough.
Choosing a wedding photographer without considering the style of photography
– When it comes to choosing a wedding photographer, you need to make sure that they are experienced in the style of photography that you are interested in. If you prefer documentary photography – this is when the photographer largely stays in the background and takes natural shots – then you need to make sure this is an area your photographer specializes in and you should look at their portfolio to see for yourself. The last thing you want is to receive your wedding photographs and feel your heart sink because you don't like them.
Trying to please everyone
– This is one of the biggest mistakes that couples make when planning their wedding. They spend so long getting stressed about the wedding menu because they want everyone to love the food, and they know someone who doesn't like chicken, and someone else who isn't a fan of fish, and so on and so on! However, you are never going to please everyone, so stop trying. Plus, it is your wedding!
Micromanaging and worrying about every little detail
– So, they didn't have the exact flowers you wanted because they are not in season… is it really the end of the world? Don't let little things like this get you down. In the grand scheme of things, they don't make a difference – not when you are marrying the love of your life. Plus, none of your guests will even know that they were not the flowers you initially wanted. Not only this, but there is no need to micromanage all of the staff. They have catered to many weddings before – they know what they are doing!
Sending out your wedding invitations and save the dates too early
– While you want to make sure that all of your guests can attend your wedding, you should avoid sending your wedding invites and save the dates out too early. If you do this, there is every chance that people will forget about your special day. In most cases, sending out the save the dates nine months before your wedding, and then the invites six months before the wedding, is more than enough. A lot of people send out the invites and save the dates a lot closer to the event than this. Needless to say, if you are getting married overseas then you should certainly give your guests more notice.
Underestimating the importance of stationery
– While we are on the subject of invitations and save the dates, it is vital that you do not underestimate the importance of these items. After all, they set the tone for your entire wedding. They provide the first impression that your guests are going to have of your special day, so it's important to choose a style that is in keeping with the theme of your wedding.
Making wedding plans before setting your budget
– You should never choose a wedding venue or select a dress without establishing a budget beforehand. The last thing you want to do is run out of money half way through the planning process. Plus, you could end up throwing money down the drain if you put down a deposit on a venue only to discover later that it is out of your financial reach. The best thing to do is sit down together and work out how much money you can comfortably afford to spend on your wedding. You can then attribute portions of your budget to the various aspects that you require for your wedding day, from a DJ to catering.
Skipping the wedding video
– A wedding video is something that more and more couples are investing in, and it is definitely money well spent. A wedding video is a great way to capture the natural moments of your special day and tell the story of what happened.
Assuming around 10 per cent of your guests will decline the invite
– This is considered a general rule of thumb. However, it is not always the case. If you assume that ten per cent of your guests aren't going to turn up, and then all of your guests RSVP 'yes,' you are going to find yourself with a bit of a sticky situation on your hands. This is especially the case if you have invited 110 people to a venue that only holds 100!
So there you have it: some of the most common mistakes that couples make when they are planning their wedding. Take note of the advice that has been provided, avoid the blunders that have been touched upon, and you can ensure that your wedding day planning goes as smoothly as possible.
Free Wedding
Giveaways + Sweepstakes
Enter sweepstakes & giveaways and enter to win a free honeymoon when you join. New winners are announced every week!