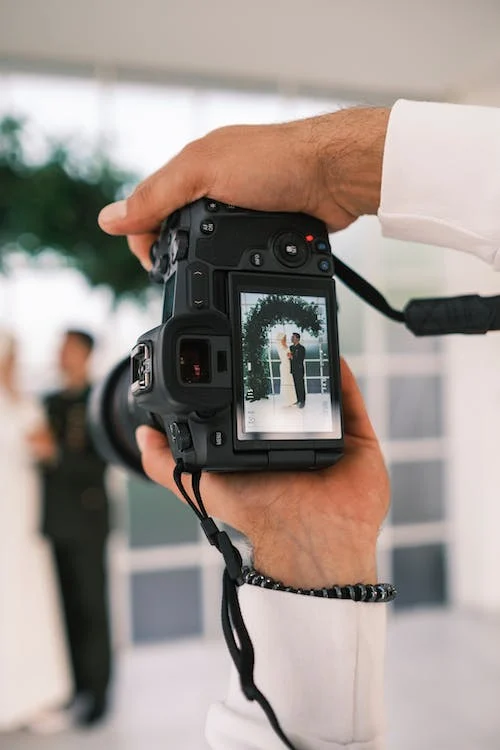 Frozen in time, your wedding images will narrate the story of your love for generations. However, choosing the right photography expert who can encapsulate the beauty and emotions of your special day isn't an easy task.
In this blog post, we're about to simplify the process with our meticulously curated checklist, 10 Essential Questions to Ask Before Hiring Your Wedding Photographer.
So, strap in as we guide you along this significant journey to ensure that you hire nothing less than a visual storytelling genius to capture your eternal love saga.
Factors to Consider When Hiring a Wedding Photographer
Hiring the right wedding photographer is crucial to ensuring that your special day is captured beautifully and in a way that reflects your unique style and love story. With so many photographers out there, it can be overwhelming to choose the perfect one. However, by considering these important factors, you can make a more informed decision:
1. Portfolio and Experience: Start by reviewing the photographer's portfolio to get a sense of their style and expertise. Look for consistency in their work and assess if their previous wedding photographs align with your vision. It's also essential to inquire about their experience shooting weddings, as this can give you confidence in their ability to handle different scenarios and capture the most beautiful moments.
2. Personality and Compatibility: Your photographer will be present throughout your special day, so it's crucial to find someone whose personality meshes well with yours. Meet the photographer in person or schedule a virtual meeting to gauge their communication style and see if you feel comfortable around them. A good rapport between you and your photographer will contribute to a more relaxed and enjoyable photoshoot.
3. Recommendations and Reviews: Ask friends, family members, or even your wedding planner for recommendations on photographers they have worked with in the past. Reading reviews online can also provide insights into other couples' experiences with a particular photographer. Pay attention not only to the quality of their work but also to their professionalism, punctuality, and ability to handle unexpected situations.
4. Flexibility and adaptability: Weddings can be unpredictable, with changing weather conditions or unexpected delays. It's important to hire a photographer who can adapt to any situation and still capture stunning images. Ask them about their approach to handling challenging lighting, indoor and outdoor venues, and how they make the most of the available resources.
5. Professionalism and Backup Plans: A professional wedding photographer should have proper contracts in place, detailing their services, fees, cancellation policies, and delivery timelines. Inquire about contingency plans in case of emergencies or if the photographer falls ill on your wedding day. Discuss how they handle backup photographers or equipment malfunctions to ensure you're prepared for any unforeseen circumstances.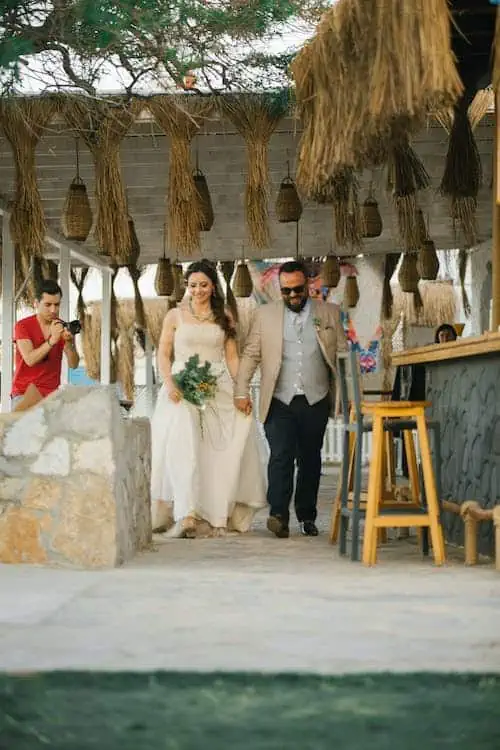 Assessing Photography Style and Experience
Assessing a photographer's style and experience is crucial to ensuring that their work aligns with your vision for your wedding day. Here are some key aspects to consider when evaluating a photographer's style and experience:
1. Photography Style: Every photographer has their own unique style, whether it's traditional, documentary/photojournalistic, fine art, or a mix of different styles. Take the time to explore various examples of their work and determine if their photography resonates with you and matches the overall aesthetic you desire for your wedding photos.
For instance, if you prefer candid moments captured artistically and creatively, choose a photographer whose portfolio showcases these qualities. On the other hand, if you prefer more traditional poses and formal portraits, look for photographers who excel at capturing those classic moments.
2. Consistency: Look for consistency in a photographer's body of work by examining multiple albums from various weddings they have documented. This allows you to see if their technique, attention to detail, and quality remain consistently high throughout the entire collection. Consistency is an essential factor in ensuring that your wedding photos will be of a consistently high standard.
3. Attention to Detail: A skilled photographer pays attention to the smallest details, capturing not only the big moments but also the little touches that make your wedding unique. Look for examples where they have captured intricate decorations, emotional expressions, or intimate and candid moments between you and your loved ones.
4. Experience with Similar Venues or Themes: If you have chosen a specific venue or have a unique wedding theme in mind, it's worth asking the photographer if they have experience shooting at similar locations or capturing a particular style. Familiarity with your venue or theme can give them an added advantage in understanding the best angles, lighting conditions, and opportunities for creative shots.
Understanding Pricing and Services
One of the crucial factors to consider when hiring a wedding photographer is their pricing structure and the services included in their packages. Asking detailed questions about pricing can help you make an informed decision while staying within your budget.
To start, inquire about what is included in their wedding packages. Do they offer engagement shoots, bridal portraits, or coverage of pre-wedding events like the rehearsal dinner? Understanding what services are part of their package can help you assess if they align with your needs and vision for your special day.
Another important aspect to consider is whether the packages can be customized. Every wedding is unique, and you may have specific requests or additional services you would like to include. Inquiring about customization options will give you a better understanding of how flexible and accommodating the photographer is to your requirements.
It's also essential to know how many hours of coverage are included in their packages. Different photographers may have different time limits for their services, so clarifying this upfront will avoid any misunderstandings later on.
Additionally, inquire about any potential travel fees if your wedding venue is at a considerable distance from the photographer's location. Some photographers may include travel expenses in their packages, while others might charge an extra fee.
Lastly, ask about payment details, such as required deposits and whether they offer installment plans to help manage your expenses effectively. Gaining clarity on these financial aspects will allow you to plan accordingly and avoid surprises down the line.
Remember that understanding pricing and included services isn't just about finding the cheapest option; it's about finding a photographer whose offerings align with your vision and priorities for capturing your special day.
The Ten Most Important Questions You Should Ask Any Wedding Photographer
When hiring a wedding photographer, you want to ensure that they are not only skilled but also the perfect fit for your unique style and needs. Here are ten essential questions to ask potential photographers during the interview process:
Is my wedding date available? This is the first and most important question to ask to determine if the photographer can accommodate your wedding day.
How far in advance do you require bookings? Knowing their booking timeline will help you plan when to secure their services to ensure they are available on your desired date.
How many weddings have you photographed? Experience is crucial, and this question will give you an idea of their level of expertise in capturing weddings.
Can you share a full gallery of a recent wedding shoot? Requesting a complete set of photos from a past wedding can help you assess their style, creativity, and consistency throughout an entire event.
Have you shot at our venue before? If not, are you willing to check it out in advance? Familiarity with the venue can be beneficial, as the photographer will already have an understanding of the best spots for capturing stunning shots.
Can you provide references or client testimonials? Feedback from previous clients can offer valuable insights into the photographer's professionalism, communication skills, and overall satisfaction with their work.
How long have you been a wedding photographer? Understanding their professional background will give you an idea of their experience level and how well they handle various scenarios that may arise during a wedding.
Have you shot weddings with a similar size and style to ours? It's important to choose a photographer who has experience with weddings that are similar in scale and aesthetic to yours, ensuring they understand your vision and can expertly capture it.
Have you worked with our wedding planner or photographer before? Collaborative relationships between vendors can help streamline the wedding day and ensure seamless coordination.
What's your working style on the wedding day? Knowing how the photographer operates during a wedding will help you understand their approach, whether they are more hands-on and directive or focused on capturing candid moments.
These ten questions will serve as a starting point for your conversations with potential wedding photographers, providing a solid foundation for assessing their compatibility with your vision and expectations. Remember, each question is important in helping to gauge their expertise, professionalism, and ability to meet your specific needs.
Sign up for WeddingVibe Today!
Capture the magic of your big day by hiring the appropriate wedding photographer, equipped with the critical questions highlighted in our latest guide. At WeddingVibe, we understand the importance of every detail in arranging your perfect wedding, and we are committed to ensuring that everything runs smoothly.
By joining WeddingVibe, you not only receive access to fantastic wedding offers and giveaways, but you also go on a journey toward a day filled with love, joy, and unforgettable memories. Allow us to be your trusted guide while you plan your dream wedding.
Sign up for WeddingVibe right now and see the magic that's waiting for you. With just one click, we can help you make your dream wedding come true.
Free Wedding
Giveaways + Sweepstakes
Enter sweepstakes & giveaways and enter to win a free honeymoon when you join. New winners are announced every week!