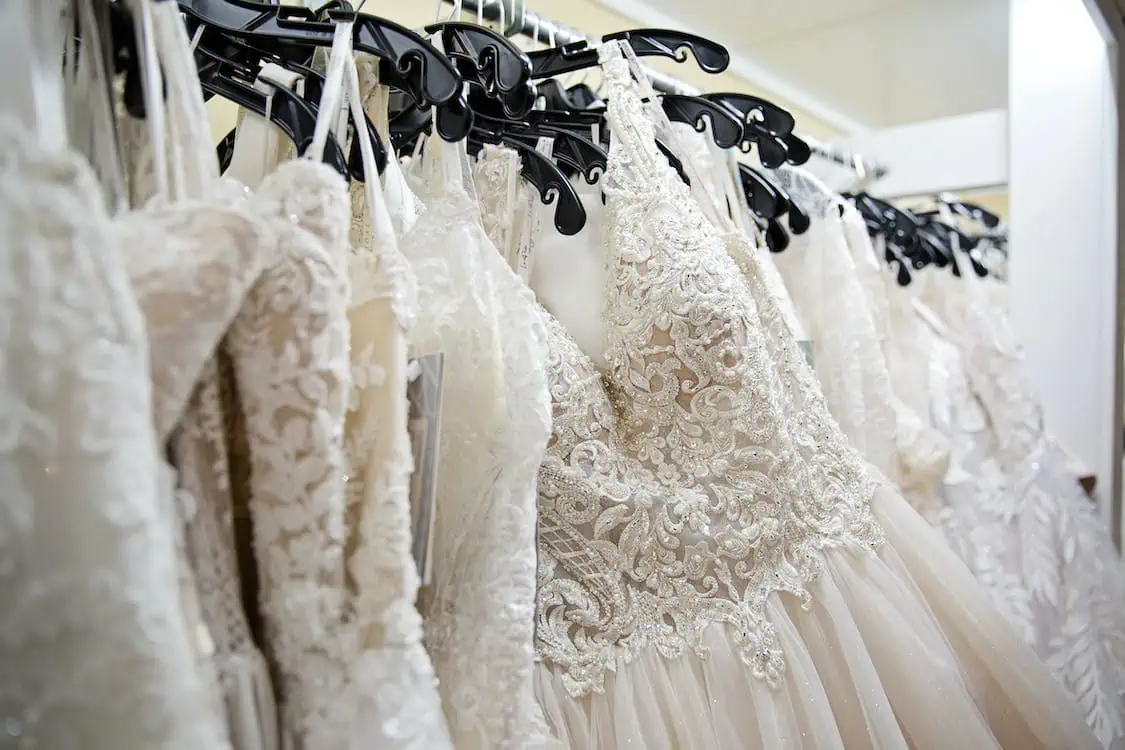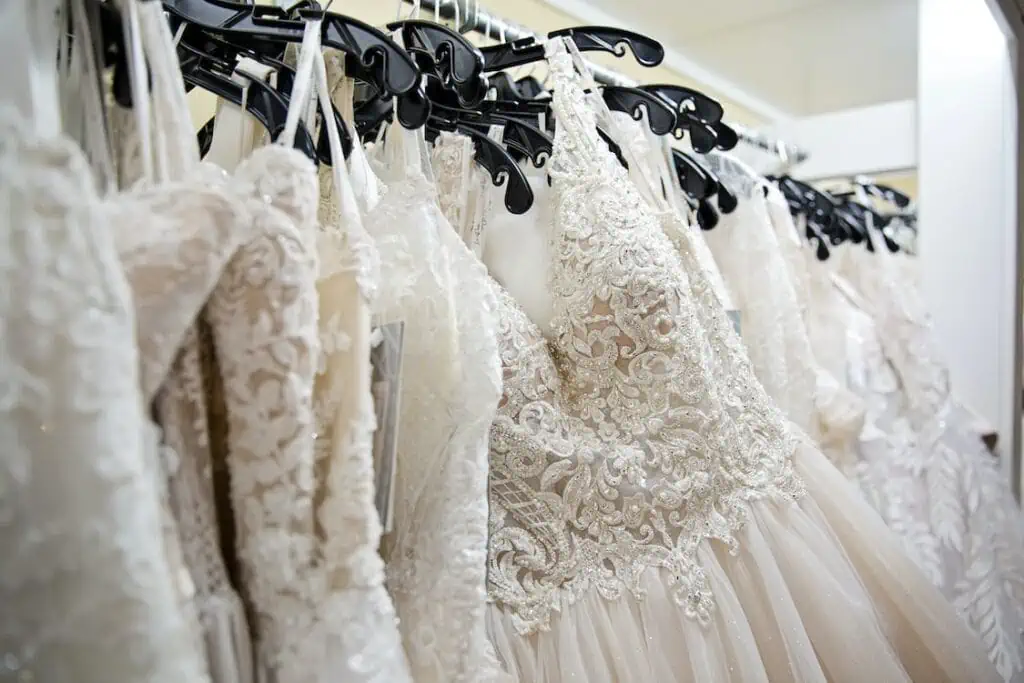 Brace yourselves, brides-to-be! The journey to your dream wedding dress is about to get as exciting as never before. Transforming a gorgeous off-the-rack gown into a masterpiece that screams your style isn't merely an option—it's the ultimate expression of bridal fashion. 
This guide will take you on a sartorial adventure, diving deep into the world of the neckline and train alterations. So, whether you're yearning for a plunging V-neck or an eye-catching cathedral train, strap in. You're about to discover how expert customization can shape your dress—and your special day—into a unique reflection of you.
Altering the Neckline on Your Wedding Dress
Your wedding dress is a reflection of your style and individuality, and customizing the neckline can transform it into a truly one-of-a-kind piece. Altering the neckline allows you to tailor your dress to suit your preferences and enhance certain features. Whether you desire a more romantic look or want to add a touch of elegance, changing the neckline can achieve that desired effect.
When considering altering the neckline, it's essential to consult with a skilled tailor or dressmaker who specializes in bridal alterations. They will guide you through the process and offer expert advice on what alterations are possible based on the design and structure of your gown. Keep in mind that not all necklines can be easily modified, so it's crucial to work with a professional who understands how to navigate these alterations while maintaining the integrity of the original design.
| | |
| --- | --- |
| Neckline Option | Description |
| Bateau | A high, wide neckline where each side meets near the collarbone, emphasizing the shoulders and providing a classic and elegant look. |
| Off-the-Shoulder | A neckline that extends across the shoulders, leaving them bare while highlighting collarbones and creating a romantic, ethereal appearance. |
| Halter | A neckline that wraps around the neck, often with ties or buttons, provides support and adds a touch of allure by showcasing the shoulders. |
| Scoop | rounded U-shaped neckline that is versatile and flatters many body types, offering a balance between elegance and modesty. |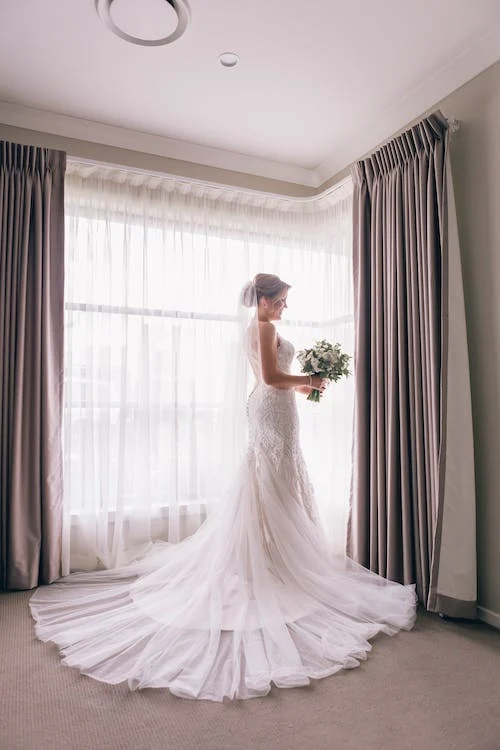 From Straight to Sweetheart: A Variety of Neckline Options
One popular option for altering the neckline is transforming it from a straight neckline to a sweetheart neckline. A sweetheart neckline forms a soft heart shape across the bust, creating a romantic and feminine look. This alteration can flatter various body types and add a touch of elegance to any dress style. Whether you have an A-line gown or a form-fitting mermaid silhouette, converting the neckline to a sweetheart style can enhance your overall bridal aesthetic.
When it comes to customizing your wedding dress neckline, there are an array of options available beyond the popular sweetheart style. Each neckline choice offers its own unique aesthetic appeal and can transform the overall look of your gown. Depending on your style and the design of your dress, you may want to explore different possibilities.
An elegant bateau neckline creates a sophisticated and timeless look by extending along each collarbone, drawing attention upwards toward your face while maintaining a sense of modesty. If you desire a more romantic and ethereal appearance, an off-the-shoulder neckline is an excellent choice. This style showcases your shoulders for an alluring effect while still exuding elegance.
If you want to add a hint of allure to your ensemble, consider a halter neckline. With its straps wrapping around the neck, this style highlights your shoulders and back, creating a captivating silhouette from every angle. On the other hand, if you prefer a versatile option that flatters various body types, a scoop neckline might be the perfect choice. This rounded, U-shaped neckline strikes a balance between sophistication and modesty, offering a classic look that beautifully complements different gown styles.
Altering the neckline of your wedding dress opens the door to various possibilities that can truly make the gown reflect your unique style and personality. From timeless bateau necklines to alluring off-the-shoulder options, there is a neckline alteration out there to suit every bride's vision.
Incorporating Sleeves for Added Modesty
When it comes to wedding dress alterations, one essential element to consider is incorporating sleeves for added modesty. While strapless or sleeveless gowns may be popular choices, some brides may prefer a more covered look or wish to adapt their dresses for different seasons. Adding sleeves not only provides the desired modesty but also offers an opportunity to infuse unique style and personal flair into the gown.
There are various sleeve options to choose from, depending on your preferences and the overall design of the dress. Long sleeves can provide warmth and elegance for fall or winter weddings. They can be tailored to fit snugly or designed with intricate lace or beading for a touch of sophistication.
For spring or summer weddings, you might opt for lighter styles such as cap sleeves, short sleeves, or even delicate spaghetti straps. These options allow for more breathability and comfort while still maintaining a graceful appearance.
Picture yourself in a flowing chiffon gown with dainty cap sleeves as you exchange vows under the warm sunlight, feeling effortlessly beautiful.
Remember that adding sleeves not only enhances modesty but can also transform the overall aesthetic of a dress. Consider consulting with an experienced seamstress who can guide you through this process and recommend sleeve styles that complement your body shape and the original design of your gown.
Tailoring the Perfect Train Length
The train of a wedding dress contributes profoundly to its elegance and sense of grandeur. However, many brides find that the default train length needs to match their vision or the practicality of their wedding venue. That's where tailoring the train length comes into play, allowing you to achieve the perfect balance between style and comfort.
When considering altering the train length, it's important to take into account factors such as your body type, venue, and personal preference. A longer train can create a dramatic effect, exuding sophistication and glamour as it gracefully trails behind you. On the other hand, a shorter train can provide ease of movement and convenience, making it suitable for outdoor or less formal weddings.
To determine the ideal train length for your dress, envision yourself walking down the aisle, taking into consideration any obstacles or restrictions you may encounter. Whether it's a chapel-length train that gently brushes the floor or a cathedral-length train cascading elegantly behind you, finding that sweet spot is key.
Keep in mind that tailoring the train length requires the expertise of a skilled seamstress who can alter and hem the fabric while preserving its original beauty. Together with your dressmaker, you can achieve a customized train length that perfectly complements your silhouette and captures your desired aesthetic.
Adding Personality with Details and Embellishments
Your wedding dress is an expression of your unique personality and style. It's an opportunity to showcase your individuality and make a statement on your special day. One way to achieve this is by incorporating details and embellishments that reflect your taste.
Beading is a popular option for adding sparkle and intricacy to your gown. Whether you prefer delicate, subtle beading or bold, eye-catching designs, it can improve the overall look of your dress. Consider a beaded belt to accentuate your waist or add shimmering embellishments along the neckline or bodice. These touches of sparkle can beautifully catch the light as you move, creating a mesmerizing effect.
Additionally, lace appliques can add a touch of romance and femininity to any wedding dress style. From delicate floral patterns to more intricate designs, lace can transform a simple gown into an ethereal masterpiece. Consider adding lace sleeves or applying lace accents throughout the bodice or skirt for a timeless and sophisticated look.
Remember that these details and embellishments should harmonize with the overall aesthetic and style of your dress. Choose features that enhance rather than fight for attention. The goal is to enhance the beauty of your gown while staying true to your style.
Be Part of the WeddingVibe Today!
Begin your journey to your dream wedding by customizing every part of your gown, from the neckline to the train, with the expert advice offered at WeddingVibe. Our extensive advice ensures that you will confidently make decisions that reflect your distinct style and vision. Trust us to make your wedding day a spectacular success, full of cherished memories that will last a lifetime.
Join WeddingVibe today not only to find the ideal dress but also to discover incredible deals on your dream honeymoon and destination wedding. Allow us to be a part of your big day, making it as wonderful as you've always envisioned.
Free Wedding
Giveaways + Sweepstakes
Enter sweepstakes & giveaways and enter to win a free honeymoon when you join. New winners are announced every week!