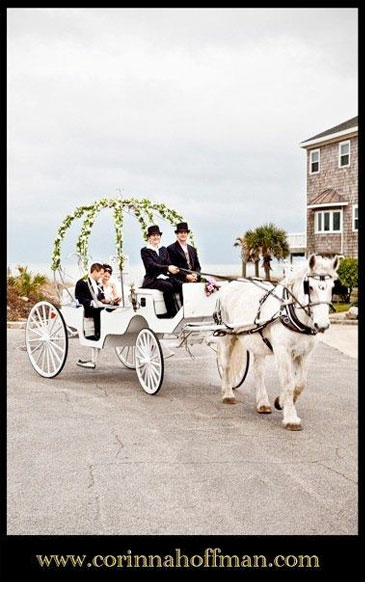 There is simply something magical about a horse and carriage. It might be because it's something that you don't see everyday. It might be that is how relatives in your family got married and you'd like to continue the tradition. Maybe you love animals and horses as much as we do. Whatever your reason, adding a horse carriage rental to your wedding is classy and is always followed by a chorus of "Oh" and "Ah."
Your wedding is a fantasy. It is a dream come true. You've found your soul mate and now you are announcing to the world that you will be together forever. It is a cause for celebration and this special day can be whatever you want it to be. Let your imagination take flight. Do you want to feel like royalty or maybe even a princess for the day? Why not arrive like Cinderella?
The pace of the carriage is slower than a car, of course. This is a good thing because it gives you time to savour the moment and really let it become a part of your memory. You want to look back on all the little things of the day and just smile happily at the thought. Why not, it's your day.
We've worked on a lot of weddings and seen a hundred fabulous ideas. Let me share with you some of our favorites.
1. Surprise! This one is my favorite. I love when the bride or groom organizes to have the carriage incorporated into the wedding but keeps it a surprise for their future spouse. It's amazing to watch their faces light up when they walk out and see a beautiful horse and carriage waiting patiently ready to escort them into their happily ever after.
2. Have the bride ride in with whoever is giving her away. After the ceremony, the bride and groom can ride away together afterward. Take a relaxing ride enjoying those special moments together before returning to the reception area to party the night away. This is the most popular idea.
3. Use the carriage to first transport the wedding party to the chapel. I like when the bridesmaids are taken first and the best man and ushers graciously help them down and walk them down the aisle. Then the bride arrives by herself and is helped out of the carriage by her father or grandfather to be given away down the aisle.
4. Make it a fairytale day by keeping the theme of Cinderella. Many carriages like ours have an option for a Pumpkin Top, just like Cinderella. Have the traditional white horse and carriage with the intricate twinings of the archwork of the pumpkin. It is out of the ordinary and draws a lot of attention. It's also a great place to hang a lot of flowers.
5. A lot of people like to share the experience of the carriage ride with their guests after the wedding by offering rides at the reception. It gives guests an added activity to enjoy and is great fun.
6. Use it as a photo opportunity. It's unique. It's original and you'll probably not get a better time to snap a few photos. A lot of times, I've seen a lot of people only think about the travel that they need and forget about the photographer. Sure, he can catch a couple pictures of you coming and going but why not incorporate a time to actually take some pictures in the carriage before your ride. Make the memory really last a lifetime with a beautiful photo. My favorite photo is when the bride stands by the horse and kisses his nose.
7. There's a Jewish wedding tradition that the bride is to be led in on a white horse bedecked in flowers. I think that it's very sweet and is actually how I myself got married. Arrive one way riding the horse and then I would think leaving together in the carriage would be phenomenal. You could even ride in on two seperate horses (bride and groom each have their own) and then ride away together on one horse signifying your unity.
8. Have a low budget for your wedding? There's nothing wrong with that. If you're cutting costs like having the wedding at home or at a park, you can really dress up the event by incorporating a carriage. Imagine being escorted around your own property just like kings and queens are. It's an inexpensive way to add to your event.
9. It's a big attention getter. Everytime, we travel down the street with a couple that's just been hitched. They get tons of well-wishes, waves and smiles from the people that we pass by. This goes for strangers too. Seeing the carriage and the happy couple just puts everyone into a better mood.
10. This one is special. If you have the carriage as part of your wedding, have it again on your first anniversary. Make it a tradition. Pack a picnic and enjoy the ride. You can even be picked up at a fancy restaurant. It's one year that you've been married, celebrate and recreate the day a little by enjoying a buggy ride once more.
Whatever it is that you decide to do. Remember that it's your day.
Celebrate. Enjoy. Smile. Laugh.
Don't let the little things get you down and then begin your happily ever after.
Article Submitted By:
www.pintocarriageworks.com
Florida
Free Wedding
Giveaways + Sweepstakes
Enter sweepstakes & giveaways and enter to win a free honeymoon when you join. New winners are announced every week!