5 Crucial Things to think about when choosing the Parent's Dance Songs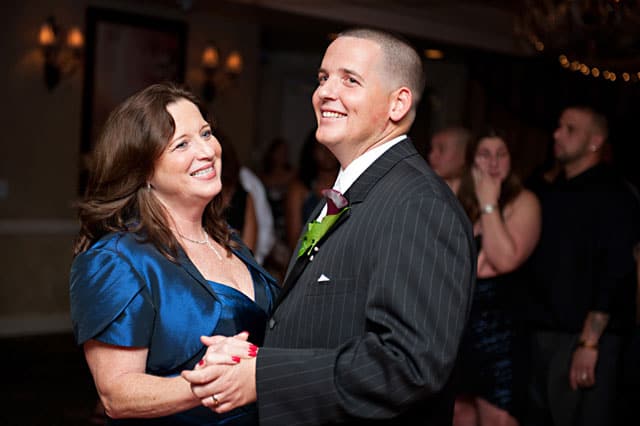 Okay, so you already have your first dance song chosen for your wedding. You may have the Father-Daughter song narrowed down to about 12 songs, and you have no clue about the Groom-Mom song. Am I close?
Well, you are not alone. That is the average response I get when talking to my brides and grooms about the daunting task of choosing the perfect songs for the parent's dances.
Here are 5 views on the matter to help you out:
1. How close are you to your father or mother? Are you "call 4 times a day" close, or are you "send an email every third week close?" If you are the latter, you may want to go with something mid tempo and not too mushy like "The Way You Look Tonight" by Sinatra, "My Girl" by The Temptations.
2. Do you fear being in front of 175 people for an extended period of time, where all eyes are on you? If so, go with a song, short in length like "What A Wonderful World" by Louis Armstrong, only 2 minutes and change.
3.Do you like country and crying? "I Loved Her First" by Heartland, the replacement of the long time country king "Butterfly Kisses". "My Little Girl" by Tim Mc Graw is another option.
4. Do you like the rat pack era, but can't find one?- "Stand By Me" by Ben E. King is great, and I already mentioned "The Way You Look Tonight". Tony Bennett or Michale Buble' have great versions of the same song. Rod Stewart also did a remake. "Unforgettable" by Nat King Cole and Natalie Cole is always a winner.
5. Looking for something new and fresh that has not been done a million times? Well I have to be somewhat partial on this one and go with our song, just released by 2011 records "All To You" by DJ Keo on youtube. Also, you could go with a song with your name in it like "Amanda" or "Sheri" etc. You may have a special fun song like "Brown Eyed Girl" that has a memory or two that only you and your parent shared.
So to summarize, I know that very few songs were written specifically for this dance, but if you plug into these five views, I believe you will find just the right parent's dance song to fit your outstanding wedding. Just make sure to have tissue on hand.
Article Submitted By:
Scott Keo
Wedding DJ/MC
www.KeoSong.com
Scott "DJ" Keo is a full time Wedding DJ/MC in Nationally. He has performed for over 800 weddings over the last 9 years. You can see him and his "Groom- Mom" song at Keosong.com.
Photo Submitted By:
Emindee Images
Free Wedding
Giveaways + Sweepstakes
Enter sweepstakes & giveaways and enter to win a free honeymoon when you join. New winners are announced every week!