As most newlyweds will tell you, spending top dollar for wedding photography and videography is never a waste of money. After the wedding day itself, photos and videos serve as a reminder of the wonderful day that marks the start of a beautiful journey of the bride and the groom.
However, today's wedding industry has evolved with numerous fads like on-site video editing, coffee table books and personal wedding websites. How do you know if a photo booth is right for your wedding?
Next generation photo booths are fully automated, occupy a small amount of space and allow guests to have endless fun taking wacky photos and group shots all night long. Considering that couples usually hire a photographer to actually document the entire day, would renting a photo booth in addition break your budget?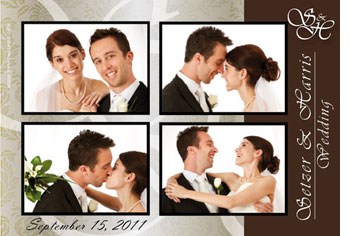 Check Out 5 Reasons Why a Photo Booth Would Complete Your Wedding Day
Photo booths provide a different kind of entertainment. During cocktail hours, give guests a reason to smile by letting them go nuts over the photo booth. Be worry-free knowing that all your family and friends are having a great time while you and your new spouse take your time in posing for your post-nuptial photos.
Photo booths are cool. Who wouldn't go crazy over a free-for-all shoot in a photo booth? They are fully automatic, hi-tech, and all prints are free for the guests. Yes, the wedding photographer does go around and take photos of each table, but the personalization that a photo booth offers is simply unmatched. It's the kind of photo guests share and keep once the wedding is over and they have returned to the daily grind.
Prints from a photo booth make ideal wedding souvenirs. Cupcakes aren't for everyone, candles aren't for the men, and picture frames may be too common. As wedding guests get their own prints from the photo booth, they are sure to cherish them for the rest of their lives. Especially, because the photo booth will give guests a chance to take fun, memorable photos with family members and friends whom they may not get to see very often.
Photo booths can be used in several ways. Place the photo booth by the entrance to the reception and let each guest take a picture as they are entering the venue. Allow them to create one print with their wishes for the bride and groom, while keeping the duplicate print for their own memory. This way, no one ever gets left out of group photos or table-by-table shots. After the wedding day, couples can upload all of their digital prints to Facebook, an image sharing website, or even have reprints made. Go all out and hold a "Most Unique Photo Booth Pose" contest. The contest will increase guest's interest and create long lines at the photo booth, so be sure to prepare a special prize for the winner.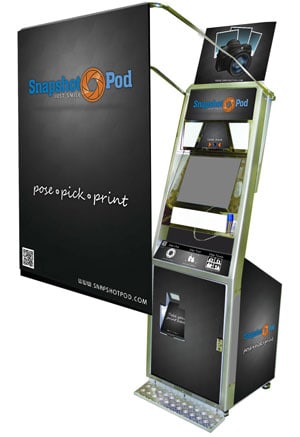 Photo booths are tons of fun. Kids enjoy recording their funny faces and the adults still get to laugh along with their favorite relatives and friends. Some photo booths, such as a Snapshot Pod photo booth, allow guests to customize their picture and select borders, frames and other artwork to decorate their pictures. They can even superimpose themselves on a variety of characters.
So if you are still wondering if renting a photo booth is worth a few hundred dollars, quit thinking and book a photo booth for your own wedding day before it's too late. Photo booths tend to book quickly, especially on the weekend. Pick the photo booth rental package that is right for you and make your wedding day a truly special.
Article submitted by Mark Buskuhl of Snapshot Pod.
If you are looking to book a Photo Booth for your wedding near the Dallas/Fort Worth area contact Snapshot Pod!
Take a look at what Snapshot Pod has to offer for photo booth packages here.
Free Wedding
Giveaways + Sweepstakes
Enter sweepstakes & giveaways and enter to win a free honeymoon when you join. New winners are announced every week!