Becoming a fiancé is exciting, sure, but it also starts you on the often long road of planning your wedding. As fun as wedding planning can be, the journey from saying you'll marry someone to actually saying "I do" can be a lengthy one, and you want your besties by your side to help you plan the wedding day you've always dreamed of.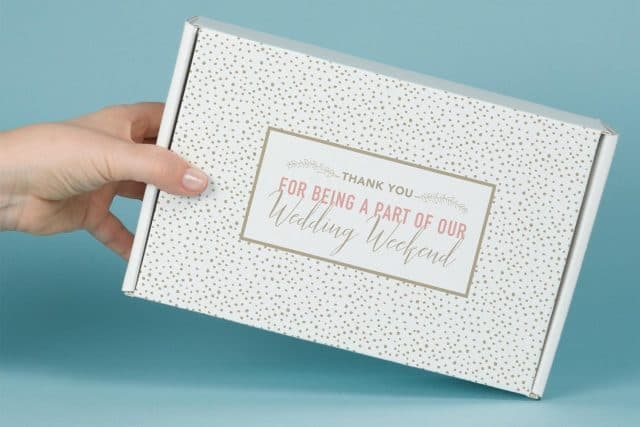 First on your list of things to do is to ask your friends to be your bridesmaids, and popping the question to them with a customized box from Distinct Packaging filled with all sorts of small gifts is a show-stopping way to demonstrate just how important your friends are to you and how special it is that they'll be there for you on your wedding day.
Creating custom boxes at Distinct Packaging with your wedding colors, date, hashtag, or whatever is most "you" is easy, but you still have to decide what to put inside your super-cool personalized boxes. Get inspiration from one of these 8 ideas for bridesmaid boxes. (No matter your design or theme, don't miss your chance to win up to 100 free custom boxes from Distinct Packaging via Wedding Vibe through 10/03/2018.)
Give your bridesmaids the gift of makeup.
A custom pizza box printed with your wedding colors is the perfect way to package all your favorite makeup. Blotting papers, nail polish, mascara, lipstick, mascara, makeup brushes—or perhaps your own favorite makeup—are all welcome additions to your special bridesmaid box. Figure out what fun phrase to print on the inside of the box, perhaps, "Will you be my bridesmaid?"; it's a unique way to pop the question to the special ladies in your life.
Surprise your ladies with spa-inspired goodies.
It's no secret that your bridesmaids and maid of honor are about to drop a lot of time, money, and effort into your wedding. This is your chance to let them know you appreciate them before things even get started. Fill your custom box with spa goodies such as a face mask, candle, bath bomb, bath salts, scrubbing mitt, and other relaxing goodies to recreate a day at the spa at home.
Create a chill box for your bridal party with creative alcohol gifts.
When it comes to toasting to your big day, you've got options. Try tucking a bottle of wine or Champagne in a custom beverage carrier, or gather the makings for a drink that reveals your wedding location in a personalized shipping box (pina colada ingredients for a beach wedding). Another option: pack mini bottles of booze for a bridesmaid-only getaway in a custom gable box. Regardless of your theme, your ladies will appreciate kicking things off with a relaxing beverage. Add personalized coasters with your wedding date printed on them for a fun twist.
Stuff your personalized bridesmaid box with your favorite foods.
It's hard to say "no" to a donut, fancy chocolate bar, or bag of candy. Perhaps you assemble a whole feast of snacks that mean something to you and your girls and package them up in a customized mailer box, or maybe you put just a couple of sweet treats in a small personalized pillow pack. No matter which of your favorite foods you decide to use, putting them in a custom box is a fun way to ask your friends to be your bridesmaids.
Match your "Will you be my bridesmaid box?" to a theme.
The ideas for themes are endless, but here are a few ones to get you started: make your bridesmaid proposal box all about the location where you'll be getting married, stuff the box with things that remind you of special moments with your girls, include items that hint at an upcoming bridesmaids' getaway, or fill it with goodies your ladies can use on the wedding day. No matter what you put in your customized box with, know that you can make the box itself special by adding pictures, text, and colors that are special to you and your wedding day by using Distinct Packaging.
Now, through October 3, 2018, you can enter to win up to 100 custom boxes on Wedding Vibe.
Free Wedding
Giveaways + Sweepstakes
Enter sweepstakes & giveaways and enter to win a free honeymoon when you join. New winners are announced every week!