Your wedding ceremony will go faster than you ever thought possible. After all the months of planning, speaking your wedding vows to each other will take scant minutes, if that. Yet this is the highlight of your whole wedding, the primary reason for your celebration. How do you create vows that are just what you want, that speak your love for each other? What vows are right for you?
As a wedding minister who has officiated at over 1,000 weddings, I have some tips that will help you make the most of this important moment.
1. If your religious wedding ceremony has a specific text that can't be changed and you want to say something other than what is allowed by your tradition, take a few minutes alone right after your ceremony to speak your personal vows to each other. Your guests and wedding party will support you in taking these few minutes for yourselves.
2. If your religious traditions has vows where you each answer 'I do' to a question posed by the minister and you want to speak to each other, ask your minister or officiant if you can say your words as a statement to your beloved instead of the question that the minister poses. In this way, "Do you, John, take Mary, to be your lawful wedded wife," becomes "I, John, take you, Mary, to be my lawfully wedded wife.' If not, there is sometimes more latitude in a religious ceremony in the exchange of rings section to speak your words of love to your partner. This is also a time of promise and commitment.
3. If at all possible speak your words of love to each other in your vows and in your exchange of rings. These are the only times in a typical wedding ceremony that you speak to each other. I only use 'I do' vows when couples tell me that they're absolutely too shy to speak more than that in a public ceremony. Your marriage vows are so much more powerful when you speak them as you face each other and hold hands. The Declaration of Intentions, earlier in the ceremony, is usually where you answer the 'I do' question posed by the minister. At that time you are affirming to the minister your conscious intention, in body, mind and spirit, to go forward into marriage. You can have both the 'I do' moment in that section of the ceremony and your spoken vows a little later in the ceremony!
4. Consider how you want to say your vows. Couples typically tell me they want either 'repeat after me vows' or to 'write their own vows.' These aren't mutually exclusive. You can write your own vows that the minster prompts, or have more traditional vows that you read/speak to each other. You can even speak personal 'write your own vows' followed by traditional vows that you repeat after the minister. In most wedding ceremonies, the words of your marriage vows are of your choosing whether you write them from scratch or adapt existing marriage vows to fit your love. I have lots of wonderful and varied examples of all types of wedding vows in my book, 'The Ultimate Wedding Ceremony Workbook.'
Create vows that you'll be comfortable speaking. Practice your vows out loud before your big day to make sure they're in your mind and heart and roll easily off your tongue. Don't use long or complex sentences.
Don't try to memorize your vows or speak your vows extemporaneously to each other. It simply puts too much pressure on you. Don't take the chance that this might be the one moment when all words escape you. If you're worried about remembering your vows, you won't be in the moment.
With 'repeat after me' vows, tell the minister you only want to repeat 4 or 5 words, or at most one thought, at a time. You might think it will sound choppy but it doesn't. The words have a momentum of their own. And each phrase can be savored by itself. The minister will say the vows loudly enough for everyone to hear. You need only concentrate on your beloved taking all the time you want in speaking your vows. Some couples ad lib a little and that's fine. It's your moment.
With vows you don't want prompted by the minister, additional questions arise. Do you care if all your guests hear you say your marriage vows to each other? Do you want to be mic'ed? Do you want the mic to pic up everything you say to each other throughout the whole ceremony, even asides? Do you want only your vows mic'ed? Will you have to hold a microphone in addition to holding hands and the piece of paper? Work out these logistics beforehand. The officiant can help you. She or he can carry your vows into the ceremony and hand them to you at the appropriate moment or even hold the piece of paper for you so that you can still easily hold hands with your beloved. Don't read your vows. Look down, grab a phrase in your mind, look back at your beloved, and speak your vows to him or her.
5. Choose your words with joy. Don't let creating your vows become a task to be completed. Your vows represent your promises to each other to share your lives, not by sacrificing yourself to the other, but through creating from your love a whole that is larger and richer than either of you could have achieved alone. Your vows spoken at your wedding ceremony are but one step in your adventure of loving. Your wedding vows will never encapsulate all the words of love you feel. But they create a foundation for your marriage. Words are powerful creators. Choose words that honor the love you share. Speak slowly. Let there be pauses to let the words and the emotions of the moment sink in. Claim the power of your vows, of the moment, and of your love.
6. After your wedding day, print the words of your vows, then frame them and hang them in your home. They will remind you each day of the breathing, growing, changing love you share. The words of the ancient ritual of marriage touch all of us who hear them calling us back to the possibilities that love itself creates. When the stresses of your partnership feel daunting the words of your marriage vows, right there to inspire you, will help you find your way back to your togetherness.
For my complete 'Guide to Writing Your Wedding Vows,' and for lots of ideas about all the aspects of planning your wedding ceremony see my complete wedding ceremony planning resource book at www.UltimateWeddingCeremonyWorkbook.com.
Article contributed by Reverend Robin Renteria, Ph.D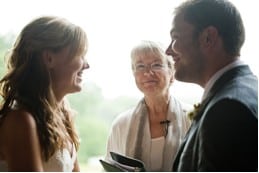 Free Wedding
Giveaways + Sweepstakes
Enter sweepstakes & giveaways and enter to win a free honeymoon when you join. New winners are announced every week!