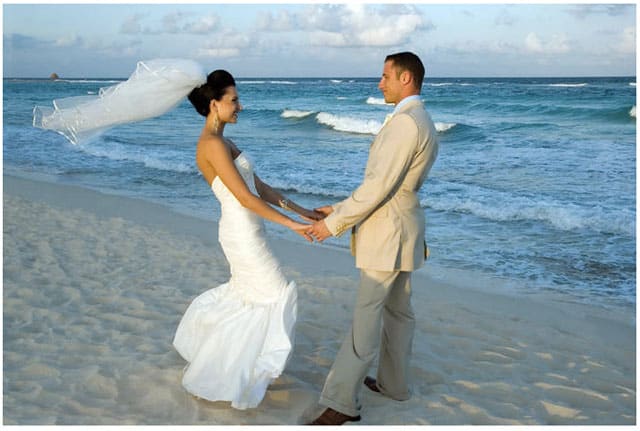 Here are 7 important tips for planning destination weddings.
Tip #1
Work It – Claim Your Discounts!
When you are bringing a group of people to a venue/location that increases that venues business. Use that to your advantage and negotiate with vendors. Let businesses know that you are not from the area, and ask if you can get a group discount. Don't be shy to ask the hotel or resort for discounts for you and your guests.
Tip #2
Be Mindful of Your Guests
If you are planning to do a destination wedding and inviting guests, you'll want to be mindful of everyone's budgets. You will want to choose a location that means something to you and your fiancée but also a location that is affordable for the guests that are planning to be in attendance. So, as exotic as it may sound, don't pick a location that will cost you're guests a few thousand dollars for the weekend.
Tip #3
Save-the-Dates
This is an important one brides! With a destination wedding, save-the-date cards are critical. Mail them to your guests as early as possible, at least 6-8 months in advance. Remember, this is a destination wedding, and your guests may be planning their family vacation around it. The sooner you get the save-the-dates out, the more time your guests have to plan their budgets and shop for the best airfares.
Tip #4
Going International?
If you're planning to be married outside of the United States, going international, be aware of the legal requirements. Many countries or islands have marriage fees and residency requirements in addition to a slew of other red tape. Some places even require that you take chest X-rays and blood tests. I recommend you thoroughly research marriage laws and requirements if you are planning to be wed outside of the U.S.
Tip #5
Wedding Planners
This is probably one of the best tips that I can offer … hire a wedding planner to assist you with your destination wedding. Given the added complications of destination weddings, a good wedding planner can be a godsend. The wedding planner is there to take the stress off of your shoulders so you can enjoy your big day. They work with you during the planning process; they can be your 'negotiator' with the local vendors. They can be your communicator with your vendors and the staff of the venue. They are there the day of your event to ensure all goes according to your vision and your plans.
Tip #6
Keep it Together
As hard as this tip can possibly be and I recognize that it's hard brides … don't stress out, keep it together. Destination weddings are typically less stressful than when holding a traditional wedding in your hometown. When doing a destination wedding, recognize up front that many of the details are out of your control (i.e. the weather, flight delays, etc) Just remember to plan ahead and accordingly, meaning have a plan b for everything, and it will all work out in the end. You only live this day once, so try and keep it together and enjoy it.
Tip #7
Become Familiar
For destination weddings (especially for larger weddings), visit the location and venue at least once, or better yet twice if it is affordable. This allows you and your fiancée to become familiar with the venue(s) and the location, which will help ease some of the anxiety the day of the wedding because you will have the benefit of knowing what to expect in advance, where you are going and how to get there.
Article submitted by Hatchett Event Planning & Design Group. They have experience with planning destination events and are more than willing to assist. You can contact them at 614.832.5301 or via their website at www.hatchettevents.com.
Free Wedding
Giveaways + Sweepstakes
Enter sweepstakes & giveaways and enter to win a free honeymoon when you join. New winners are announced every week!