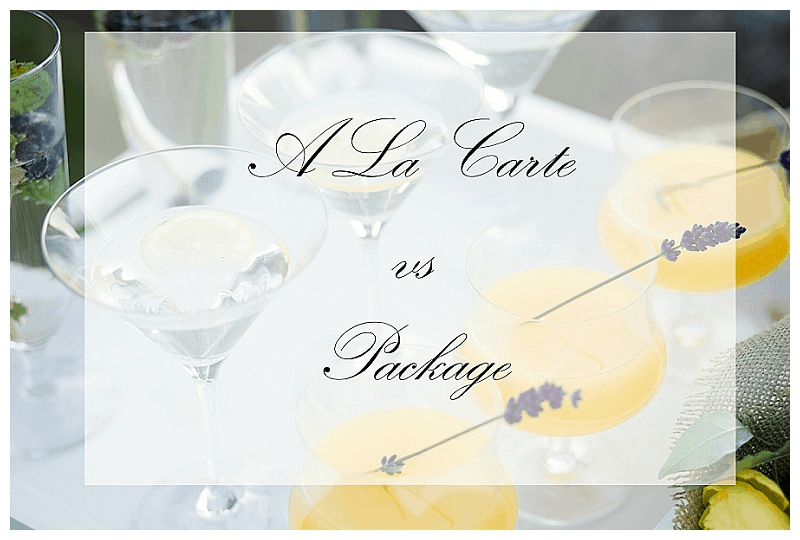 If you are in the process of deciding whether to plan your wedding A La Carte or whether to go for a Package deal but don't know where to start today's post is for you! I am discussing some of the points that you should consider when making your decision.
A La Carte
Personalization – One of the many reasons that many couples choose this option is because of the flexibility when it comes to including specific details in your big day. If you have visions of a draped ceiling for your reception, a vintage truck full of flowers to greet your guests and a specific floor plan – most of the time a less traditional venue with a la carte offerings will allow you to bring this vision to life.
Location, Location, Location – If getting married in a hotel or restaurant ballroom is not your style, choosing a venue that is simply just a venue, allows you the flexibility to host your special day in whatever setting you desire.  Whether it be a barn, an industrial warehouse, botanical gardens, a summer camp or a cottage on the lake…as long as you are fine with taking on or hiring someone to help you with the design and execution…your dream wedding at your dream location is possible.
Cost Analysis – Budget for an a la carte wedding can be either more or less expensive…the benefit is that those decisions are in your control. The first thing to look at besides the cost of the space rental fee is the amenities that come with the venue. Most venues will have restrooms, lighting and will be accessible however if you choose to wed in an old barn, a woodland forest or the beach then these may all be additional items that you need to think about bringing in yourself to make the venue accessible and comfortable for your guests. The second part of the analysis lies in your design choices and whether you want it all or are willing to compromise on some items to stay within a certain budget.
Planner, Designer, Time Keeper – This rule does not hold true 100% of the time but for the most part you're a la carte venues are not always going to have and on site coordinator or someone who can make sure that you have thought of everything. Don't worry there are other professionals that you can hire to help you. If you have the time, energy and desire you can take on the planning and design of your day and then hand it off to a professional the month before to make sure that you have everything covered and to help you execute your vision without the stress on your actual wedding day. If you want the planning and design left up to the professionals then hire a planner and a designer to take your vision and make it a reality without you having to expend your valuable time.
Package
More for your money – If you have a decent budget and don't want to have to worry about flowers, food and rentals on your own then a package deal might be the best way to go for you. As with anything when it comes to the budget a package wedding has thought of everything for you and included that in a price that of course can then be upgraded depending on number of guests and personal style. Typically they include use of the space, all of your rentals, on-site caterer, cake, bar etc. Because they have everything on-site and are not sourcing other vendors your price per person will typically start off lower than an a la carte alternative. You should however make sure that these base packages have everything you need as upgrades can easily put you in a higher price bracket.
Low stress – Typically venues with packages have an on-site coordinator. (Note than an on-site coordinator is not, nor do they take the place of an event planner/designer) This person is employed for the venue. They will be able to present you with the packages and options available as far as linens, food and cake and they will show you several pre-arranged floor plans that work for their space depending on the number of guests. If you like this plug and play method of planning than a package option would be a good lower stress option for you.
Rules, Rules, Rules – Let me preface this by saying that every venue is going to have rules! For example, if you choose an old barn that does not have an on-site coordinator they may not allow you to have a bonfire outside after your reception as a safety precaution. Traditional venues however often have other restrictions that you should consider. For example may do not allow anything to be hung from the walls or ceilings, they may have a preferred vendor list from which you must choose your photographer and other vendors and there may be tighter time restrictions as multiple events may be held in one day.
Article Submitted By: Chelsea of www.detailsbychelseaann.com
Free Wedding
Giveaways + Sweepstakes
Enter sweepstakes & giveaways and enter to win a free honeymoon when you join. New winners are announced every week!