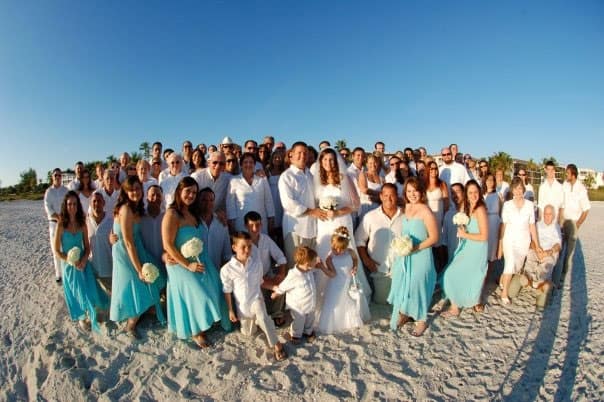 Consider having your wedding guests united in a theme or a color. Two of my favorite weddings that I have been a part of in the last couple of years have gone with something outside of the box. Sure it is not unheard of to be told that a wedding is "Black Tie" only, but to be informed that the the Bride and Groom request everyone wear white to their formal affair? Naturally, when I first heard of the concept, I had my mother's voice in my head saying, "you should never where white to a wedding; you can't look like you are trying to compete with the bride", but to my surprise, these weddings created the most elegant looking crowd and the couple's photos were amazing (plus crazy Aunt Betty didn't stand out in one of her "unique" outfits). The unified look actually contributed to the décor of the entire event, and every accent color the bride chose popped like art in the reception room. If this look really isn't for you, consider something else like asking everyone to wear a certain color shoe or maybe ask your guests to wear a certain color scheme (Kim Kardashian's guests all wore black or white). The guests tend to feel very included and typically love the idea. Plus, what a great conversation starter!
Article submitted by Jennifer Byrn of Ibis Golf & Country Club
Free Wedding
Giveaways + Sweepstakes
Enter sweepstakes & giveaways and enter to win a free honeymoon when you join. New winners are announced every week!