The choice to become a wedding designer, 17 years ago, felt kind of second nature.  Being a professionally-trained artist, a graduate of Case Western and The Cleveland Institute of Art, made "designing weddings" feel second nature.  Having spent a lot of time being artistic in a variety of media, I'm addressing couples' interest in color with some insight and realism.
Color is the element that gives your wedding life!  We can even count white as a color.  (After all, white paint includes white pigment!) So how does a couple start? What about the COLOR of wedding elements should couples think about?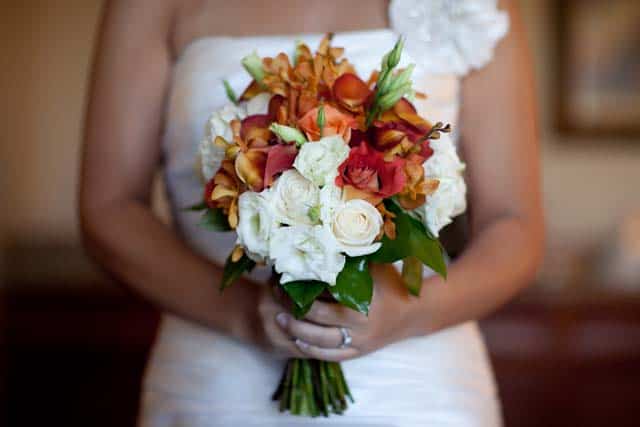 (Photo courtesy of Ware House Studios)
While you'll think about colors you like—colors that excite you—do more than just think.  Get out to bridesmaids' gown stores, tuxedo shops, and floral shops.  And while the internet is a great tool for general information, colors don't appear accurate on computer monitors.  It behooves you to SEE COLORS IN PERSON while soul searching about do-able wedding components.
The bridesmaids' gown store will have gowns in umpteen different colors.  Same at the tuxedo shop with respect to vests.  And, the floral shop's cooler will be rainbow replete.  As you see colors you like, start grabbing!  Perhaps the bridesmaids' gown store will sell you a swatch of the maids' gown fabric you love.  Make a mental note of tuxedo vests that enthused you.  And if you see a flower in the florist's cooler that strikes you, buy it!  Perhaps stop by your local craft store and buy a silk version of the flower you love.  Of course, the silk version will be only an approximation of the actual color.  But, the silk version might land in a vase in your home or office—enabling you to SPEND SOME TIME WITH YOUR COLOR.  And, returning to the "getting a bridesmaids' gown swatch idea", colors on a printed page, like in a catalog, never quite give enough information to enable you to "get to know" the fabric.  Getting a swatch is a must.
After a short time of "living with your color", if you find your color still enlivening, you'll be ready to start placing wedding orders.  Chances are, your bridesmaids' gown swatch represents a manufactured gown appropriate for your maids.  (This is because gown manufacturers make gowns, or a given color, in many styles.)  Coordinating tuxedo vests is likely to be easy.  Vest manufacturers today make vests in fabrics that "dance around the color".  The fabric has many threads in different shades or a subtle pattern in different shades.  These "active color" vests often harmonize with today's maids' gowns.  The couple is relieved from trying to match gowns-with-vests exactly.  Repeating the "active color" concept, tuxedo ties and pocket squares today often "dance around the color of the vest".  That is to say, the elements of the outfit coordinate rather than match.
A similar "dancing around the color" will happen as you custom-dye bridesmaids' shoes and handbags.  Custom dyeing (done at the bridesmaids' gown store or at a shoe repair shop) usually renders a somewhat-close color, but never renders an exact match.  So, from the get go, don't sweat the "exactness".  Bright, clear colors are more likely to come close to matching (magenta, yellow, orange, red, Kelly green, and so on).  The subtle colors are less likely to match (seafoam green, putty [cool grey], butter, and gun metal grey [medium grey], and so on).  For example, the gun metal grey shoe or handbag is likely to turn out a little more toward the blue or a little more toward the purple.  Once again, don't sweat the exactness- remember that dye-wise, grey is a mixture of hues.  And a few notes about dying shoes and handbags:  All shoes and handbags need to be of the same fabric.  Say, all satin or all crepe.  If possible, pull together the entire bridal party's shoes and the entire bridal party's handbags—and have them dyed all at once.  This is likely to get the grouping of accessories all matching or reasonably close.  Note that fabric dye for shoes and handbags isn't waterproof.  So, if it rains the day of your wedding there may be color running.  You can avert this by putting a water-repellant spray on the shoes and handbags.  But note that after you've done this, your maids won't be able to re-dye article to black after the wedding. The only way to bank color of a shoe or handbag being exactly the color you're expecting, is to buy it already in the color you want.
And, don't give the dying man or woman the discourtesy of rejecting a dyed article.  Chances are, they're doing everything they can.
Some of the very dark colors of bridesmaids gowns are poetic and intriguing.  Like midnight (deep blue) and truffle (deep brown).  But note that they may end up looking black when you put the pictures up on your facebook page.  And, some subtle colors—like seafoam green—might change in hue when you put them up on your facebook page.  And, while we're on the subject, different computer monitors display a given color quite differently.  As we know, part of planning a wedding is planning how you want your pictures to look.  But of course, choose the bridesmaids gowns you love.
When placing your bridesmaids' gown order, have all your maids place their order at once.  Chances are, this will bring about all the gowns being cut from fabric of the same dye lot.  (When fabric is manufactured, it's made in lots.  From lot to lot, the fabric color is similar but rarely exact.)  So we're stacking the deck in the direction of color matching.  But, as always, don't sweat the exactness.
Getting back to the silk flower you've fallen in love with, take it with you when you meet with the florist.  If you've matched your silk flower with what you originally pulled from a florist's cooler, your silk flower will start off the interview with focus and direction.
A later step will be coordinating rental tablecloths and napkins for the reception.  Some rental houses will give you swatches.  You can soul search—with the swatch in your possession—as you did with the gown swatch.  Once you've decided on your tablecloths and napkins, send a piece of your swatch to the catering establishment—along with specifications.  This will communicate your choice exactly.  And, send pieces of your bridesmaids' gown swatch, your tablecloth swatch, and your napkin swatch to your florist.  He or she will be able to make prudent flower decisions for bridesmaids' bouquets, centerpieces, and décor items.
It's all a lot of fun!  This lively, jumping thing we call color.  A little planning can make your wedding a vibrant splash!
Article submitted by Julian Severyn from Wedding Artistry.
Free Wedding
Giveaways + Sweepstakes
Enter sweepstakes & giveaways and enter to win a free honeymoon when you join. New winners are announced every week!