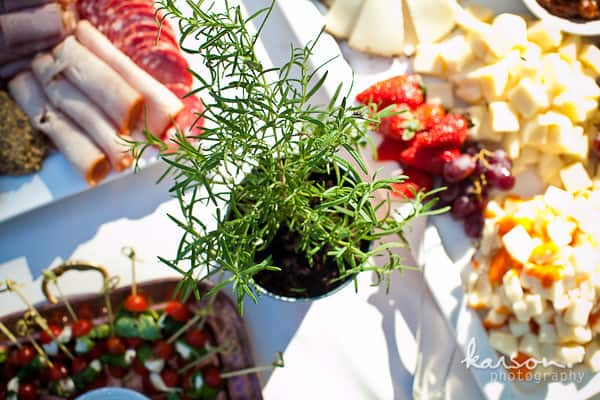 Order Food That You Enjoy
Make sure to  order the food that you like and your guests will enjoy it. If you have a love of shrimp make sure you have a shrimp appetizer. Having more hors d'oeuvres may reduce your overall catering bill because people will be munching on the lighter fare and may not need as many courses at dinner.  Also, have your servers pass the pricier appetizers which will cut down on the amount that your guests will eat instead of having a stationary appetizer table.
Order Food That is in Season
Some food such as heirloom tomatoes or avocados may only be in season in the summer and may cost a lot more to have in the winter.  The chef will be able to help you choose food that is in season which will help with the cost, but also with the quality of produce you will be ordering. Different cuts of meat can also give you price options. If your husband-to-be or father is a steak lover, you may want to discuss with your planner or executive chef about getting a steam ship round as opposed to a beef tenderloin roast. Different cuts of meat are more expensive than others and having this discussion with your chef will help you make a more informed decision.

Have Food Stations
Food stations are a unique way to serve a variety of foods at your event and you can be sure that everyone will find something they like to eat. This way, you won't have to worry about people changing their minds about their meal choices once they arrive. A food station with different types of pasta is usually a hit with most guests, and can be very economical. Guests can mingle while choosing what they want to eat and having multiple stations helps with the crowd control.

Be Creative
Serve mash potatoes in martini glasses, have a Create-Your-Own grilled cheese station, ask for a Mac & Cheese bar where guests can add their own toppings to the sharp cheddar mac & cheese. Being creative with the menu will show your guests that you took the time to make the event enjoyable and innovative. Your meal doesn't have to be fancy, sometimes comfort food goes over the best with guests.

Simple Decorations
Here in the Lowcountry simple is perfect. The amazing venues we have to choose from have so much culture, ambiance, and historic beauty that adding too many decorations can sometimes take away from the beauty. Talk with your planner about having one color of table cloths for the entire event. Spend your money on various sizes of candles and hints of color with flowers that are in season.  Invest in table decorations that do double duty such as colorful bowls or large pitchers with colorful punches and drinks for your guests.  Have your catering company display your food as art by using beautiful platters and unique ways to present your guests their cuisine.
Tips and Advice provided by Gourmet Bay Catering
Lowcountry Cuisine with a Wine Country Twist
Free Wedding
Giveaways + Sweepstakes
Enter sweepstakes & giveaways and enter to win a free honeymoon when you join. New winners are announced every week!