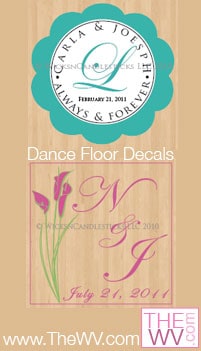 Enter to win this Dance Floor Decal from www.TheWV.com.
This dance floor decal is a great addition to your wedding decor. With numerous styles to choose from, there is sure to be a match to your wedding theme or colors. Winners will be chosen January, 25th 2012.  To view all of our giveaways click here.
Giveaway courtesy of WicksnCandleSticks
Free Wedding
Giveaways + Sweepstakes
Enter sweepstakes & giveaways and enter to win a free honeymoon when you join. New winners are announced every week!