Still searching for that perfect bridesmaid gift or groomsmen gift? Take a look at what American Bridal has to offer for their discounted bridal party gifts. You might just find the perfect something at a great price! Click here for more bridal party gift ideas.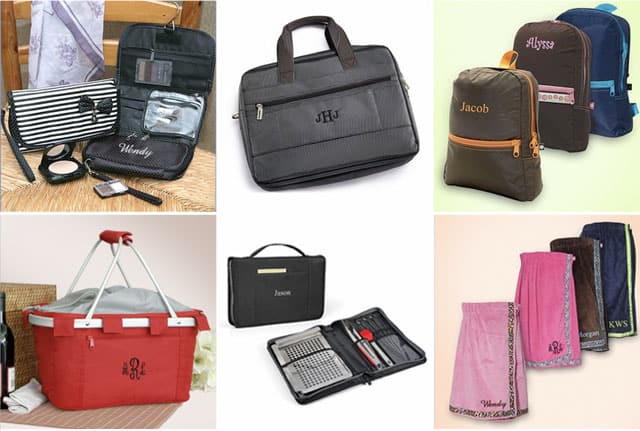 She'll always have a place for makeup with this convenient hanging bag! These are perfect as favors for the entire bridesmaid party. The bag has a built-in loop hanger for easy storage. Inside, there's plenty of smart, space-saving features. There are pockets for lipstick, eyeliner, blush and much more. Choose from two popular designs – either hot pink & black or black & white. Each one includes a delicate bow accented with a silver heart charm. Plus, you can personalize the hanging makeup bag with initials or even a short name.
Portable, posh, perfectly proportioned – and did we mention personalized? This go-anywhere laptop carrying case puts convenience in anybody's corner. It makes a sought-after wedding gift for your groomsmen. Durably comprised of neoprene, the case has a black finish and comes properly appointed with abundant carry-all credentials. It has exterior and interior pockets to keep pencils, papers, cell phones and more neatly tucked away. Plus, two looped handles add contoured comfort during travel. Personalize this laptop case with a stylized monogram initial design or even the wedding participant's name.
Reward your junior-sized wedding participants. Any kid will love this backpack. Whether on sleepovers or off to camp, this backpack allows easy, organized storage and comfortable portability. And they'll appreciate the whimsical, stylish touches, too! Perfect for boys or girls, this backpack makes a great gift for your wedding bearer, flower girl, ushers and more. The backpack is completely customizable – choose the color, font, thread color and up to a 8 letter name. The backpack has supportive straps and a built-in carrying handle, along with plenty of interior space and easy-to-access zippered pockets. It holds toys, clothes, toothbrushes and much more.
A tisket a tasket–our latest new picnic basket. Can be embroidered with your bridesmaids' first names, initials or a classic monogram–for a practical thank you gift. Our Metro Picnic Basket is also an ideal wedding gift for the bride and groom.
Collapsable, insulated Metro Picnic Basket keeps food and drinks at the perfect temperature for hours! Stylish and practical–take it with you to the farmer's market. We'd use it for picnics at the beach or local park.
The outer fabric shell is made of durable micro-fiber polyester canvas with a water-resistant coating and insulation that keeps food and drinks hot or cold. The lightweight aluminum frame collapses for compact easy storage.
Let the guys grill anywhere. This portable Grill Master gourmet tray kit includes everything required for a tasty meal on the go. The set is ideal for entertaining, but also excels at campsites and even backyard barbeques! Grooms everywhere agree – this is the perfect gift. Plus, other wedding participants will find plenty of uses for this unique set. This compact collection includes a stainless steel grilling try, basting brush, tongs and 4 BBQ skewers. Kabobs, steaks, grilled vegetables, fish and more – this Grill Master kit handles everything. Plus, the carrying case can be personalized with the groomen's first name or even a scripted monogram design.
Having a spa day is a great way to spend time before your wedding with your girls, and a gift of this Minky Spa Wrap is a perfect gift to thank them for their involvement with your special day. These luxurious spa wraps are great for relaxing and before or after all the excitement a wedding day brings. With the option of multiple wrap colors, thread colors and personalization (nominal fee applies) with a name, initials or monogram, you can choose to have multiples of the same or have all completely different wraps! These soft and comfortable spa wraps are a perfect token of gratitude to your bridal party and yourself! Win a spa wrap from Wedding Vibe here!
Picnics, tailgate parties, campsites and more – this cooler bag is an essential element for any on-the-go newlywed. Brides and grooms alike will appreciate its roomy dimensions, along with comfortable carry-all credentials. The bag has a red finish, nicely offset with graphic stitch accents and tan bands throughout. An adjustable shoulder strap and padded carrying handle mean easy portability. Inside, there's a 12-bottle divider for neat, organized beverage storage. Plus, an attached metal bottle opener comes standard. What isn't standard? Custom personalization possibilities, presented in neat embroidery across the front. This red cooler bag is also a smart gift idea for the wedding party and other attendants.
Free Wedding
Giveaways + Sweepstakes
Enter sweepstakes & giveaways and enter to win a free honeymoon when you join. New winners are announced every week!