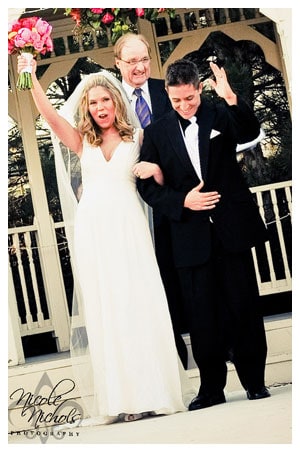 You know you've been in this situation: you're sitting at an elegant wedding reception when a groomsman stands up and clinks his champagne glass with a fork. The crowd quiets, and the groomsman begins with, "I wasn't sure what to say to Julia and Robby, so I thought I'd just wing it…" When has this introduction to a groomsman speech (or bridesmaid speech!) ever ended well? Enter Vow Muse.
Vow Muse—also known as Angie and Alicia—is a writing consultation company that specializes in weddings and events. The Muses provide help to couples struggling with any of the written parts of their wedding: vows, best man/bridesmaid speeches, and wedding ceremonies to name just a few. Their ability to find each client's unique voice and allow it to articulately shine through on that special day ensures perfection instead of the uncertainty and possible catastrophe of DIY vows and toasts.
Vow Muse came to be after Alicia sat down with yet another friend who sought her help with writing wedding vows. She wondered if it was possible for her to assist the world at large with her personal writing talents, and nabbed Angie to be her vow-writing partner in crime. The two harnessed their energies and got to work. Vow Muse sprang into action in the summer of 2010, and has been busily writing wedding ceremonies, toasts, speeches, and offering public speaking coaching ever since!
Angie and Alicia are professional, quick-witted ladies who spin a simple conversation with their clients into a brilliantly worded success. The process of working with a Muse is simple:
It all starts with a conversation.
First, one of the Muses chats with you to get a feel for your personal voice and style while learning about the project you're working on. Don't worry if you're feeling bashful; they chat professionally and can make conversation with a dandelion if the situation calls for it.
Then you're off the hook for a spell.
The Muse writes; you live your life!
Next, it's revision time!
Now it's your turn to review what's been written to double check that it conveys the essence of you in a voice that reads like looking in a mirror. Want changes? No problem! Writing is a collaborative process, and with just a few quick notes from you (as simple or detailed as you want), the Muses revise.
Done and done.
Now get ready for your wedding to be a brilliant success! Even your mother-in-law will approve.
Getting help with your wedding vows isn't cheating; it's just plain smart. Your ceremony and celebration are likely being recorded for posterity, and the last thing you want is your perfect day remembered by the bridesmaid who was too drunk to give a coherent speech, or a groom who was nervous and stuttered through his vows.  Every bride deserves to have her mind put at ease that her dad won't say anything too humiliating, or that the best man won't be sharing indiscretions from the groom's past. Plus, why stress over which sweet words to say to your love or how to say what you mean without being cheesy? Every bride needs a Muse.
Article Submitted By:
Vow Muse
www.vowmuse.com
Photo Submitted by:
Nicole Nichols Photography
Free Wedding
Giveaways + Sweepstakes
Enter sweepstakes & giveaways and enter to win a free honeymoon when you join. New winners are announced every week!