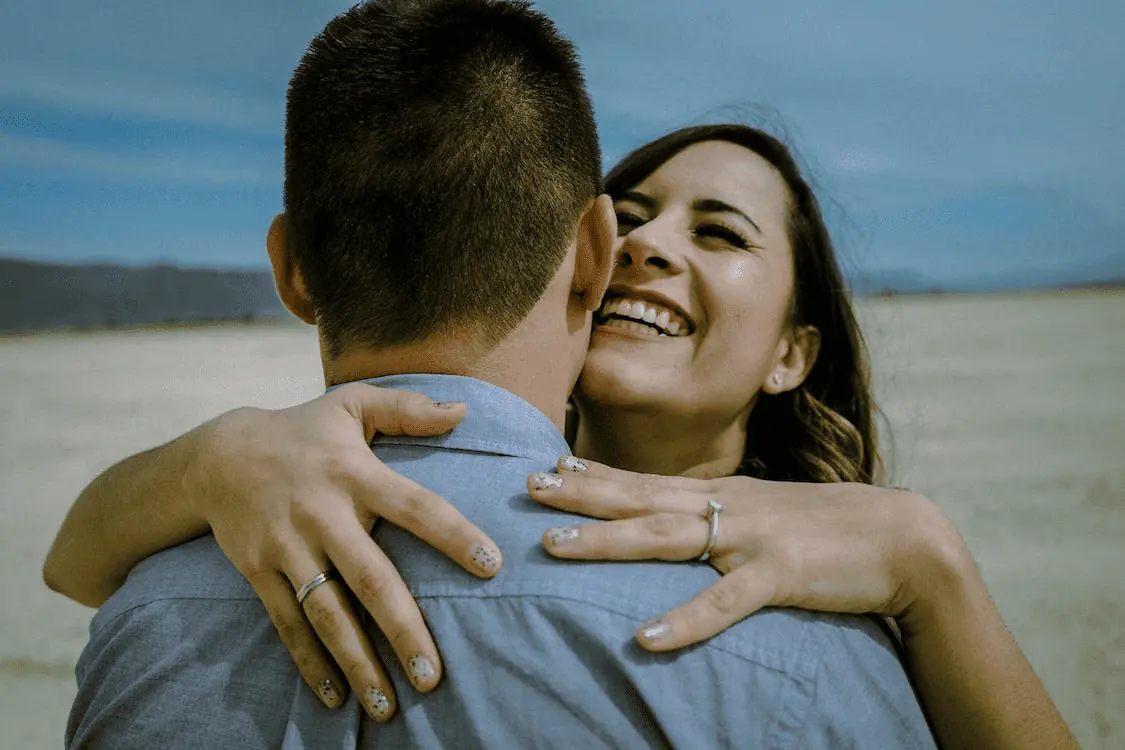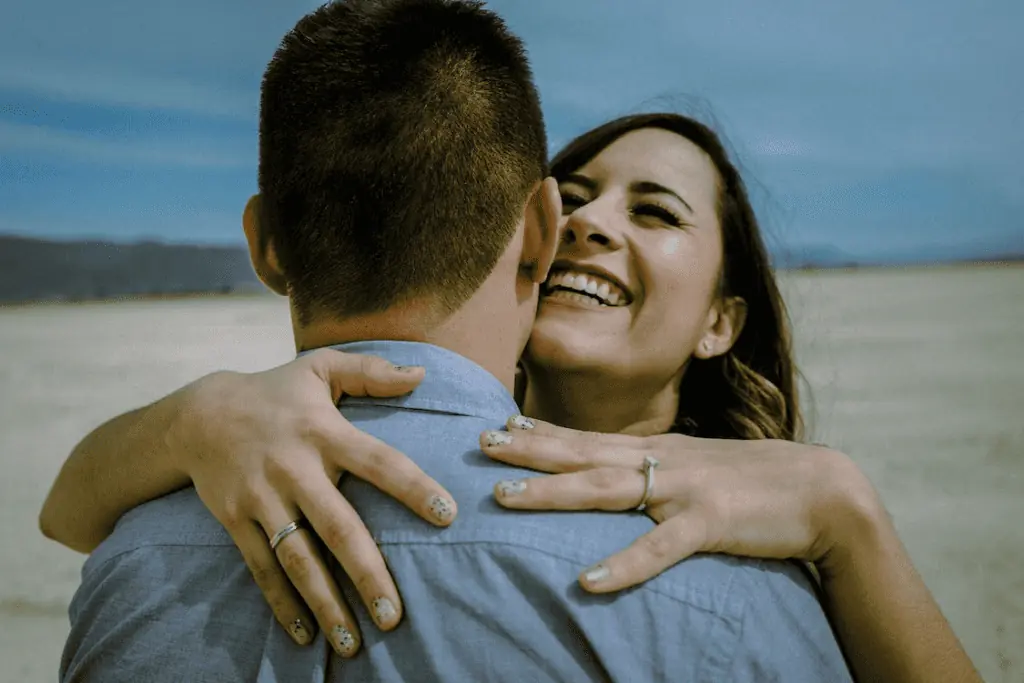 Are you ready to share your wonderful love story with the world but need a little help on how to showcase it? Engagement photo shoot ideas are the perfect way to capture your romance on film. Not all engagement photo shoots need to be in the same classic, ultra-posed, and formal styles of times past. Engagements are now celebrated with more creativity, personal touches, and undeniable love!

Here are some engagement photo shoot ideas that speak to the unique, fun-filled, and loving story of you and your partner. With unique backdrops, scenic locations, and props, you can create an engagement session that's sure to be treasured for years to come. So, get creative, have fun, and don't forget to capture the most precious piece of all: your love.
Proposing With a Location Shoot
Proposing with a location shoot is one of the most romantic ways to capture your love story. By taking pictures at the same spot where you proposed or at a place that holds special memories, you can make sure that your engagement is truly treasured and immortalized.

On one hand, a proposed location shoot could give you a beautiful set of photos of the moment you decided to spend the rest of your life together. You'll have something tangible that will always remind both of you of this priceless experience. On the other hand, some couples may find it intrusive to have an extra presence there when they are proposing; after all, it's an incredibly private moment between two people. Also, depending on where the proposal takes place (for example, in a very busy tourist destination), adding a photographer to the mix might create more chaos rather than capture real natural emotion.

Ultimately, you know your relationship and yourselves best, so whether or not you want to include a photo shoot in the proposal is entirely up to you. If it sounds like something that would enrich the experience for both of you, then go for it!
Capturing the Emotions of the Moment
Romantic engagement photos are about showcasing the love between two individuals and capturing an emotion-filled moment that can never be replicated. It's a special time in the couple's lives, a time when they are caught up in the excitement of their newfound bliss. Images taken at this time have the potential to recreate the feelings experienced during those special moments.

With that being said, it can be argued that while proposing a location shoot is a great way to share your romance, emotional relevance should be considered when capturing the big moment. Are you documentary-style or posed? The choice is all yours. The documentary style captures candid shots of everyone involved in the proposal. Body language and expressions are key components in these shots and tell us a story without words. On the other hand, posed shots capture facial expressions and couples showing off the ring, with all eyes captivatingly focused on the bride and groom. Whether posed or documentary-style, the style all depends on what each individual couple wants their pictures to ultimately say about them and their relationship.

The end goal for both styles is still to document that magical moment when two people decide to spend forever together, something so incredibly intimate yet powerful that it sparks a little bit of joy even in those who do not know the couple personally.

Finding yourself completely immersed in unforgettable moments and having them beautifully captured is one of life's little luxuries. By having photographs taken during this celebratory event, couples can ensure that they'll always remember just how much love was surrounding them on such a special occasion by having tangible reminders immortalized through photography. With thoughtful consideration given to posing and location shoots, creatively composed images become visual treasures that will continue to bring joy even after they've been shared with family and friends, making lasting impressions of that eternally romantic day when two people decided to become one forevermore.
Creative and Meaningful Poses
Posing your engagement photos in a meaningful and creative way helps capture the unique story of your relationship. After taking emotion-filled shots that are completely candid, you can take advantage of the posed moments to tell your love story through the lens. Creative poses challenge both you and the photographer; coming up with unique ways to express your connection takes effort, and capturing it properly takes skill.

Still, there are an infinite number of poses for any couple, no matter how diverse or similar their personalities may be. Posing doesn't necessarily have to involve deep and intense gazes into each other's eyes; sure, it's dramatically beautiful when it works out, but not all photographers or subjects would be comfortable in that setting. To make things easier for everyone involved, couples can stick to poses they are comfortable with while gently expressing their personalities and relationships together.

Sharing secrets and interacting with playful gestures such as tickles, high fives, or nose bumping all bring out happily candid moments while looking gorgeous. If you need something more intimate that showcases the physical part of your relationship, go for gentle embraces like side hugs or sweet forehead kisses. Some couples even put their own spin on classic poses, like open-ended sitting across from each other in chairs, for a funny take on things.

Including some fun and hilarious poses during an otherwise serious session can raise spirits and lighten up an atmosphere that could inevitably start getting a bit strained due to too much posing. As always, when posing for engagement photos, just don't forget to show off your own unique dynamic as a couple!

At any rate, engaging in creative and meaningful poses is sure to add some extra visual flare and storytelling dynamics to your engagement photo shoot. Whether you stick with traditional poses or come up with something completely new and different that requires a bit of practice beforehand, be sure to include those special moments that showcase your own romance.
Including Props and Themes
Once you and your partner have gotten comfortable in front of the camera and understand the poses and moods you wish to capture, including props in your engagement photo session can be a powerful way to add personality, playfulness, and romance. Props provide lots of ways for couples to create beautiful shots that capture their unique love story.

Themes, in particular, can be especially helpful for creating visual cohesion throughout an entire album. Color-coordinated outfits, beautiful looks, and the addition of thoughtful items like books and jewelry are all simple yet meaningful ways to reflect your relationship. They're also great opportunities to give a nod to inside jokes or any other interesting aspects of your relationship that can't easily be captured through poses alone.
Candid Shots That Show the Date
When planning an engagement photo shoot, candid shots add an element of realism that emphasizes the unique love story between you and your fiancé. Candid shots can provide a glimpse into the relationship you share—their loving stares, tender gestures, and small touches that show your affection for each other. These genuine moments not only capture the special dynamic between you two but also tap into the emotions of delightful memories that will stay with you for life.

Of course, some couples may prefer to take traditional photos instead of candid shots, focusing more on posing and styling in front of the camera. The choice is ultimately up to the couple.
Utilizing Props to Add Fun
Props are an easy way to create meaningful and memorable photos while also giving them an extra sense of style and personality. There are a variety of different props you can use in your engagement photo shoot that show off each of your unique interests, such as reading books, playing board games, cooking together, or any other meaningful activity that you enjoy doing together. Additionally, using props is also a great opportunity to show off the playful side of your relationship with items like balloons, stuffed animals, and more.

If you choose to incorporate props into your photos, make sure they reflect who each partner is as an individual as well as who both of you are as a couple. This way, whether there are props or not, whether posed or candidly captured pictures, these will be pictures that represent who you both truly are in the present moment!
Photos From Different Backgrounds
Engagement photography is all about showcasing the relationship of the couple, and one great way to do this is to use different backgrounds for each shot. Doing so gives couples a chance to show off parts of their story that could be difficult to illustrate in the same setting. For example, if the couple loves going to the beach together, they could take their engagement pictures at sunset on a beach and capture how their relationship flourishes in a unique environment. On the other hand, some couples may prefer a more varied background. Taking pictures by a lake, in a field of flowers, or in a downtown cityscape can give an album of pictures an eclectic feel. Though photographs that feature repetitive backgrounds can be beautiful and romantic, photos with different backgrounds allow couples to show off their individual personalities via the environments they chose for the shoot.

No matter which backgrounds the couple chooses for their photo shoot, it's important that the photos match their love story. Individuality is key, so think of different locations where you could take meaningful or memorable shots that showcase your relationship. From taking elegant photos in front of a castle to goofy snaps at your local arcade, don't be afraid to get creative!
Sign Up For The WeddingVibe Now!
At WeddingVibe, we are excited to help you achieve your dream wedding! Your wedding day is going to be a huge success and filled with unforgettable memories that will last a lifetime! We are thrilled to be a part of it and help make it happen. Join us today and get ready to explore incredible deals for your dream honeymoon and destination wedding!
Free Wedding
Giveaways + Sweepstakes
Enter sweepstakes & giveaways and enter to win a free honeymoon when you join. New winners are announced every week!