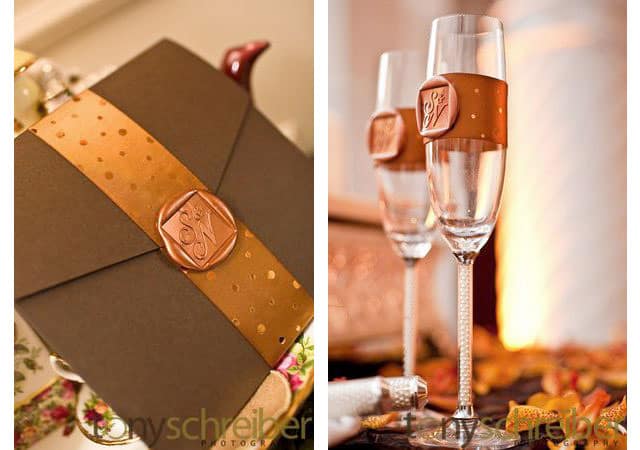 Are you looking to add a bit more elegance to your wedding invitations, programs, save the dates, or favors?  We have the perfect solution for you – customized wedding wax seals! These wax seals lend dignity, prestige and a personal flair to any wedding! Whether it's for your invitations, programs or favors, these wax seals are the perfect addition to your wedding day and are very easy to use.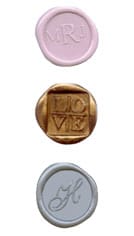 WaxSeals.com will design the seals with your logo, initials, monograms, or any stock image.  With over 70 colors to choose from and custom color matching available, you will be sure to have a perfect match to your wedding colors. There are also over 20 different shapes and sizes to choose from! The flexible faux wax seals will not crack or break when they are sent by mail.
You may choose pre-made peel n' stick wax seals, or you may purchase the keepsake stamper along with the wax sticks to create your own wax seals. With either choice you are able to create your design whether you want your wedding logo, you and your fiance's initials, your wedding monogram, or a stock wedding image WaxSeals.com has available.
WaxSeals.com even has a wedding special going on right now!  100 custom- 1 inch round self adhesive wax seals, a keepsake stamper with a hand carved unique exotic wood handle, and 5 wax sticks (for you DIY brides) for only $99!  Click here to learn more about this wedding special.
If you would like a chance to WIN the Wax Seals Wedding Package, check out our wedding giveaways page.  You can enter to win 100 custom- 1 inch round peel n' stick wax seals from www.WaxSeals.com! You also receive a keepsake wax stamper with an exotic wood handle and 5 wax sticks.
Free Wedding
Giveaways + Sweepstakes
Enter sweepstakes & giveaways and enter to win a free honeymoon when you join. New winners are announced every week!