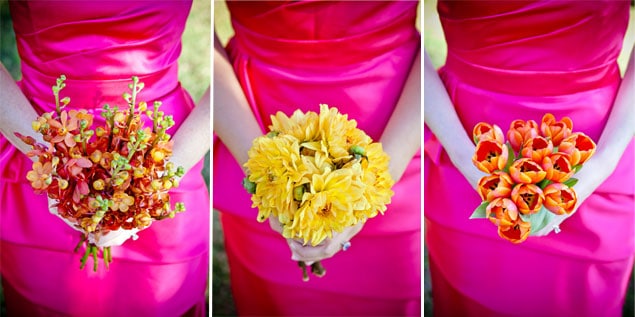 Your bridal bouquet and flowers are an important aspect of your wedding. You want everything to look perfect and to be tied together seamlessly. Selecting a bouquet with care can help you end up with a glorious arrangement of your dreams and without turning the bill into a nightmare. Take your time on deciding how you want it to look and how it represents you and your wedding. These three tips can help you find the right bouquet for the right price.
Be Willing to Make Exceptions
If you absolutely fall in love with the priciest flowers in the shop or start to obsess about having a particular bouquet that you know will cost a bundle, you can still make it fit within your budget if you tweak it a bit. Use the costlier blooms as accents in your bouquet, rather than as the basis for the entire arrangement. If your love for a particular type has not yet reached the obsessive stage, you may also be able to substitute a bloom that looks similar but has a much lower price.
A good start is to look for flowers that are in season and grown locally. Your least expensive options will typically be flowers that are easy to obtain and inexpensive to ship. Local and seasonal buds get a check mark in both categories.
Suit Your Taste and Personality
Before you even step foot in a florist, figure out the type of look you're going for. Do you want wild and flashy? Sweet yet sassy? Discreet and elegant? Having a general idea of the look you want to emit gives you a good idea of where to start with your floral selections. This will help you narrow your choices and save you time.
If you happen to be clueless about what to choose, start a file of flower photos compiled from magazines or online photos. Sifting through enough options may help guide you on a look you want. Don't be coy about asking questions, either. Your florist may be able to recommend lower-priced options that achieve the look you want without breaking your bank.
Suiting your personality also comes from picking the right florist. Ask for referrals from family and friends who were recently wed and always ask to see the florist's wedding portfolio. Also, gauge the type of personality the florist has and if that's the type of personality with which you work well. You don't want to go for the type who takes ultimate charge and control if you would prefer being the main controller in the floral planning.
Decide on a Budget Before You Begin
Another thing you should do before you choose a florist is figure out how much you are willing, or able, to pay. Remember your bridal bouquet is the star of the floral show, but you'll also need to factor in centerpieces, the groom's boutonniere, bridesmaid bouquets, and any other floral accents.
One final tip is to get an estimate in writing from the florist of your choice. Estimates help ensure there are no hidden costs or other surprises when it comes time to pay the final bill. These tips make it possible to pay that bill with confidence and obtain the bridal bouquet you deserve.
Article by Lisa Humble
Photo by Chi Photography
Free Wedding
Giveaways + Sweepstakes
Enter sweepstakes & giveaways and enter to win a free honeymoon when you join. New winners are announced every week!