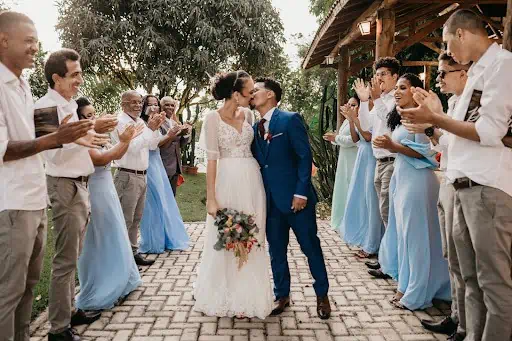 Dealing with wedding preparations can be overwhelming for even the most resourceful bride. We live in a digital age, meaning there's no shortage of wedding blogs, websites, and social media accounts for ideas. French weddings have an abundance of charm, beauty, and grace.
By combining French elements with more traditional American wedding customs, you're guaranteed to have a day that's truly yours. But before jumping the gun, you must take one step back and choose French wedding ideas that are meaningful to you.
Still unsure where to begin? Here are some guaranteed ideas to make your wedding day one you'll never forget!
1. Prepare Your French Wedding Invites and Bouquets
When it comes to weddings, France is a country that is overflowing with grand traditions. For the invitations, go for something chic and simple, like a black and white design with gold accents. Something classic and sophisticated will set the tone for the entire event.
For the bouquet, opt for a classic arrangement of white roses. French-inspired bouquet includes lavenders, roses, peonies, and lilies. Incorporate some greenery into the design to give it a fresh, natural look. Finish off your French wedding-themed stationery suite with some matching French wedding vows.
You can find many beautiful wedding vow styles online or ask your officiant to write custom vows for you. Just be sure to keep them short, sweet, and romantic.
2. Plan the Perfect Champagne Toast and Catering
No French wedding is complete without the perfect champagne toast. Make sure to use a bottle of good-quality champagne for the champagne toast.
Remember to work with a reputable champagne distiller to select the perfect bubbly for your big day. Be sure to taste a few options before making your final decision.
As for the menu, serve up some classic French dishes like coq au vin or beef bourguignon. And, of course, no French-themed wedding would be complete without a beautiful wedding cake. Choose a design that is classic and elegant, with a simple white frosting.
3. Use Authentic and Creative French Decorations
When planning your wedding, use a color palette standard for French-themed weddings. White and ivory are popular choices, but you can also use other colors like blue, purple, or pink.
Consider using French-themed decorations, such as Eiffel Tower figurines, French provincial tablecloths, or even a replica of the Arc de Triomphe. If you're looking for something unique, you can even have your wedding ceremony in an authentic French chateau. You can also scout for beautiful French wedding venues to add to the theme and create a more magical moment!
Create the Modern French Wedding of Your Dreams
If you're looking for unique and memorable French wedding ideas, you can't go wrong with a French-inspired wedding. From the food to the decor, there are plenty of ways to add a touch of France to your big day.
And, best of all, you don't have to be an expert to pull it off. Just use some of these tips, and you will have beautiful and unforgettable modern French country nuptials.
If you enjoyed this article, check out our other blogs and never miss a beat!
Free Wedding
Giveaways + Sweepstakes
Enter sweepstakes & giveaways and enter to win a free honeymoon when you join. New winners are announced every week!