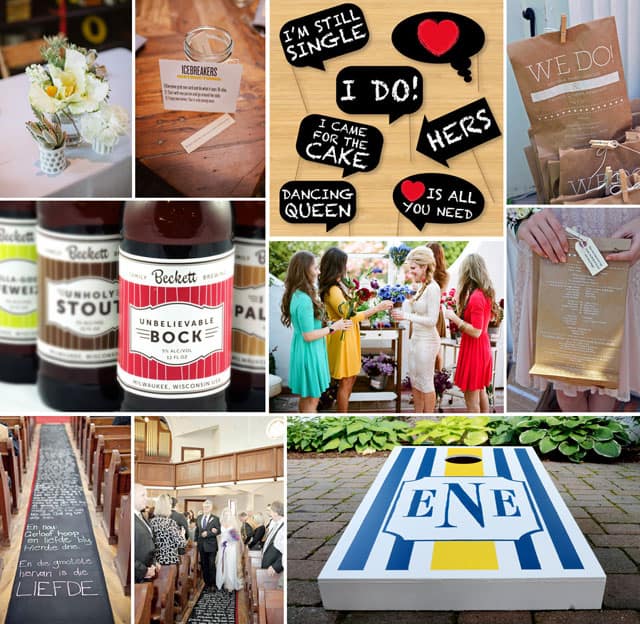 Nobody likes to attend a cookie cutter wedding, so here are a few fun ideas that will make your big day stand out from all the rest (clockwise from the top left).
Have you ever sat at a table with lots of people you have never met? Try filling a jar with icebreaker topics for guests. Something like a game of truth or dare for adults, guests each pull out a small sheet of paper with a question or daring suggestion written on it. But remember, if you're the one coming up with the topics ahead of time, don't write down anything that would cause a scene at the reception!
Next up, a set of chalkboards signs are great to have on hand if you have a photo booth set up at the reception. They encourage interaction among the guests, and add a little humor to the event. Even if you don't have a photo booth, they can be fun for kids to play with (and maybe adults, too!).
And an in-genius trick for the ceremony – have the program printed on a brown paper bag, and then fill the bag with confetti for guests to toss at you and your groom.
A flower bar for the bridal party is a fun way to get your bridesmaids involved in the big day. Make sure to choose flowers that are important to you (and they should also complement your overall wedding theme).
If you would like to provide some extra entertainment for your guests, consider having someone custom design a set of cornhole boards. This would be great for any reception with an outdoor area.
Next up is a handwritten aisle runner… perhaps the groom will write a message on it to you, or maybe it will be your message to your guests. Either way, it lends a handmade touch to the ceremony that will bring tears to your guests' eyes.
Lastly, send your family and friends home with a little token of your appreciation for their attendance at your wedding… give them a bottle of beer that you have brewed yourself at a local brewery! Make sure to have custom-designed labels to paste onto the bottles to add a personal touch.
Article submitted by Faith Towers
Free Wedding
Giveaways + Sweepstakes
Enter sweepstakes & giveaways and enter to win a free honeymoon when you join. New winners are announced every week!