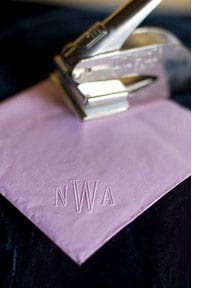 We stumbled upon this awesome idea and just had to share it with our savvy DIY brides. Purchase a hand embosser to use not only for your wedding projects but long after your wedding. This pictures shows the embosser being used on inexpensive cocktail napkins for the cocktail hour instead of paying for printed ones. You can also use a hand embosser on ribbon for your pew decorations, wedding bouquets, wrapped around vases, and many more items at your wedding. You can use the embosser on vellum and wrap votive candles with the stamped vellum as well; this will add a bit of sophistication to your wedding decor. Use your embosser after the wedding for your thank you cards, and much more!  You can find a custom hand embosser here!
Photo and idea from Tradewind Tiaras, Inc.
Free Wedding
Giveaways + Sweepstakes
Enter sweepstakes & giveaways and enter to win a free honeymoon when you join. New winners are announced every week!