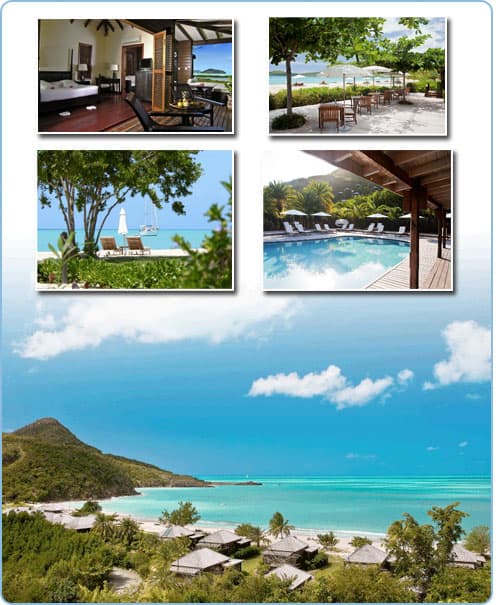 We are doing it again! Wedding Vibe and Ask About Honeymoons are teaming up to bring you another fantastic honeymoon sweepstakes! This time around the lucky engaged couple will win a free honeymoon to the gorgeous island of Antigua! The couple will stay at the beautiful and ever so picturesque Hermitage Bay.
CLICK HERE TO ENTER!
Leave the stress and excitement of wedding plans and parties behind, you will find absolute pleasure with a honeymoon in the secluded cove and private suites at Hermitage Bay. Their collection of cosy, individual cottages are luxuriously appointed and perfectly romantic, creating the ideal honeymoon destination. As one guest said, "if you are celebrating your honeymoon, your engagement, or just your relationship, and you want to selfishly steal all of your significant others' time with no distractions (except for the truly amazing view)", then Hermitage Bay in Antigua is where you want to be.
Featuring a stylish décor, rich, wood panelled walls and soft ambient lighting, their suites exude sensuality. The Beachfront Cottages open to the white sand beach and sea, both of which are often vacant and always inviting. With private plunge pools and sun decks, shaded outdoor living spaces and daybeds framed by sheer white curtains, the Hillside Pool Suites are the ultimate romantic escape. As if living on your own private island, you'll find it easy to forget the world, abandon your inhibitions and enjoy living in the moment.
Hidden by lush vines, the outdoor showers are like tropical rain baths – exhilarating and refreshing. The aromatic bath soaps have been carefully chosen for their ability to stimulate the senses and fill the large, cavernous bath with long-lasting, luxuriant bubbles. Plush bathrobes and bedroom slippers are provided for relaxing on the patio or balcony whilst sipping champagne and watching the sunset. From the secluded bay and natural beauty to the luxuriously appointed, rustic facilities and ensuite amenities, Hermitage Bay "is delivering exactly what people want these days" and provides all the ingredients for a blissful and unforgettable honeymoon in Antigua.
Free Wedding
Giveaways + Sweepstakes
Enter sweepstakes & giveaways and enter to win a free honeymoon when you join. New winners are announced every week!