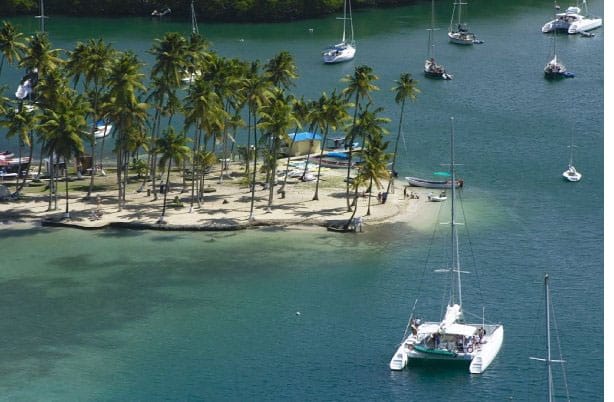 You and your fiance could win a free honeymoon to the beautiful Discovery Marigot Bay in St. Lucia courtesy of Ask About Honeymoons.
Nestled on the scenic west coast of the beautiful Caribbean island of Saint Lucia, the luxury Discovery Hotel provides an intimate and luxurious environment for honeymoon guests with every possible modern amenity. Contemporary and stylish with a distinctive boutique feel, the eco-friendly Discovery Hotel blends into its natural garden surroundings enhancing the loveliness of a bay described as "the most beautiful in the Caribbean" by the novelist James A Michener.
This contemporary resort provides an intimate environment for guests with every possible modern facility, including the Lapli Spa, fitness center, shopping, bars and restaurants for the ultimate honeymoon experience. Marigot Bay has provided a safe haven for yachts over the centuries and marina docks at Marigot Bay Hotel provide for visiting luxury sailing and motor yachts. In recent years, the bay has become a very well-known destination with lively local restaurants and bars, a marina and now a luxury, eco-friendly hotel with a spa, fine dining and harbor-side bars.
Enter to win a FREE HONEYMOON here!
WeddingVibe.com also has tons of free wedding giveaways & contests you can enter. You can win anything from a free honeymoon to free wedding invitations. Once you are registered with WeddingVibe.com you can enter any or all of the contests that you feel are a good fit for you. Register now for free and gain access to our huge list of wedding giveaways. Winners are picked every Monday and Wednesday!
Free Wedding
Giveaways + Sweepstakes
Enter sweepstakes & giveaways and enter to win a free honeymoon when you join. New winners are announced every week!