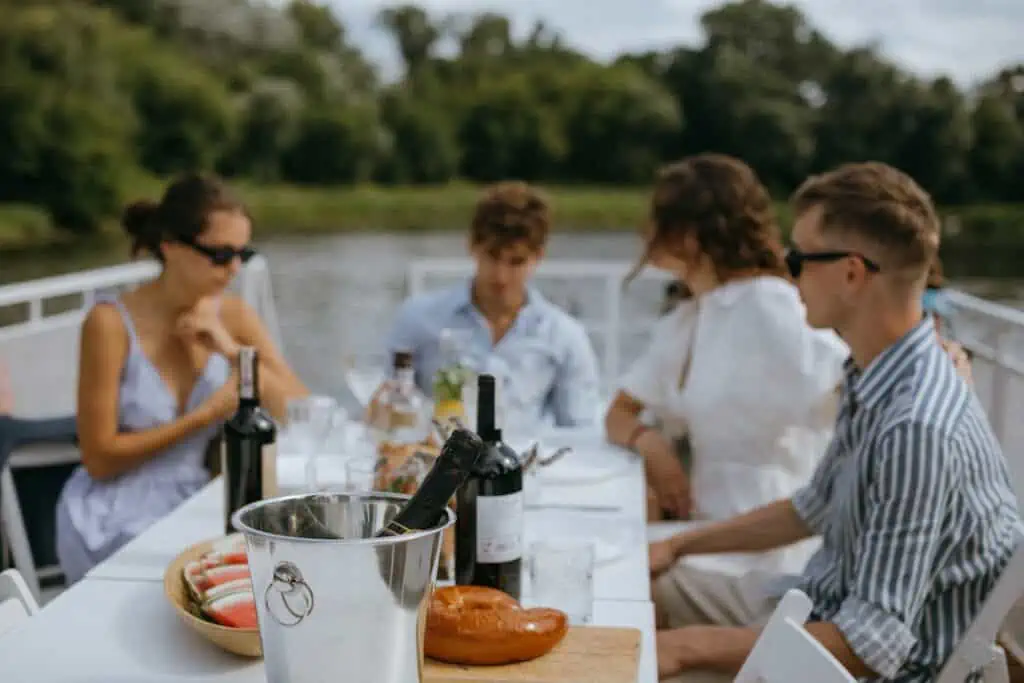 A wedding is perhaps the most important event in a person's life because it marks a new beginning. You want to cherish every moment as a bride or a groom. Likewise, you want to make the event for a loved one tying the knot. You may even want to plan a bash for your colleagues or boss to do your bit for them. A pre-wedding party is the best way to surprise them.
The wedding industry is huge in the US, clocking a massive revenue figure of $70.3 billion as of 2023. The average cost of a wedding in the country is $29,195 as of 2022. If you want to pitch in to organize a pre-event party to celebrate your boss's big day, you will surely need a financial plan. Beyond the budgeting part, there's a lot more to handle on the logistics front.
The concept of pre-wedding parties is trending, with surveys showing that 78% of couples who walked the aisle in 2022 reported having a bachelor/bachelorette party. It means you can find tons of ideas to organize a bash, but things are a tad bit different when doing it for your boss. You need to make an impression without going over the top.
While the effort seems to be humongous, it is worthwhile because impressing your chief may get you to the forefront for the next big promotion. Let us share a few actionable tips to plan a memorable pre-wedding event for your boss.
Plan early
Party planning involves a lot of work, from preparing guest lists to deciding on the venue, finalizing the menu, and getting other arrangements on track. You may want to go the extra mile when planning a bash for a hard-to-please boss. The last thing you should do is dive in with short notice because you may end up missing out on something or making small blunders.
Planning early takes you close to perfection, no matter how big an event you want to organize. Start at least a few weeks or months before the day. Choose the timing wisely, specifically if you want to surprise your boss. Ensure it doesn't clash with an important office event or your boss's travel schedule. You can collaborate with their assistant to get a sneak peek into their schedule.
The good thing about planning beforehand is that you may find some sweet deals and save money on party essentials. Moreover, it minimizes the last-moment stress and hassles because everything is sorted.
Consider Your Budget
Despite the inflationary trends in the US, Americans are still spending like crazy. Numbers show that personal spending has increased by 1.8% in 2023. That hardly means you should spend mindlessly on a party because you may end up disrupting your budget. Surely, you want to splurge to impress your boss with a pre-wedding bash, but some effort with budgeting and financial planning makes sense.
Start by deciding whether you want to be the sole host or make it an office event with your colleagues. The latter is a better option because it will help you cut the cost and effort and build camaraderie with your crew. Once you have a team ready, start crunching numbers to decide how much you can spend on the event.
A realistic budget is a good start as it enables you to allocate expenses for the venue, food, décor, music, and entertainment. Don't worry about cutting corners if you have a small budget. Give your best shot with what you have, and your boss will appreciate the effort.
Figure Out the Guest List
The next step is to figure out the guest list for the event. You must consider more than your budget when deciding on the number of people on your list. Also, consider the venue space because you don't want it to be overcrowded. You may want an office-only affair or let people bring their partners or families.
Discuss the list with your colleagues and decide the size of the attendee group. Make sure that everyone is comfortable with it. You may even include important clients in the list, but remember to consider whether your boss will approve of the idea. The decision should be made with consensus, so get your co-organizers on the same page.
Get Creative With the Venue
Think beyond conventional venues like hotels, party halls, or banquet gardens. If you truly want the event to shine, get creative with the choice of venue. A waterfront destination makes a great option because it spells luxury without costing a fortune. You can go a step ahead by renting a yacht to create a memorable one.
Fortunately, many companies provide corporate, wedding, and birthday party yacht rental services. The US luxury yacht market size was US$ 2.8 billion in 2022, which shows how popular the concept is. Beyond being a pre-wedding surprise, a yacht party is a great team-building experience, making it an ideal choice for the event.
FantaSea Yachts recommends looking for service packages with food and drinks. Besides reducing the workload of party planning, these packages are cost-effective as you can pick the one fitting in your budget. You can relax and focus on making the evening special for the bride and the groom.
Entertain Like a Pro
No party is complete without entertainment because guests expect the event to be exciting. For a pre-wedding bash, entertainment is about drinking, dancing, and playing crazy games. But you need to be watchful about drawing a line because you cannot go overboard with your boss, managers, and seniors on board.
Creativity does the trick when it comes to entertaining without crossing boundaries. Think beyond the quintessential like dance and music and plan activities like a scavenger hunt, dumb charades, open-air movie theater, and bonfire. Set up a romantic nook for the bride and the groom so that they can steal some time together.
Being thoughtful can go a long way in impressing the guests of honor for the party. While everyone has fun, commit to staying sober for the evening because the host needs to act responsibly. You can ask your co-organizers to share some ideas and workload to make the evening memorable.
Impress With a Surprise Gift
Gifting is an integral part of a pre-wedding bash, but buying something for your boss can be tricky. You want to give something classy, but not at the cost of breaking the bank. The cost of the gift depends on your budget. The Knot data reveals that American wedding guests spend an average of $160 on gifts, though you may buy a more expensive gift for someone as important as your boss.
You can check the options beforehand and discuss the idea of chipping on a big-ticket item with your colleagues. Think beyond forgettable stuff like home appliances and décor items, and opt for something they will cherish. It could be a piece of custom jewelry for the bride, a spa experience for the couple, or a voucher for a luxury meal.
Whatever you choose, stick to the rule of not getting too personal. The last thing you should give to your boss or his fiance is lingerie, right? Take your time to choose a perfect way to show your appreciation without going too far.
Seek Professional Help
Impressing your boss with something not related to work is a delicate issue. You don't want to leave anything to chance, but you also shouldn't go overboard with flattery. Seeking professional help for planning a perfect pre-wedding event is a great idea. Statistics show that there are more than 13,000 wedding planners in the country, making it easy to find one you can trust.
With an expert doing all the heavy lifting, you can focus on details such as buying a gift or inviting guests to the party. The best thing about hiring a planner is that you don't need to miss out on work. You can keep things under wraps until the end, without giving away the slightest hint of the surprise to the chief guest.
A wedding planner has a wealth of experience and creativity. They can help you add value to the event or help you do more with less. Not to mention, you can have a great time without stressing out about the details.
The Bottom Line
A pre-wedding bash for your boss is the best gift for their big day. It's your chance to impress them and bond with your team to plan a special surprise. Make the most of the opportunity by planning a perfect evening worth remembering. You may need to invest tons of time and effort in party planning because there are no shortcuts when it comes to matching the expectations of your boss.
Follow this checklist to organize an event to remember. Stick to your budget, be creative, and think about what your boss will like the most. Don't just settle for any venue because it is the most critical part of the experience. Take professional help to take the event a notch higher.
Free Wedding
Giveaways + Sweepstakes
Enter sweepstakes & giveaways and enter to win a free honeymoon when you join. New winners are announced every week!