Planning the menu for your wedding can be loads of fun. It is your opportunity to be creative and personally expressive. But, before you go running off to the caterer, here are a few items to discuss with your fiancé and family members involved in the planning.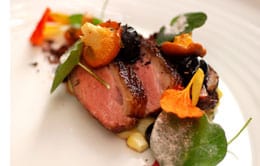 Step One
Budget – Be sure that you have established your budget and estimated number of guests; generally, these are the two fixed requirements. Catering, including equipment rentals and staffing can easily use 30% of your total budget.
Buffet or Plated – Decide whether you want a buffet or seated plated dinner; it's a matter of personal preference. Many of my clients think that a buffet will be less expensive, which is not necessarily the case. Buffets can easily cost as much, and sometimes more than a plated dinner. Why? Because a buffet menu should include several choices for the entree, vegetables and starches, and the serving platters need to kept full and nicely displayed right up until the final person goes through the buffet line. To summarize, buffets need more food and more equipment than a plated meal. However, a plated meal typically requires more staff than a buffet. In the end, the cost of either is often about the same. The biggest difference between the two is the mood you want for your wedding. Buffets are more casual, yet allow the guests to move around and mingle more. Seated dinners, of course, are more formal; but if you are someone who appreciates beautifully plated and presented food courses, this is the way to go. The choice is personal. There is no wrong or right.
Special Meals– Don't worry too much about dietary restrictions. All caterers should be able to accommodate for vegetarians, Vegans, food allergies etc. Of course, it is helpful if you know of any special requirements to let the caterer know in advance so they can prepare something special for these guests.
Get Creative – Play with ideas that tell a little about the two of you. Maybe you got engaged in Maine; serve mini lobster rolls for hors d'oeuvres. He's Greek; Spanikopita, your Scandinavian; Swedish meatballs…you get the idea, let the caterers help write the specifics.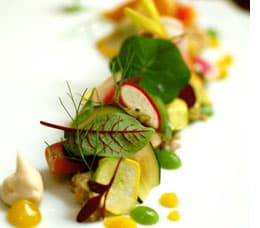 Step Two
Okay, now you have enough of an outline to start reaching out to several caterers. I suggest you call 3-4 reputable caterers in a few different price ranges. Also, pick caterers that are the right size for your wedding. If you are having a small wedding, avoid using the largest caterer in town unless you have a fairly significant budget. You want your day to be as important to them as it is to you.
Now you have 3 or 4 proposals. Compare prices line-by-line. Make sure they have included everything: tax, delivery fees, set up time etc. Then, you should be able to narrow your choice to two caterers. If you see items that sounds appealing on a menu from one of the caterers that didn't make the cut, you can certainly ask the caterers you have selected if they could offer something similar.
Next, ask to schedule a tasting. Not all caterers offer private tastings unless you decide to sign a contract with them first. You have nothing to lose by asking. Let them know that you can't make a decision without a tasting. Also, if you are working with a planner that does regular business with the caterer, they will usually be happy to accommodate. Be reasonable with your requests on what you would like to taste. Pick 6 or 7 hors d'oeuvres, 2-3 entrees and a few of the side dishes to chose from. This should give you a good enough idea on their quality of preparation as well as presentation. Also, it is a good idea to schedule your tastings on separate days (close together, but not the same day). Also, go in the late afternoon, after lunch and before dinner so you are not too hungry or too full. Take notes and discuss your thoughts with your fiancé. There is no pressure to make a final decision right away. Have both tastings first. Then compare notes. Assuming you can make a final decision on the caterer does not mean you have to make a final decision on the menu. Typically, all they need is a signed contract and a small deposit to secure the date.

Step Three
Once you have selected the caterer, you will want to schedule a second appointment for a table showing. This is when you select the linens, china, silverware pattern etc. If you can coordinate with your florist to send a sample centerpiece for this meeting,that is always a great help. Better yet, ask them to join you, and they may lend their creative eye to the overall design.

Step Four
Selecting Wines- Unless you are a professional wine buyer or wine aficionado, this can be a daunting task, but need not be. For my clients, I suggest wines that are a good value and appropriate for the dishes being served. If your reception is at a venue other than a hotel or restaurant you can either provide the wine and spirits yourself or let the caterer handle this. Many caterers provide wine as well as a full bar at a modest profit and they will handle everything from receiving the delivery and handling the returns. A worthwhile investment in my opinion. Either way you can certainly request specific wines. I suggest you visit your favorite wine shop and let the shop keeper know your menu and ask them to suggest a few wines (red and white) that retail for $12.00-$15.00 per bottle. There are plenty of really good wines in this price range. Buy them and try them; see which ones you prefer. Select two whites and two reds. One of each for the cocktail hours and to serve with dinner. When you go back to your caterer, tell them the wines you like and your budget. See if they can get the wines you selected or comparable ones. Try the ones the caterer selects next to ones you selected from the wine merchant. Are you satisfied with the alternative?
Most important, enjoy these steps with your fiancé. The process should be fun, and a reflection of your special day to come.
Article submitted by Christina from CiBiEvents.
Free Wedding
Giveaways + Sweepstakes
Enter sweepstakes & giveaways and enter to win a free honeymoon when you join. New winners are announced every week!