Beauty, glitter, tulle and satin. There are so many shapes and styles wedding dresses come in. However, they all have one similarity: expense. Ranging from $1,000 to way beyond your house mortgage, a wedding dress can be the guiltiest pleasure. But what if you could have your dream dress and not have to spend a fortune? Enjoy your wedding guilt-free by using these helpful tips to get your dream dress at a lower cost.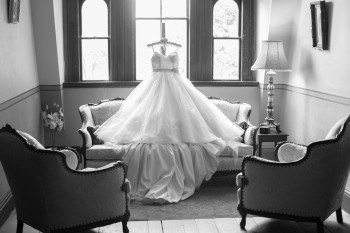 Shop & Take Notes
When you go wedding dress shopping, make sure to have someone there to take notes and pictures on what you do and don't like. Trying on dresses will give you an idea of what kind of a bride you want to be. Ask yourself questions about what kind of details you like. Do you like satin or tulle? A ball gown or mermaid flare? Simply solid or an elegant, lace design? Realizing these simple things can shorten the gap between your interests and dislikes, bringing you closer to your dream dress.
Thrifty & Nifty
Once you have collected data on your likes and dislikes, check out some thrift stores or shop online for a gown that's similar, but cheap in price. Shopping for a cheaper dress may not be as eye popping or appealing as that $10,000 gown you found at Davids Bridal; however, a professional in alterations can make your dress however you want it to be. In the long run, buying a dress for $50 and spending $300 on alterations is still a better deal than a $1000 on a  dress that your only going to wear once.
Alter To Your Liking!
Once you have your style figured out and a cheap dress to work with, then its time to put everything in action! Before bringing your dress to get altered, compare the prices with all your options and see which professional is right for you. Depending upon what your doing to the dress and how much your adding on, the price can very significantly. So make sure to do your research before hand and see where the better deals are.
You don't have to spend a fortune on a dress! There are so may alternatives to having to purchase an expensive gown. Talk to a professional and see how much it would cost to make your dream dress and compare their prices to other professionals. Either way, let your dress represent who you are and remember that no matter what you wear, your fiance will look at you as if he has never seen anyone as beautiful as you are at that very moment.
Thank you for reading and remember to stay in the Wedding Vibe!
Free Wedding
Giveaways + Sweepstakes
Enter sweepstakes & giveaways and enter to win a free honeymoon when you join. New winners are announced every week!