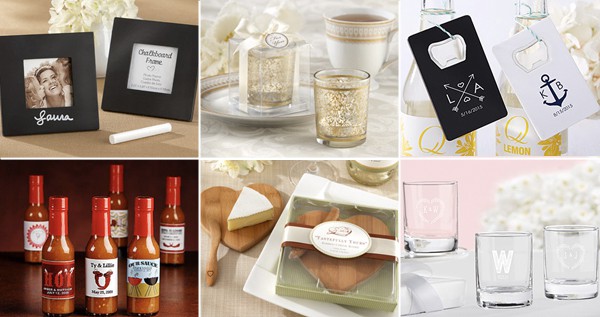 1. Chalkboard Frame – Give memories that last a lifetime with a quirky twist! The chalkboard picture frames are perfect wedding favors to keep friends and family laughing for years. Simply place a picture in the frame, write a personalized message in chalk and watch their faces light up at the memories of the special events in life.
2. Gold Tealight Holder – Let elegance reign supreme on your wedding day with touches of gold that glow. Bring a gorgeous shimmer to your reception tables with our "Golden Renaissance" glass tealight holder wedding favor–a shining symbol of your bright future!
3. Personalized Credit Card Bottle Opener – These personalized credit card bottle openers are a baby shower favor guests will be able to use daily. You can make these bottle openers extra special by having them customized with one of our creative baby designs that come in a variety of colors. These personalized bottle opener favors will make the perfect thank you gift.
4. Personalized Hot Sauce – When your romance has sizzled from the start, your wedding reception is the perfect place to share the secret with your guests! Favor them all with a personalized, prized bottle of "five pepper" hot sauce-guaranteed your guests will remember your celebration and the "hot" time they had! Features and facts.
5. Bamboo Cheese Board– Heartfully designed for people who love cheese (which includes just about everyone!), the "Tastefully Yours" Bamboo Cheese Board, with its matching spreader takes practical, unique wedding favors to a whole new level!
6. Personalized Rustic Wedding Themed Shot Glass / Votive Holder – Shot glass votive holders serve as a beautiful reminder of your memorable rustic wedding. They are also a multifunctional wedding favor combined into a thoughtful gift. Guests can use them to add their favorite scented votive candles, or to enjoy a delicious beverage. They come in beautiful colors and creative designs, and are personalized with your wedding date and names.
Check out more wedding favors at MyWedding.com!
Free Wedding
Giveaways + Sweepstakes
Enter sweepstakes & giveaways and enter to win a free honeymoon when you join. New winners are announced every week!