Preparing Your Home for a Backyard Wedding

Tips for Planning a Wedding At Home
Planning a wedding is both stressful and expensive. One way a lot of families cut down on both is by scratching the venue search and instead opting to have a backyard wedding. Not only is this way more cost-efficient than renting out a church or a reception hall that charges more for weddings than other events, but you'll also be certain the venue is open on your date of choice, even if you're getting married during the busy season.
Of course, it's not all easy. When you forgo holding your wedding in a place that is normally designated for this kind of event, you miss out on the professionals that help you with planning and orchestrating. A professional wedding planner can help you with organization for the big day, but not everyone can afford that kind of expense. If you would rather save that money for a dream dress or honeymoon, follow these easy tips on what to do yourself, when to hire a professional, and how to find the best deals when planning your backyard wedding.
Curate Your Guestlist to Fit Your Home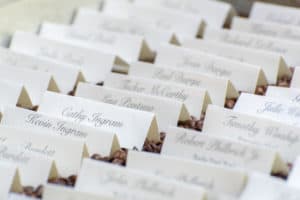 Photo by Brittany D from ClassicPhotographers
Unless you want to knock down walls and fences and possibly cross property lines, you are going to have to work with the room you have. In order to make sure you have enough room to say "I do," you want to create a guestlist that is small enough. While you may take your entire outdoor space into account for best case scenario, you also need to plan for the case of bad weather. Making a guest list small enough to fit inside the house is your best course of action. A good rule of thumb for row-seating is about 10 square feet of floor space per guest.
If doing the ceremony indoors is out of the question, you're not entirely out of luck. Renting a tent to cover and protect guests from bad weather is another option, but it's also another cost. In the end, you have to decide what is more of a priority: a large guest list or your budget (you'll find this is true with many aspects of wedding planning).
When to Hire Help
When you throw a backyard wedding, your home and yard are on complete display to all your friends and family. Make sure they are both in their best condition by hiring help to clean and do yard maintenance. No matter how much elbow grease you put into cleaning your own house, it never looks as good as when a professional does it. Plus, you're going to be so busy with pre-wedding preparations, dusting and vacuuming are going to be the last thing on your mind. Ask friends or neighbors for their recommendations for a housekeeper and schedule an appointment the day before the big one. Be sure to let them know the importance of the occasion and ask for a backup contingency plan in case that particular housekeeper falls ill or has an emergency that prevents them from coming.
Not only will you be too busy to do yard work as well, but trimming hedges and mowing the lawn is a good way to get unsightly scrapes and bruises right before the biggest picture day of your life. Outsourcing your yard work to an agency of professionals is a good way to ensure you have a beautiful lawn and garden while keeping your skin intact.
In the same vein as yard work, you'll also want to hire professionals to deal with flowers as well as any fixtures you'll want for the big day such as a gazebo or a trellis. This will add a festive touch to the occasion while being but a fraction of most wedding costs. Most homeowners spend between $2,459 to $3,802 nationally to install an arbor, trellis or pergola.
What to DIY
Photo by Brittany D from ClassicPhotographers
Wedding DIYs totally depend on your time, tastes, and abilities. That being said, there are tons of fun and easy projects you can do to make sure your big day is exactly how you want it.
Centerpieces

Programs

Table settings

Guest book

Photo booth

Name cards

Welcome bags

Favors

Bouquet

Boutonnieres and corsages
Reserve a space where people can work
One advantage of a backyard wedding is that there isn't much traveling necessary. On the flip side of this, there is the fact that you won't have a suite laid on in which to get ready, so you'll need to consecrate some space in the house for professionals such as the hairdresser and bridal make up artist to do their work before the big event. Nerves are sure to be heightened, so making this space as quiet and roomy as possible is a wise idea.
***
Backyard weddings are a great way to have your big day in a special place while saving a bit of money as well. One of the most important things to remember is keeping your guest list small enough to fit in your home, or else plan to get a tent to help protect invitees from possible bad weather. Certain things you should get help with such as house cleaning, yard maintenance, and construction of your wedding trellis. Other things you can do yourself in order to give a festive flair that is all your own. Centerpieces, photo booths, and party favors are all easy DIY projects that make your guests feel welcome while saving you a bit of money.  
Free Wedding
Giveaways + Sweepstakes
Enter sweepstakes & giveaways and enter to win a free honeymoon when you join. New winners are announced every week!