Seven Things to Keep in Mind When You Have a Groomswoman or Bridesman
Groomsgal, bride's guy, groomswoman, bridesman… whatever you call them, they're an integral part of your big day. In the world of modern weddings, there's much less pressure on the bride and groom to assemble a cohort of neat-looking friends who follow a specific set of societal standards, and we are ever grateful. This means that if there's a sibling, a cousin or a best friend who deserves to stand up next to you on your wedding day but who may not conform to the traditionally gendered bridal party rules, you'll probably feel much less pressure to exclude them from the festivities than you once might have.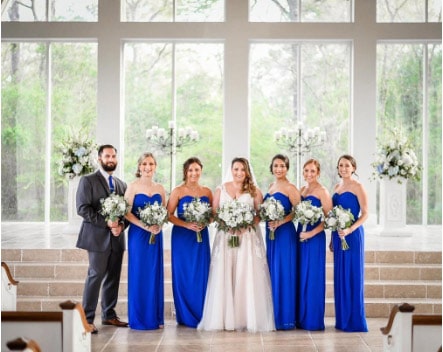 With that being said, having a guy in your bridesmaid's brigade or a gal in your groomsmen's group can spur a few scenarios that you should be prepared to deal with. Here are a few things to keep in mind when you're organizing a nontraditional bridal party your way.
They Should Be Allowed to Be Excused

— Say your fiancé has opted to have his sister

join the groom's crew

instead of asking you — who may not be particularly close with her — to have her be a bridesmaid. In many ways, this makes more sense and feels more authentic, even if you both adore her equally. However, just because your future SIL stands next to your future hubby doesn't mean she wants to be grouped in with the guys for everything. She may prefer to go to the bachelorette party over the bachelor party or to attend both or to get ready with the gals instead of the guys. Make sure that she's allowed to attend or join in wherever she feels most comfortable.

It Helps to Create Lots of Coed Events —

With these new roles, it can be more difficult to forge bonds among the entire bridal party. Consider ditching many of the traditional, gendered events — the shower, the bachelor and bachelorette parties, for example — in favor of coed events that don't cause divides. If you'd still like to have traditional girls- and guys-only events, no problem. Just make sure you also add a few co-ed bridal party bonding activities into the mix between the time you get engaged and the time you finally walk down the aisle.

Their Wedding Day Look Takes Thought

— The outfit planning is one of the most fun parts about being a groom's gal or bridesman. Rather than putting her in the same bridesmaid dress as the rest of the gals, you could suggest that your groomswoman

wear a bridesmaid dress that matches the groomsmen's suits

. She might also

prefer to wear a bridesmaid jumpsuit

or a tailored suit, depending on her personal style. The bride's guy can take the same approach, either by wearing a suit in the color of the bridesmaid's dresses or by matching the guys and signifying that he's a member of the "bride's side" with a color-coordinated tie or boutonniere.

They Don't Have to Pick a Side

—

More than likely, if they're on your side, they'll be comfortable with you and your "traditional" bridal party members. However, many couples have one or two close couple friends who feel like they belong on both the bride's side and the groom's side. In these instances, don't feel like you have to make them pick a side simply because you want to keep things even or adhere to a certain look. It's perfectly OK to have a general bridal party — no groomsmen or bridesmaids, period — and just ask everyone to stand next to you both as a couple.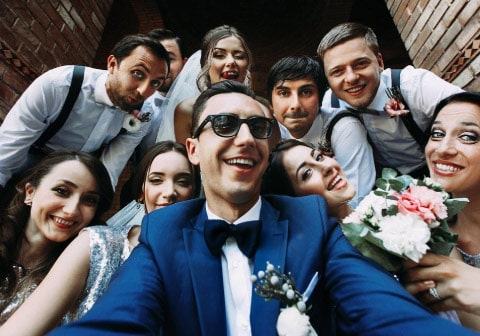 Pick Gender-Neutral Bridal Party Gifts

— Many brides and grooms opt for themed gifts so that they don't have to order individual gifts for each member of the bridal party, which can take a lot of time when you already have a lot going on in the wedding planning process. Make sure that you select bridal party gifts that appeal to both the guys and the gals so you don't leave anyone out. Skip the makeup bags, beauty products or any apparel in favor of gifts that appeal to everyone, like personalized stationery, glassware or sunglasses.

Ditch the Traditional Pairings

— If you've ever been in a traditional wedding, you know that you'll be "paired" with a member of the opposite sex when walking down the aisle or making your grand entrance to the reception. If this causes some confusion or discomfort among your bridal party members, know that you can tweak these traditions to suit your specific style. Maybe you have a group entrance with all the members of the bride's tribe, all the members of the groom's crew or everyone all together. Don't get too caught up in the rules!

People Will Have Things to Say

— Anytime you do something that

diverts slightly from tradition

or cultural norms, you might elicit a reaction from old-school family members or friends. Know that you have to forge your own wedding day traditions and do only what makes the most sense to you, even if it's a little bit unconventional. The best thing to do? Tell nay-sayers that it's not their wedding, but they are welcome to make the decisions when they say, "I do."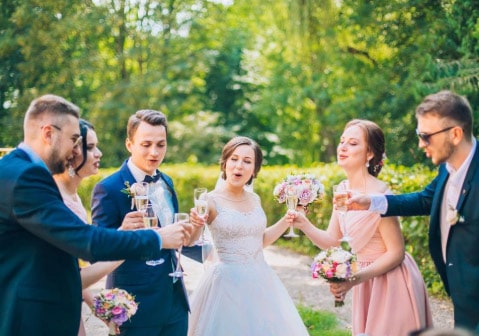 At the end of the day, the most important thing is that you include your closest friends and family members — the ones who mean the most to you, not the ones who look the best in your group wedding photos. But you have to remember that not everyone will feel comfortable bending gender rules or traditions, so it's important that you approach every wedding custom with open dialogue to ensure everyone in the bridal party is totally comfortable. As long as your nearest and dearest are next to you on your big day and you stick to what
you
want to do, you can be sure you'll have zero wedding regrets!   
Free Wedding
Giveaways + Sweepstakes
Enter sweepstakes & giveaways and enter to win a free honeymoon when you join. New winners are announced every week!