This past Monday marked the first day of summer, and summer marks the start of wedding season. For many of you, that means your fridge is covered with wedding invites. Attending wedding(s) can easily be the highlight of summer, but it can also be expensive. That is the reason wedding favors are always important. Brides- are any of you struggling to think of a favor that correlates with the season? Take a look at some of these amazing wedding favors that not only say "thank you!" but can also be used all summer long.
Personalized Gold Bottle Opener with Epoxy Dome: Find your beach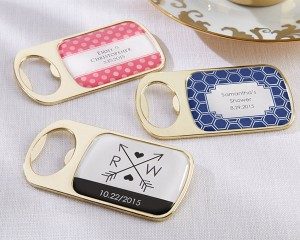 The first favor that screams summer but is also incredibly useful is this Personalized Gold Bottle Opener with Epoxy Dome. During the summer months, we are all 'searching for our beach.' Help your guests enjoy their beach once they've found it by giving them a gift that will open their favorite beverage! The opener is just about four inches tall and 2 inches wide and can easily fit in a pocket. The best part of all- every time your guest uses the favor, they will see your personal touch and instantly remember the fun they had during your big day!
Purchase this bottle opener here.
Personalized Sunscreen with Carabiner: We care!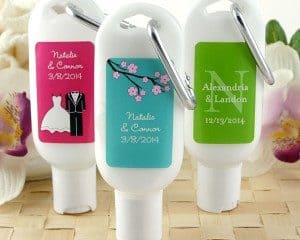 There are very few things that let your guests know you care as much as a personalized sunscreen favor. This mini sunscreen can be kept in a pocket or a purse and is perfect for all the times one forgets to pack sunscreen. It is especially useful if your wedding is outdoors. Chances are, your guest did not even think to bring sunscreen. Let them know you how thankful you are and how prepared you are. Not only will they love the favor, but they will also be impressed with your planning. A win, win!
Find these sunscreen favors here.
Personalized English Garden Clover Honey/Strawberry Jam: Sweet gift for a sweet guest.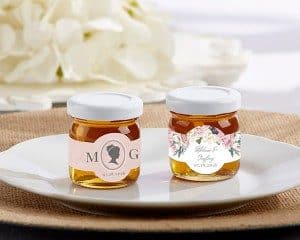 Interested in handing out something a little more unique? Then, these Personalized English Garden Clover Honeys and/or Strawberry Jams are perfect for your wedding. They are incredibly cute and exceptionally tasty. Pair these with a note along the lines of "Thank you for helping us make this day so sweet!" or "Meant to Bee"- along with your initials and you will definitely have your guests grinning! These favors are sold completely separate, but a fun idea would be to order half honey and half jam. That way, a couple will be going home with one of each! Note: If you are planning a rustic summer wedding, these favors would fit along with the theme perfectly.
You can purchase the honey jars here and the strawberry jam here.
Personalized Cocktail Shaker with Mango Margarita Mix: Celebrate on!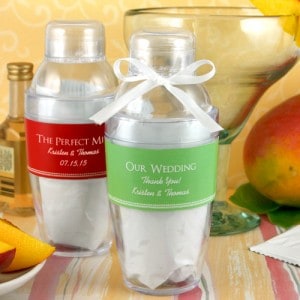 This wedding favor ensures that the celebration never ends. A personalized cocktail shaker is something that your guest can, and definitely will, continue to use. Your personal touch can simply be your names and the date, or you can spice it up with a fun quote such as "The Perfect Mix" or "Thank you for helping us celebrate!" In addition, the shaker comes with a Mango Margarita Mix. The mix adds the perfect touch to a 'summer' wedding favor.
Purchase this cocktail shaker here.
Damask Favor Fans: Beat the heat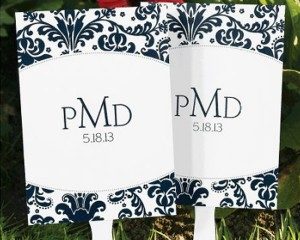 For a wedding that is outdoors, this is a summer favor that will help any guest beat the heat. These Damask Favor Fans can be personalized to fit the theme and colors of your wedding. They will provide relief to guests who are sitting in the sun and in desperate need of some air. Though they may not necessarily be used in the months to come, they definitely remind your guests how thankful you are and how comfortable you want them to be.
The Favor Fans can be found here.
There are so many more party favors that could meet your summer wedding needs and wants! Give your guests exactly what they deserve! Click here to find more summer wedding favors. Happy wedding season everyone!

Free Wedding
Giveaways + Sweepstakes
Enter sweepstakes & giveaways and enter to win a free honeymoon when you join. New winners are announced every week!