Americans and Canadians are reportedly gaga over pets. In fact, 65% of households in the USA have a pet. More than half of dogs and cats are allowed to sleep in their owners' beds. The majority of pet owners tend to actively look for pet-friendly holiday destinations and hotels – for dog owners; most cat owners look for a professional cattery instead of taking their cats on a trip.
So it can seem surprising that, for a nation of people who try to spend as much time as possible with our beloved pets, the idea of creating an animal-friendly wedding has not reached a high level of popularity. In fact, many brides are told that they shouldn't try to invite their pets to the wedding. In reality, an animal-friendly wedding party is just as achievable as leading an animal-friendly lifestyle. If you're ready to make the right sacrifices, you can make a great deal of difference – and celebrate your big day with Fido!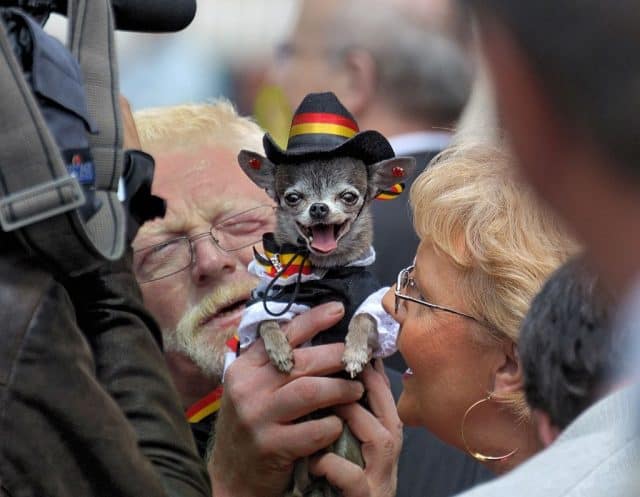 Pick your menu carefully
Can you really call yourself an animal lover if you put meat on the menu? The debate is open, and it's fair to say that a lot of couples opt in this instance for a vegetarian menu. Indeed, you can find that meat-free recipes can make sure that your menu fully supports your values. A simple plate of avocado and pomegranate crostini can bring a fresh taste to your champagne toast. Veg-only pizza is also a fantastic addition to your buffet – who doesn't love pizza? Similarly, you can also choose to bring meat recipes from a Halal source, with a caterer such as Stamford Catering, for instance. You can, if you're unsure how to proceed, run an open survey with your guests to figure out which alternative is preferred.
Invite your best friend too
More and more venues are open to welcoming well-behaved animals – dogs especially, but you can find places that are happy to invite a variety of emotional support pets too. Therefore, if you're considering inviting your dog to the wedding, you will be able to find the right site. However, you need to consider the personality of your pet. If your dog is not used to being around many people, the wedding ceremony might be stressful. Additionally, you need to think of the needs of your pets – and maybe the other pets that are allowed to join the party: Plan for dog-friendly treats to distribute after the ceremony.
Wedding present with a difference
Last, but not least, more and more couples have chosen to live together before they get married. As a result, you might already have everything you need, which makes it difficult to prepare your wedding list. But you can ask your guests to donate and support a charity for the protection of animals – Just Giving provides a handy tutorial on how to set up a fundraising page – instead of buying a present you may not need. You can also get in touch with your local shelter to figure out which items would be helpful if you don't want to ask for money.
Finally, there's only one question you need to ask yourself when it comes to animals: How far are you ready to go to make animals the heroes of your wedding day?
Free Wedding
Giveaways + Sweepstakes
Enter sweepstakes & giveaways and enter to win a free honeymoon when you join. New winners are announced every week!