I worked at prestigious wedding venue for about 5 years, and I have cut my fair share of wedding cakes. So believe me, when cupcakes became popular, I was very excited. Brides could save $1.00 per person on the cake cutting free, and I was saved from creating a mess.
But like all trends, they come and go. As I was doing some research for a client I noticed there were more and more options for couples, which went outside the wedding cake box. Some of them were really cool and unique, so I wanted to share with you some of the photos. Couples can be so creative when choosing wedding details now a days. Try something like milk and cookies or s'mores. Pies are a big wedding dessert hit right now too.
If you like, take these ideas to your caterer, or cake vendor.  They might be able to include these, or do them in place of your traditional wedding cake. Leave your guests saying "Wow, I have never seen that before!"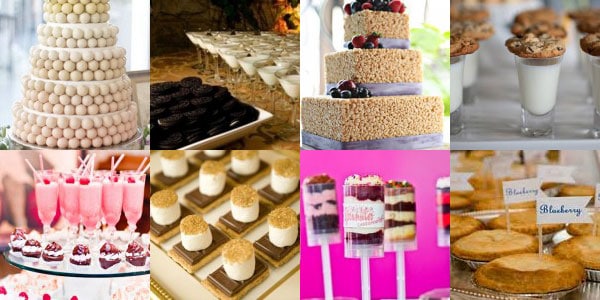 Article submitted by Jennifer Hartman of Heart 2 Heart Occasions.
Free Wedding
Giveaways + Sweepstakes
Enter sweepstakes & giveaways and enter to win a free honeymoon when you join. New winners are announced every week!