Thoughtful Ways to Make Your Parents Feel Special in Your Wedding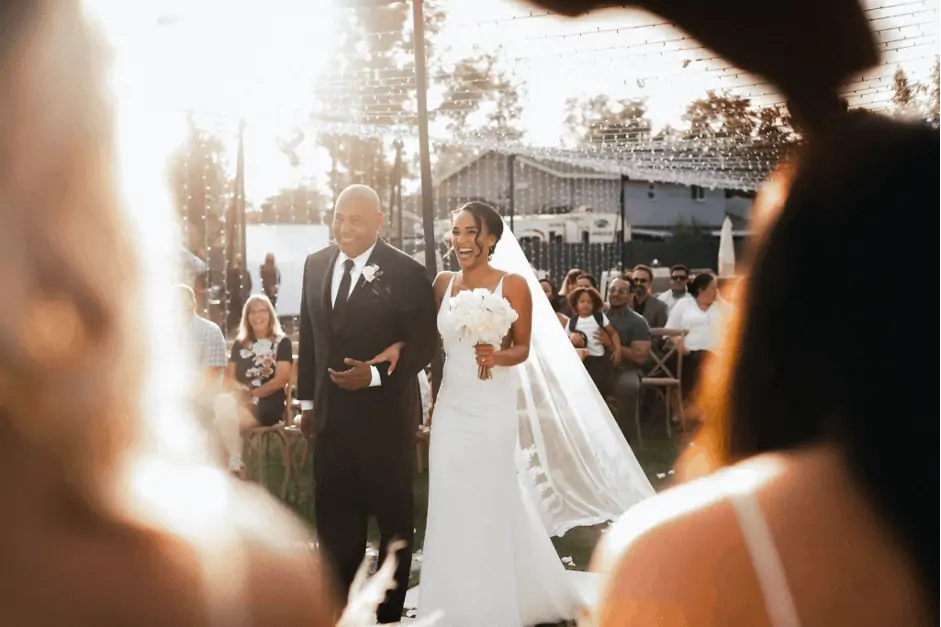 Photo by Jakob Owens on Unsplash
Getting married to your soulmate is one of the most cherishable milestones. It is even more special for your parents. They have raised you and witnessed your growth. Realizing their child is all grown up and found her soulmate is another turning point of their life. 
Your wedding day is the happiest day for them too. They get to see their pride and joy getting married and entering a new stage in life. The person you are today is all because of them and your soon-to-be spouse loves the way you are.
If you want to make them feel special on your big day, there are many ways you can create beautiful moments and let everyone know how lucky you are by having them as parents.
To help you get inspiration, this article will discuss some thoughtful ways to make your parents feel special on your wedding day.
Special Songs
Remember your dad singing to a song of his favorite band in the car during that amazing family road trip, and you also joined in? Or the favorite song your mom, and you used to sing on family karaoke night? You can ask your dad to sing that special song with you at the reception.
It can also be used for one of the mother and son dance songs. Basically, dance to or sing any song that brings back fond memories. You can also dedicate the song to your parents, they are sure to love the gesture.
Meaningful Gifts
Like other guests, your parents will also take home wedding souvenirs or tokens. However, they deserve something more special. Gift your parents something they always wanted or needed. It does not necessarily have to be over the top and expensive.
If your mother is an avid gardener, you can gift her a Smart Pot that helps the plants grow healthy roots and reduces the need for pruning. For dad, if he loves woodworking, you can gift a sleek new set of woodworking tools.
You can pull their heartstrings by giving them a letter that expresses your gratitude towards them and how fortunate you are to have them as your parents. You can gift your mum a vintage brooch that is similar to the one your grandmother has worn. 
Whatever you gift, think of something that resonates with their personality and preferences.
Do a First Look With Your Parents
Whether you are the groom or the bride, first looks are special and give you a reality check that you are finally getting to marry the love of your life. The first looks do not necessarily have to be confined to just the happy couple.
You can also do the first look for your parents. Instead of asking your mom to help you with the dress, ask her to wait until you are ready and in the dress. Do the first look with your parents in private.
The moment you reveal yourself in your wedding gown or tux, your parents are sure to get overwhelmed with emotions and shed tears of joy. Seeing their son or daughter all grown up and ready to get married, makes the moment emotional and incredibly heartwarming.
To capture the precious moments, it is wise to have the photographer nearby. The photos will memorialize the wholesome and emotional event that you can hold on to forever.
Wear Something They Wore
To honor your parents, you can wear something they have worn on their special day. It can also be a family heirloom like an ancestral necklace or pocket square. You do not necessarily have to replicate your mother's wedding ensemble, but you can borrow the veil and rock it in your wedding ceremony.
If you are wearing a tuxedo or a tailored suit, you can sport your dad's cuff links. Besides flaunting the timeless beauty of vintage accessories, you are also giving homage to your parents by wearing something they own.
Shout-out to Your Parents
Your parents raised you and made you who you are today. They sacrificed a lot for your well-being and happiness. It is best to give credit where it is due. Give them a shout-out in the reception or the ceremony program. Thank them publicly and let everyone know how fortunate you are to have such amazing people raise and nurture you.
Reminisce the memories in the ceremony by sharing snippets of the time your dad taught you to ride the bicycle or your mother encouraged you to stand against the local bully. Express your gratitude in your toasts and tell your guests how wonderful parents they are.
The Little Things
If your dad walks you down the aisle, make sure you hug him and kiss his cheek. Let your mom be by your side with the bridesmaids. If you have LGBTQ parents, invite them both to walk you down the aisle.
Hug them, laugh with them, talk about the good old days, make the most of the time you are spending with them in your special event. These little things matter and make the whole day remarkable.
Include Their Signature Dish in the Menu
The food menu in your wedding can be made more special by adding your parent's signature dish. Ask for your mom's special lasagna or your dad's killer steak recipe.
Then give the recipe to your caterer and ask them to serve the dish at the wedding. They will surely feel loved and special when they get to see their specialties being served in the reception.
But remember, while asking for the recipe, do not tell them you are planning to serve their signature dishes at the wedding. Surprising them with this gesture will make the whole experience more wholesome and significant.
Photo Session Just With Them
In any wedding ceremony, the newly married couple gets immensely busy socializing and taking hundreds of pictures. The photos taken can be candid, they can also be taken after everyone is posing and flaunting their best profiles.
From moments of you getting ready for the vows to immortalizing you having fun with your close ones, photos are great for capturing precious moments. Amide the wedding hustle and bustle, you might forget to take pictures with your parents.
Make time or squeeze in some minutes to snap pictures with them. You can also give instructions to your hired photographer prior to the event. Tell the professional from before to take candid pictures with your parents.
Video Screening
You can make the best use of technology and make a video screening with a projector and a white screen. This can be very handy for people who are not great with speeches. Ask the wedding planner or decorator to take care of the video setup.
You can make a special video montage of your parents. Start with the old pictures of them holding you as a baby, their accomplishments, your graduation pictures with them, all the snippets of small and big milestones of your journey together.
Add their favorite music to the background, insightful captions, and a voice recording of you telling how great parents they are. You can also add videos of your parents goofing around together and let everyone know that you learned the meaning of true love from them.
Include life lessons you got from your mother and father like how they inspired you to keep moving forward without paying any heed to what others say. You can compile all the small videos into one on your mobile phone or computer.
You can share a copy with your Maid of Honor or Best Man. They can play the video on your cue or according to the schedule. Make sure you have tissues nearby as watching the final video with your parents is sure to make you shed some tears.
Include Your Parents in the Pre-wedding Fun
Some of us are lucky to have our parents as best friends. If you consider your mother your best friend, you can make her your Maid of Honor. You can even enjoy a bachelorette party together. You can also invite your parents to join you in the dress shopping or choosing session. 
Spend quality time with them by talking about your wedding plans over brunches at your favorite cafe or family dinners. Let them in all the stories and keep them updated on your wedding shenanigans.
Moreover, when you are about to have a meltdown, they can help you calm down as they have experience in cheering you up, or deal with your tantrums. They can also help you in fixing any wedding hiccups and take charge as they have been through the same road and know what to do.
Your parents always had your back, they will continue to support you till the very end.
Final Words
From birth to adulthood, your parents have always taken care of you. You are in this place because of their hard work and nurturing. Make your parents feel special and honor them on your big day. Commemorate this new beginning by appreciating their constant support and unconditional love.
Free Wedding
Giveaways + Sweepstakes
Enter sweepstakes & giveaways and enter to win a free honeymoon when you join. New winners are announced every week!