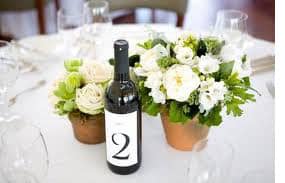 Do you and your future spouse love a certain bottle of wine or champagne? Make that favorite bottle your table number for your wedding! You can order custom labels online or make your own. Either serve it at dinner, or save the bottles for each anniversary. Table 1 will be your first anniversary, table 2, your second… (you get the idea). You can even have guests sign messages on the bottle. They would be so fun to read year after year. There are so many unique and fun wedding ideas!
Photo courtesy of Snippet and Ink
Free Wedding
Giveaways + Sweepstakes
Enter sweepstakes & giveaways and enter to win a free honeymoon when you join. New winners are announced every week!