Enter to win this new ceremony alternative, The Unity Cross!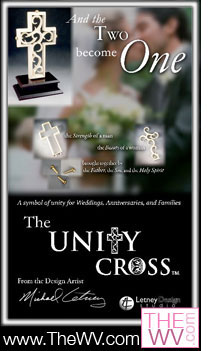 The Unity Cross is a multi-piece sculpture that is assembled during the Unity Service of your Wedding Ceremony representing how the -Two become One. The Groom places the outer Cross in the beautiful wood base as the Pastor explains how God created man- bold, strong, the defender of the family yet how he is empty and incomplete without the woman. The Bride then places the more delicate cross inside of the Grooms cross as the Pastor explains how God created woman- delicate, multi-faceted, taking care of all of the little things that completes the man, and the -Two become One. The Bride and Groom then use the 3 golden pegs to lock the union(cross) together in the name of the Father, and the Son, and the Holy Spirit as the pastor exclaims that: What God has brought together let no man take apart. Then the Unity Cross is taken home and displayed as a Daily Reminder of your Wedding Day and the Covenant that you both have made. The Unity Cross is the newest and most unique wedding ceremony idea that will truly last a lifetime. The Unity Cross is hand crafted of Wood and Stone Resin; it stands 14 inches tall and comes with a brushed Brass plate for engraving. There is also a hidden drawer in the base with a scroll of scriptures for your wedding.
Free Wedding
Giveaways + Sweepstakes
Enter sweepstakes & giveaways and enter to win a free honeymoon when you join. New winners are announced every week!