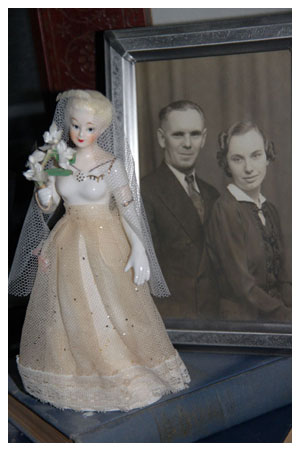 Something Old…
A vintage wedding is all about romance and nostalgic beauty. Lace, hand tatted doilies, shear, gossamer veil, and heritage flowers with ivory accents. Dresses worn can be refitted from your family heirloom chest. Although parts of these dresses might be tattered and yellowed from age, pieces may be salvageable to use as accents in flowers. Hand-wrapped bridal bouquets might use the lace from your grandmother's dress. Old beading and trim can adorn a papier-mâché box that holds a gift for your bridesmaids. The groom and groomsmen might make a nod to a vintage era by long tux tails with silk lapel and beautifully folded neck cloth. Add a top hat and you've honored the 20's an 30's. The '50's and 60's era brought the all white tux with black bowtie into fashion: The bride in long opera gloves and hat. Online auction and craft sites have a buffet of vintage wedding patterns. You don't have to imagine yourself sewing your own dress but use the illustrations on these old patterns for inspiration or to communicate your ideas to the bridal shop.
Vintage cake toppers are also found in antique stores, online and flea markets. Some of these dating back to the turn of the century still feature the netting or lace that covered the ceramic figure. Others are absolutely serene in expression and could adorn the buffet tables or your own cake.
Nothing really goes out of style. Sometimes we would love to never see a fashion feature again but it's out there just asleep. The old souls in the world find comfort in the vintage mode and want to surround themselves at their wedding with family, friends, and memories.
Article Submitted By:
Angelia McLean
La Fleur La Fete
lafleurlafete.com
Free Wedding
Giveaways + Sweepstakes
Enter sweepstakes & giveaways and enter to win a free honeymoon when you join. New winners are announced every week!