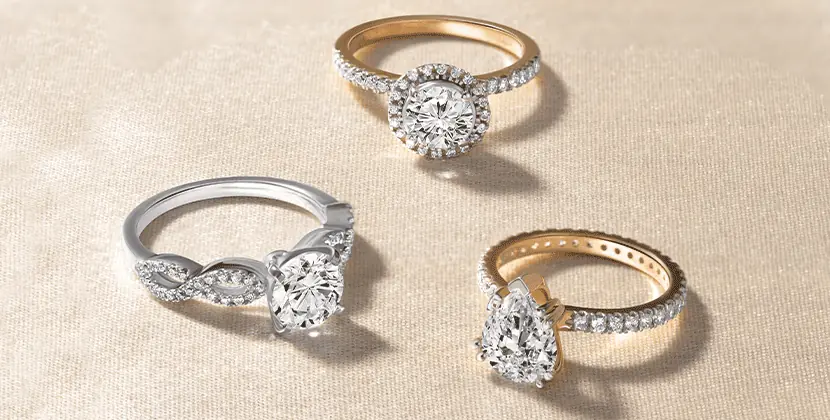 Once again the wedding season is knocking on the door and the brides are buckling up in search of the best style and jewellery design. Weeding is a dream of a lifetime for a bride, this is the only day when everything about the groom and bride is. To make this day a success various factors is responsible. One of the primary concerns of a bride is finding the best jewellery to adorn. Finding the perfect jewellery is not an easy job for a bride with the abundant choices available in the market it is often difficult to find the piece which your soul wants. Jewellery is not only responsible for the final look of the bride but it also represents the culture and land where you live in. In this article, we will learn some tricks and tips to find the trendiest jewellery for a modern bride.
Trendiest diamond jewellery
Those days are long gone when brides cannot get married without gold jewellery. Diamond jewellery is now the trendiest jewellery which is preferred by modern brides. Innovative contemporary designs of diamond jewellery and exciting variation make diamonds the number one choice for soon-to-be wedded brides and wedding rings are the first thing to look for.
Minimalist Necklace
Nowadays modern brides are no longer interested in heavy jewellery. They want minimalist, simple and classy diamond pieces which they can wear for a long time even after the wedding. So, the simple plane one-layered wedding necklace is quite trendy for newlywed brides. Even single-layered chokers are also quite in fashion specifically for those brides who are planning on wearing an off-shoulder lehenga or dress for their special day. A nude or pastel shade dress, dewy makeup and a diamond choker are what complete your entire wedding look.
Diamond Mangalsutra
Mangalsutra is an integral part of every wedding. It holds sentimental and cultural value for every Indian bride and is worn by a newlywed all the time. But unlike the heavy traditional piece of Mangalsutra now there are more options. Diamond Mangalsutra are now more sleek, stylish and modern. The bride will find this contemporary version of the mangal sutra more versatile and suitable for everyday wear now.
Statement Earring
Statement diamond earring is something which is always in trend. This piece of jewellery can complete the whole look of a bride. Just a loose bun with your earring and you are good to go… A statement earring adds a lot of grace and beauty to your whole attire and this piece of jewellery is irreplaceable compared to the other.
Wedding ring
Last but not least comes the lab grown diamond ring without which one cannot think of marriage. Diamond rings are something that is being in trend for a very long time. This piece of jewellery holds great significance for the couple who is planning on getting married the couple's ring is the symbol of their everlasting love and always bring back sweet memory throughout a couple's marriage. The wedding ring is such an emotional part of every married couple and is never taken out from their finger.Modern brides are more flexible now they are ready to take risks and get out of the conventional way of marriage. Diamond jewellery using cultured diamonds not only is not only an addition to their wardrobe but also evidence of their modernisation.
Free Wedding
Giveaways + Sweepstakes
Enter sweepstakes & giveaways and enter to win a free honeymoon when you join. New winners are announced every week!