Many people were holding their breath for the Mayan "doomsday" on December 21, 2012, but countless couples were still planning their 2013 weddings…and all the trimmings.
Predictions of the end of the world as we knew it notwithstanding, wedding blogs, specialists, designers, and jewellers made their own bold forecasts with regard to the wedding jewelry trends of 2013. Let's take a look at some expected sources of inspiration, design trends, and features of next year's nuptial bling.
A Return to Timelessness and Elegance
A lot of 2012 weddings epitomized the DIY, almost-hipster chic aesthetics, from the wedding invitation to the venue, through to the souvenirs and jewelry. Whether customized or hand-made, the past year was all about working on a budget but still coming up with memorable, highly personalized weddings. However, experts predict that 2013 will be all about returning to jewelry and clothing style for nuptials that were previous inspirations of other bygone eras. Think Victorian, Old Hollywood, Art Deco, the Roaring Twenties, and other references already considered classic and definitely elegant. Think heirloom wedding bands, Princess or Marquis cut diamond engagement rings, and ornate engravings and settings on precious metal.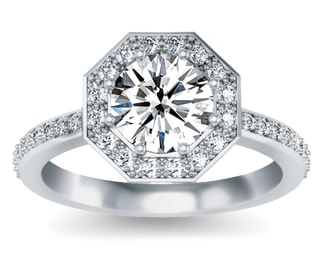 Those in the know attribute this to the collective "relief" (unconscious or not) that many future brides and grooms survived another predicted doomsday, and so will splurge more on, find inspiration from, or pay homage to the kind of jewelry and clothes that shaped past generations of weddings.
Heirloom and Vintage Engagement and Wedding Rings
As if to further echo the relief that a new year will witness brand-new promises of togetherness, couples are expected to use their parents' or grandparents' engagement and wedding rings to mark their own union. Nostalgia for long-time marriages they look up to, coupled with the timelessness of vintage and even antique wedding jewelry, will likely make heirloom nuptial accessories much-coveted and treasured in 2013.
A Foreign Influence Beyond Diamonds
Aside from the traditional diamonds and precious metals used for engagement and wedding rings, 2013 will likely see a globalization trend in bridal bling that makes use of more unconventional precious stones and other materials. Jewelers and fashion-forward people see bolder, more colorful use of precious gems such as emeralds, sapphires, rubies, and other colored stones in wedding bands, necklaces, brooches, and earrings; as well as beaten brass, bronze, and other metals for the bands and settings. This trend can be easily seen as influences of travel and immersion in foreign cultures like those of the Far East, which incorporate more color into weddings instead of the usual white, diamonds, and pearl tones.
The Geek Will Still Inherit the Earth
Geeks, having had their share of attention and spotlight in recent years, will still have plenty to contribute to the wedding jewelry trends of 2013. The past years have seen samples of geek-inspired bling, such as his-and-hers Lord of the Ring type of wedding bands, engagement rings that indicate the map coordinates of the wedding venue, and even vows engraved on the metal in Elven and other languages derived from movies, television, and books. Jewelry watchers predict that the same will still hold true in the coming year.
Guest author Sharon Sussman is Director of Products at Brilliance Diamonds & Jewelry, and is a professional gemologist and jeweler. She has also been an active guest blogger for two years and counting as she finds it to be a fulfilling way to share her expertise and interact with people who share the same passion for jewelry.
Free Wedding
Giveaways + Sweepstakes
Enter sweepstakes & giveaways and enter to win a free honeymoon when you join. New winners are announced every week!