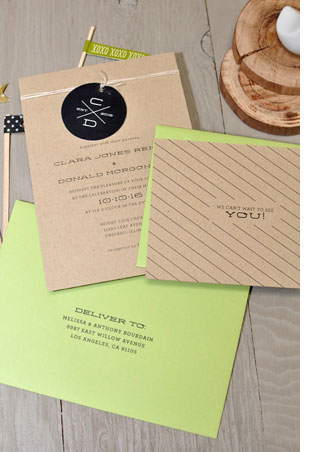 Most couples dread stationery shopping – after they pick out their design they're lost! There are so many different types of paper available and so many ways to process the printing…but relax! This is the ultimate guide to your stationery.
First of all, here's a guide to stationery lingo so you don't feel unprepared at the stationery store:
Cotton Fibre: Paper made from 100% cotton, it is a very elegant and popular choice.
Rice Paper: This paper is very thin and soft.
Matte: A non-reflective, opaque paper.
Laid: Has fine lines running across the paper, giving it a ribbed texture.
Mylar: A very shiny, foil paper with a mirror like finish. This is mostly used for envelope liners as ink doesn't stick to it very well.
Glassine: A very waxy paper that is often used in envelopes and envelope liners because it is very delicate.
Parchment: Strong paper that is usually translucent.
Vellum: Very much like plastic, with a translucent, frosted appearance.
Heavy Stock: Thick paper.
Light Stock: Thin, light paper.
The first stationery piece that many bride's think of is the save the date cards. Although these are cute, if you are on a tight budget they are the first thing that should be cut from the list. They are a nice way of letting guests know of the wedding but really aren't needed. If you do choose to go with save the dates, the biggest trend right now is photo cards.
Wedding invitations are the most important part of your stationery – they act as a window into the wedding, it's the guests' first impression of your big day. Guest's should be able to get a feel for the day just by looking at the invite, they should be able to tell the formality and get an get an idea of themes and color schemes. There are lots of ways you can make your wedding invitations special. A fun way to incorporate colors and designs from your wedding into your stationery is by adding envelope liners. Some popular choices for liners include foil, stripes, polka dots and floral design.
Are you looking to add some glam to your stationery? It doesn't have to be an expensive task, try adding glitter and foil details to your invites. If it is within your budget, send your invitations in a small satin box in your wedding color or and seal it with a jewelled clasp. Trust me – your guests will be so excited when they receive your invite in the mail they will definitely RSVP yes.
Bellybands on invitations are making a comeback! Traditionally bellybands are made of ribbon, lace or tulle but step outside of the box and tie your invites together with twine or patterned paper! Bellybands are known for giving invitations a clean, fuss free look. Are you having a vintage themed wedding? Tie your invites together with a strip of burlap! A truly romantic affair? Use some tulle! The possibilities are endless!
How much more wedding stationery you use apart from invitation is up to you. Generally, bride's print out wedding programs for the ceremony, table numbers, escort cards, place cards and menu cards. Now you can find some creative alternatives to all these pieces, but commonly couples stick to paper printing for most of them. Make sure your stationary is consistent – stick to the same fonts, colors and patterns so your look isn't messy.
Ever wonder how to choose the best printing technique for your wedding style and budget? Worry no longer – here are the answers to all of your printing questions.
Digital printing: The print sits flat on the paper and resembles what you would get from an at home printer. This is the most basic type of printing, making it your least expensive option. Also, this type of printing has the fastest turn around time if you need your stationery in a limited time. Unfortunately, digital printing can't be done on thick paper so you will not be able to use heavy stock.
Letterpress: This is one of the oldest and most popular styles of printing. With this process, the ink is actually impressed on the page. This style looks especially cool with intricate designs. Letterpress is however very expensive, takes a long time and has to be done on heavy stock.
Engraving: For this technique, designs are engraved into metal plates and are then pressed into the paper. This leaves the paper raised, adding lots of texture. Customization with this process is often very expensive and takes a long time. Most stationery outfits don't offer this type of printing as it requires special machinery.
Foil stamping: Stamping using gold, silver and other metallic colors on a copper plate. This looks great using lighter colors on dark paper. This is another costly option but most couples will agree that it is worth the higher price tag.
There you have it, a very simple guide to decoding complicated stationery lingo and how to choose the stationery products that are right for you and your event!
A simple guide to stationery: written by Haley Evans, WPICC of From Menus to Venues Wedding and Event Planning.
Free Wedding
Giveaways + Sweepstakes
Enter sweepstakes & giveaways and enter to win a free honeymoon when you join. New winners are announced every week!