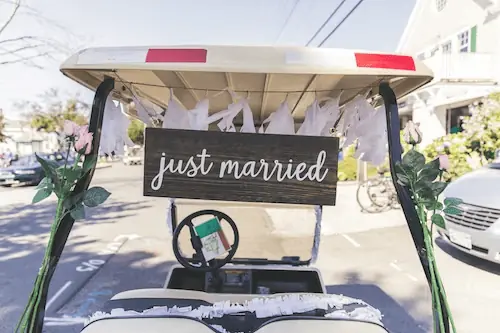 The cost of living may be rising but people are still getting married, with around two million people trying the knot in the US every year. Some opt to elope to Las Vegas to say their vows in front of an Elvis impersonator. Others go down the more traditional route and have a church wedding. Whichever path you are your partner elect to take, there is a lot of planning to take care of.
Wedding websites are becoming increasingly popular in the digital age of social media and apps. Lots of couples create a simple wedding website to share important information with their guests and curate a personalized online space for their big day. A well-designed wedding website can not only serve as a convenient source of information but also reflect your unique style and theme. In this article, we will explore some useful tips, creative ideas, and current trends in wedding website design.
Look for a User-Friendly Platform
Not everyone has experience in coding and website design, but that's not important as most people can figure out a drag-and-drop website builder.
If you want to create a wedding invitation website to direct guests to, look for a user-friendly platform that offers customizable templates and easy-to-use features. Platforms like Wix, Squarespace, and WordPress are popular choices that provide a wide range of design options and functionality, but there are others out there that may be a better fit. Consider your technical skills and choose a platform that suits your comfort level.
Try a few out if they have free versions, and if in doubt, ask friends for recommendations based on their own experiences of building a wedding website. Chances are, if a friend had a great website for their wedding and you know they are not tech-savvy in the slightest, the platform they used should be easy to use.
Build a Site that Reflects Your Personal Style
Your wedding website should be a reflection of your personal style as a couple. Choose a color scheme, font, and overall design that aligns with your wedding theme and aesthetic. If you want a minimalist and elegant look or a vibrant and playful design, make sure your website is visually appealing and cohesive.
It's OK to be a bit quirky if that's your style. The site should tell visitors exactly who you are and what to expect from your wedding. While weddings are often themed with low-key white and tasteful floral designs, if you are a Goth and you're planning a black and red wedding, design your wedding website accordingly. That way, guests won't be shocked when they show up on the big day.
Design a Homepage That Suits the Site
The homepage of your wedding website sets the tone for the entire site. Make sure to include a stunning cover photo or video that captures the essence of your relationship and wedding theme. Add a welcome message that expresses your excitement and invites guests to explore the site. Consider adding interactive elements like countdown timers or animations to engage visitors. A countdown timer is a fun addition, as it tells visitors how many days and weeks are left before the big day.
Include links to other important areas from your homepage, such as the menu for the wedding meal, or a link to your gift list.
Add Essential Information for Guests
The website should provide all the information that your guests will need, such as the date, time, and location of the ceremony and reception. Add maps and instructions for how to reach the venue. This is really important if guests are traveling from different states or even countries.
Don't forget to mention any dress code or special instructions, like passing on allergy requests to the caterers. In addition, it is a good idea to provide travel and accommodation information for out-of-town guests, including nearby hotels and transportation options. Have a list of hotels, taxi firms, and anything else people will need to know.
RSVP and Guest Management
A wedding website can help you manage your guest lists and RSVPs. Include an easy-to-use RSVP form that allows guests to respond quickly. Consider adding a guest management feature that allows you to track RSVPs, manage meal preferences, and send out reminders. This will save you time and make the entire process more efficient.
The more time you save on basic admin like this, the less stressed you'll be by the time the big day arrives.
Tell the Story of How You Fell in Love
Unless this is a marriage of convenience (and we assume not!), everyone will want to hear all about your romantic love story, from how you two met, what made you fall madly in love, the proposal, and anything else you want to share.
Use your wedding website as a fun way to share the story. Create a dedicated page where you can narrate how you met, your journey together, and any memorable moments. Include photos or videos to make it more engaging and heartfelt. This will help your guests connect with your love story and feel more involved in your special day.
Weddings are romantic, so use this as an opportunity to build something special, to remind you in years to come of why you got married.
Show Off the Wedding Party
Have a dedicated section on the website that showcases your bridesmaids, groomsmen, and other important members. Include their names, roles, and a brief description of each person. Add photos of each person to make it more visually appealing. This not only acknowledges the people who are important to you but also helps guests identify them on the wedding day.
You may even find that this page aids in some wedding matchmaking, whereby singles can mingle having already identified in advance the hotties they fancy. You never know, it could lead to another wedding a few months down the line!
Interactive Features
Make your wedding website interactive and engaging by incorporating fun features. Consider adding a photo gallery where guests can upload and share their photos from the wedding day. Create a music playlist that represents your taste and gets everyone in the mood for celebration. You could even include a virtual guestbook where friends and family can leave their well wishes.
Social Media Integration
Add social media buttons to the wedding website so guests can visit your Instagram, X, TikTok, Facebook, or Pinterest accounts. This allows guests to follow your wedding journey and share their excitement. You can also create a wedding hashtag and encourage guests to use it when posting about your wedding on social media, although it's best to ask people not to post anything embarrassing like the Mother of the Bride face down in the trifle.
Mobile-Friendly Design
Most people access websites via mobile devices, so the site you design needs to be mobile-friendly. Test the site on different devices to make sure it works OK. Optimize images and content for fast loading speeds and use responsive design techniques to adapt to different screen resolutions.
A well-designed wedding website will make life easier for everyone, both couples and guests. You can even continue paying for site hosting, so it remains a memorable reminder of your happy day.
Free Wedding
Giveaways + Sweepstakes
Enter sweepstakes & giveaways and enter to win a free honeymoon when you join. New winners are announced every week!