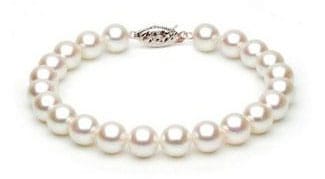 Everyone knows the Wedding Day requirements: dress, shoes, veil, jewelry. Sounds simple, but we all know it's really not. You try on dozens – sometimes hundreds – of dresses to find exactly the right wedding gown. The one that makes you go, "oh!" The one that makes the mother-of-the-bride's eyes fill with tears. The one that you can picture yourself wearing, standing next to your husband-to-be.
Once that's done, then there's the headpiece. Veil or no veil? Tiara, headband or hat? That part is a little easier. Then the shoes – oh, the shoes! Here's a tip: get an amazing pair of shoes for walking down the aisle and pictures. For the reception? Go out and get a good ol' pair of bright white tennis shoes. Your dancing feet will thank you later.
Now comes the most important part. Yes, now. You have the gorgeous dress, but how are you going to accent it? The right jewelry is the pièce de résistance, the cherry on the sundae, the dot over the 'i'. And what better way to top off your wedding look than with pearls? Pearl jewelry is traditional. The round pearl represents the cycle of life. Pearls are lustrous, but won't overpower the bride's glow. Pearls also represent continuity; many mothers hand their pearl strand down to their daughters for special days, and a wedding day is the perfect time. What a beautiful tribute to family to wear your mother's pearls. Have those family pearls restrung in a style that's all your own, with a clasp that speaks to you, and you've taken care of "something old" and "something new." Restringing your pearl necklace will not only give you a new design for your special strand of pearl jewelry, but once your wedding day is over, is something you should have done on a regular basis. The silk can weaken and stretch over time, and might break, risking damage to the pearls. And you'll want to keep them in good shape for your daughter's wedding day.
The perfect dress, the perfect shoes, the perfect pearls: the perfect day! Congratulations!
For more information about restringing your pearls, please visit Pearl & Clasp.
Free Wedding
Giveaways + Sweepstakes
Enter sweepstakes & giveaways and enter to win a free honeymoon when you join. New winners are announced every week!