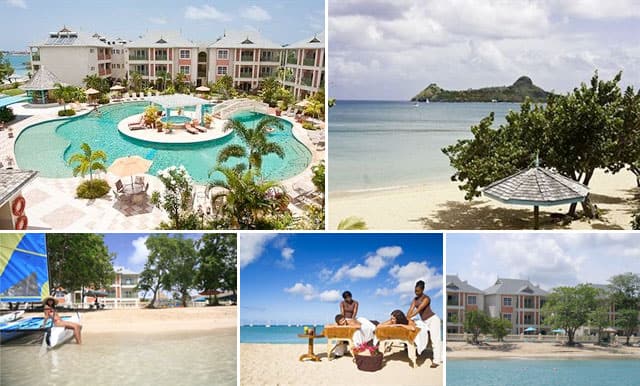 Click Here to Register for the Honeymoon Sweepstakes!
You and your fiance' could be the lucky winners of a free honeymoon to the beautiful Bay Gardens Resort in St. Lucia, courtesy of Ask About Honeymoons!
There is no better way to celebrate your new life together than with a honeymoon in beautiful Saint Lucia at the Bay Gardens Resorts. Their attentive staff will cater to your every need to create an unforgettable romantic getaway amidst the glistening waters and white sandy beaches of Saint Lucia.
The Bay Gardens Beach Resort & Spa is the flagship property of the Bay Gardens Resorts chain, featuring striking designs inspired by the French Caribbean and Georgian Plantation style, truly giving guests a window to Paradise. The timeless charm of the neo-classical architecture, including timbered balconies and hand-crafted verandahs perfectly juxtaposes the modern-day amenities can guests expect and more.
Bay Gardens Beach Resort & Spa is focused on providing the very best personalized service to their clients. They ensure that you will never feel rushed or pressured, and guarantee that no effort will be spared in making that once-in-a lifetime honeymoon absolutely unforgettable.
Free Wedding
Giveaways + Sweepstakes
Enter sweepstakes & giveaways and enter to win a free honeymoon when you join. New winners are announced every week!