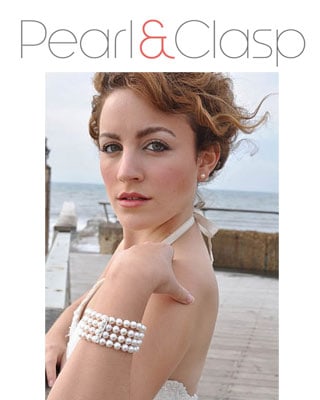 Pearls are the perfect accessory to to finish off that gorgeous wedding look! Elegant and timeless, pearls are something you can wear again and again and will never go out of style. You will look at those pearls, and they will always remind you of your wedding day and the day you married your best friend.  ENTER TO WIN a pearl bracelet from Pearl & Clasp here!
At Pearl & Clasp, their goal is to help you find the perfect pearl wedding accessories, whether you're looking for a single strand pearl necklace, pearl earrings, or a gorgeous pearl bridal necklace. With over 20 years of experience, their pearls and pearl clasps are appreciated not only for their beauty, but also for their quality. Browse Pearl & Clasp's wide selection of gorgeous pearl bridal jewelry. Pearls are available in an infinite choice of styles, sizes and lengths, and are extremely versatile.
Do you have your "something old" (grandma's pearl necklace) and would love to update it to wear on your wedding day? Pearl & Clasp's team of pearl professionals can restring your pearls to make them more beautiful and more secure than ever before. Give your pearls a makeover by replacing your plain pearl clasp with an eye-catching new one, or transform a single strand into a double or triple strand during the restringing process.
Not sure what type of style best suits you? Pearl & Clasp invites you to peruse their extensive selection of pearl jewelry to find everything from timeless pearl bracelets to modern multi-strand pearl necklaces, or to visit their store in the heart of New York's Diamond District to speak with a pearl expert who can help you narrow down your options. And, of course, their wonderful  customer service team can always answer your questions by phone or email, so that you can make a comfortable, confident decision. Get the perfect wedding day pearls here!
Enter to win a pearl bridal bracelet from Pearl & Clasp here!
Free Wedding
Giveaways + Sweepstakes
Enter sweepstakes & giveaways and enter to win a free honeymoon when you join. New winners are announced every week!